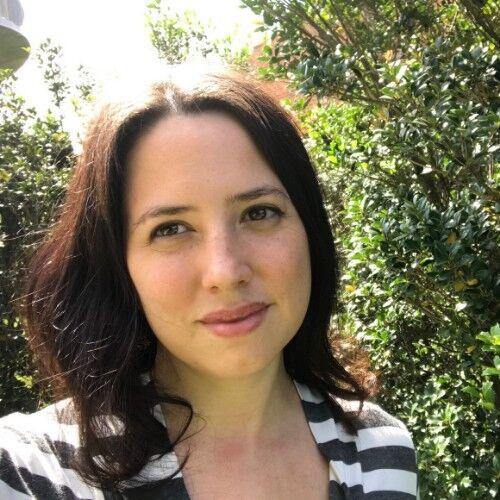 Melissa Kelly (no relation) is the manager of volunteer services at Grounds for Sculpture in Hamilton. A resident of Bordentown, Kelly began working at GFS the year before the pandemic, and says that she is happy that the park is back to normal and even busier now than it was pre-pandemic.
Managing nearly 200 volunteers is a daunting task. That is as many people as a medium-size company might have. Coordinating the training, schedules and assignments for all of these volunteers is Kelly's job.
Most of the volunteers come from within an hour's drive. A nonprofit enterprise such as the GFS Sculpture Park depends on its volunteers to provide guidance, knowledge, and the friendly atmosphere to make the park a friendly destination and a supply a memorable visit.
When did your interest in the arts begin?
My interest in the arts began with ballet. Taking ballet lessons and performing from age 3 and through to young adulthood, I developed an interest in dance and the performing arts.
My interest in visual art was always present as I enjoyed sketching and drawing from a young age. My goal as a highschooler was to attend college for fashion, and I even wore my own designs for the formal social and prom but somehow that stretched and morphed once I entered Tyler School of Art into an Art History degree.
Who were/are some of your artistic influences?
In terms of visual art, I really love sculptor Louise Nevelson and there are so many others, probably just too many to mention, she's my favorite at the moment.
How does working at the Grounds for Sculpture influence your own artistic outlook?
It's extremely inspiring to work in such a gorgeous space every day. I love the fact that this is a contemporary collection. So, while we have work from artists that are very well known, there are also these really lovely pieces from not so well-known artists as well. Not only are there acres of art just outside my office window, but as soon as you step foot onto the grounds, the ever-changing landscapes and scents of our natural collection transport you into a tranquil dimension
What fight/struggle/challenge do you have regarding the art and getting the word out to the local population?
It is interesting, we see people from all over the world coming to visit GFS. However, every so often I hear people from Trenton and Hamilton say they have never been here. Museums are funny that way, many people feel that museums aren't for them, that they don't represent them in any way and in some cases, it's simply cost prohibitive for folks to visit.
The current struggle for many institutions is that they showcase work from an old world. One in which the art and artists are homogenous and reflect a very small slice of culture.
GFS has committed deeply to values and goals of relevance, social impact, responsiveness, inclusion, diversity (among our board, collection, artists, staff, volunteers). Visitors will see these values reflected in our exhibitions and program offerings.
We also participate in the Families First Discovery Pass program, which offers rich arts and horticulture experiences to low-income families and individuals across the state of New Jersey. Part of our mission is this ongoing movement to reflect and connect with our community.
What are some positive arts experiences in the area? Events or venues that people should definitely get out and attend in person?
Well, there are bars such as Trenton Social and Joe's Mill Hill that showcase local arts right in our neighborhood, and they have some great stuff that changes frequently. Artworks on Stockton, is a powerhouse of incredible art nearby, featuring inspiring and unusual exhibits as well as great programs.
And don't forget to check out the fine and cultural art collections at the New Jersey State Museum.
What are some favorite art events or venues for youngsters in their immediate area and the region?
Well, of course, Grounds for Sculpture has some wonderful programs such as Tots for Sculpture and our Family Open Studios. Locally, I don't personally know of too many, but there is a great little art schools called Leaping Dog Art Studio in Bordentown (see story, page 1). They feature classes for kids in sculpture, painting, et cetera, and I believe they even have drop-in programs.
Do you attend any workshops at GFS? Which do you see as crowd favorites?
I have attended a couple workshops. One in which we made castings of our hands, linking to the movement, functionality and beauty of one's hands. That was really an enlightening and fun class> However, we receive great reviews about many of our other workshops and teambuilding sessions as well.
For instance, our wreath-making workshop, taught directly by our horticultural team, is incredible, and our classes such as our glass-blown ornaments workshop allows you to create one-of a kind pieces.
How does the seasonal appeal of the Grounds for Sculpture affect the core group of volunteers?
We have an incredible team of volunteers; they work with us in all kinds of weather, but I will say that the extreme cold in the winter months affects the level of volunteering. Lately, we have blossomed into an all-year attraction, so we actually see our volunteers year-round. Years ago, GFS was mostly closed in the winter, but we are open at least 6 days a week through all seasons. It is worth the trip in cold weather to see our gorgeous landscape covered in snow!
What is a dream project of yours?
A dream project for the volunteer team would be to work in the community. We would have community outreach projects propelled by the volunteer team — maybe a community garden or mobile arts lab.
What is on the horizon? What are you looking forward to?
Two really inspiring exhibitions that opened in April. One is Local Voices: Memories, Stories, and Portraits, created in partnership with 15 community members and led by artist, teacher, and journalist Madhusmita "Madhu" Bora. It features oral histories to present a range of diverse and uniquely personal stories within the Indian American community.
This exhibition centers on community members located throughout New Jersey who will share their stories through visual and audio presentations focusing on the intimate stories which connect us through love, loss, and resilience.
The other is Spiral Q: The Parade, is an exhibition rooted in communal, collective advocacy for the greater good. This immersive installation highlights Spiral Q's rich history of processions and approaches to individual and community expression, such as memorial tributes, wearable structures, large scale puppetry, and more.
Melissa Kelly can be reached by email at mkelly@groundsforsculpture.org.