Chee Bravo was recently the featured artist of the month at Grounds for Sculpture in Hamilton. She gave a talk to an interested crowd, spoke about her beginnings and her methods. Her media starts as photos, then she makes a collage, then finally a silkscreen is made, as the finished colorful product. She works in series. My favorite series is her Performers series, where she features musicians in striking black and white mixed with strong colors.
Bravo won a prestigious New Jersey Artist Fellowship in 2022.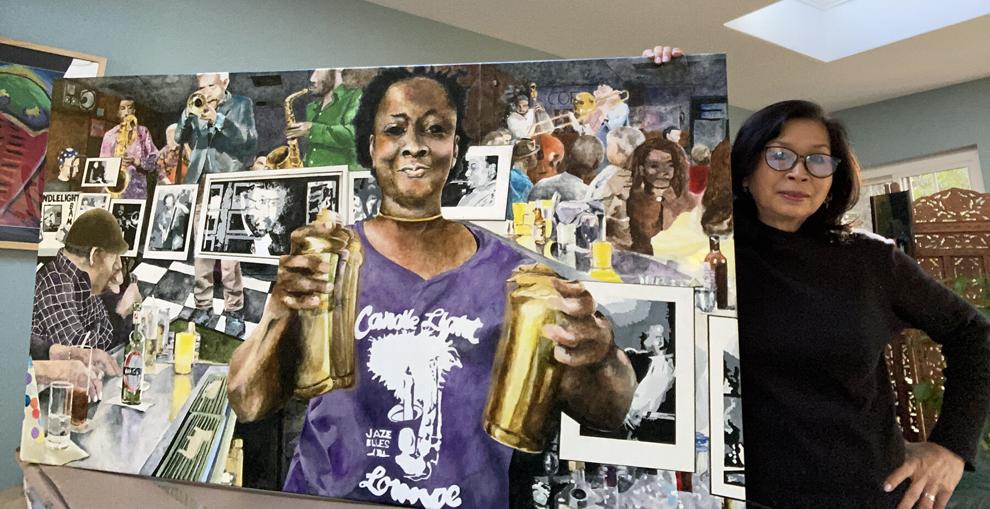 When did you begin in the arts?
Since the day my mother gave me paper so I wouldn't deface the walls in the house with my crayons or her lipstick. I was about 3 years old. I won my first art competition at age 10. After two years of studying zoology, physics and calculus at pre-college level, and answering all six questions to my final zoology exam with only drawings, I finally gave in and reset my goal to pursue the arts. I made this decision despite the lack of financial and emotional support from my family, who did not see art as a career. I got to art school in Miami with just enough money for one year. It took me over four years working at a bank to save for my tuition. This was the beginning of my art career.
Which media do you work in?
I'm a printmaker/lithographer who does silkscreens and other media including bricolage, acrylic and mixed media paintings and multimedia installations.
Who are some of your inspirations or influences?
Trinidad & Tobago Carnival, Peter Minshall, Andy Warhol, Yoko Ono, James Turrell, Teresita Fernandez and Judith Brodsky to name a few.
Congratulations on the 2022 NJ Arts Fellowship. Do you plan a special project in response?
Thank you! That award was a huge shock. I had deleted the email because the congratulatory part was buried, but got word about the award through the grapevine. My special project is creating my largest silkscreens to date.
What fight/struggle do you have regarding your art?
Money for supplies and Sales. The NJSCA fellowship solved the first concern. With the funds I was able to go BIG and produce my largest silkscreens to date. Sales are slowly coming around.
Do people understand all the work that is done in your process to create the work?
Most people don't, most artists don't either unless they're printmakers or have taken a class or two or took the time to educate themselves. It's an understated art form, and with the influx of the making of digital prints of paintings etc. it's become even more difficult to educate collectors and the general public on the difference between a poster and a print. I post videos of my process on social media. I've also created a video which I show when giving presentations.
You tend to work in series. How do you choose the direction of these series?
It's from years of being drilled by the arts community about the importance of creating bodies of work. My "Performer" series started when we relocated to New Hope from Miami in 2011. The series started with the NYC subway performers and has grown to include performers I find in my travels and now locally. The pandemic and post-pandemic fallout made me look toward my hometown and its surroundings for inspiration.
What are you working on now?
I'm working on my 5th large-scale silkscreen "Bacchanal" with a printshop in Brooklyn, since I don't have equipment large enough at my go-to print shop, Frontline Arts. At Frontline, I would create the small initial version and then figure out how to get the same or better results before going big. It costs $100-plus to create the small version vs $1,000-plus to create the bigger version.
Where can we see your work?
My work is or will be on show at the Gallery @ Paper Mill Playhouse in Milburn, Zufal Health in Dover, ArtFair14C in Jersey City, Trenton Social in Trenton, The Lore Degenstein Galley @ Susquehanna University in Selinsgrove, Pennsylvania, and on 1st Dibs represented by Anderson Contemporary NYC.
What is a dream project of yours?
To bring to life my latest multimedia installation "Our Labyrinth." Our Labyrinth is a multimedia, immersive installation which reveres Women's Suffrage in the U.S. It is a contemporary installation which will be transformed through growth every few years when new role models emerge. My vision is to create a fluid piece of work by using current technology that speaks to our generation and future generations.
What is on the horizon?
On the horizon is a residency from the Lotus Project of Trenton to create a multimedia component for their "Path of Miracles" performance. This new work will be an important addition to my multimedia installation series. Also "The Choir" artwork is being leased by the Lotus Project for their 2022-2023 promotions.