April Zay is the owner of Hummingbird Arts. She is an artist, teacher, designer and mentor. Forced to retreat from her Hamilton space due to the pandemic, she is down but adapting. Artists will find a way.
Tell us about the artistic hats you wear: Artist, Educator and Designer.
I studied illustration at the Fashion Institute of Technology in New York. Then I got a job with Lenox in Lawrenceville.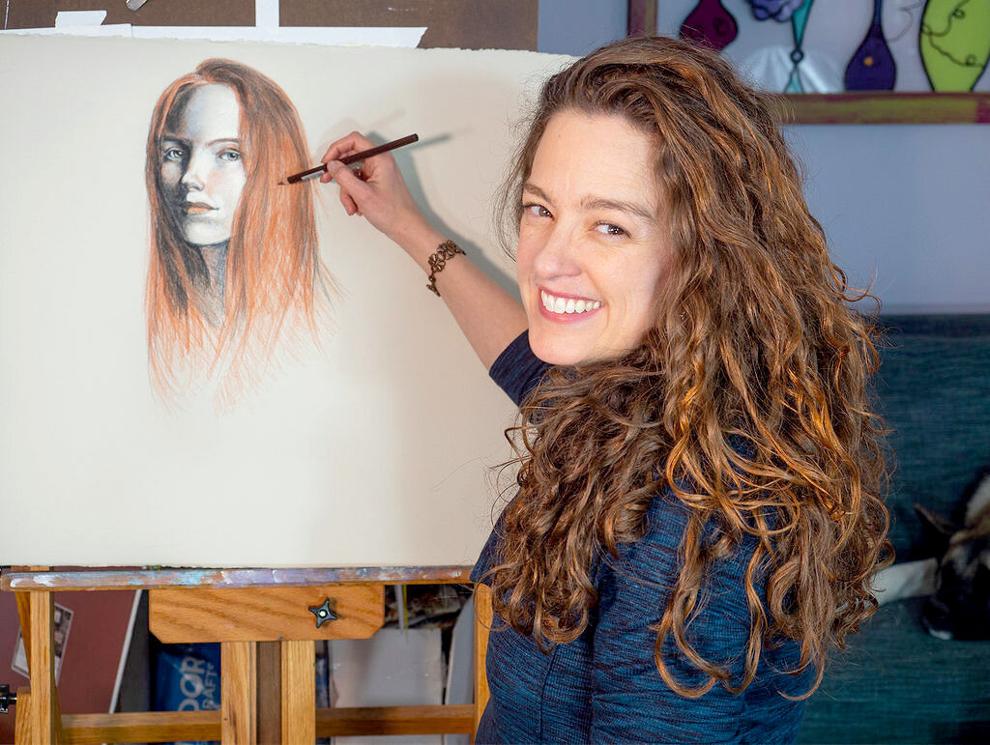 I started as a graphic designer in packaging design. I spent 8 years working as a graphic designer
My primary love has been painting. I have done many commissions of pets and homes. I am a teaching artist. The majority of my income is from instructing. I teach private art lessons.
I teach programming with the Grounds for Sculpture in Hamilton, the Arts Council in Princeton, and Young Audiences of NJ and PA. I have been doing professional development training to transition to working with students with disabilities.
What is your favorite subject matter and media?
My favorite is oil painting and I love painting animals, especially dogs and cats. I love being able to capture the personality of the animal and the reaction from the clients is priceless. The paintings have brought tears to the recipients.
Who or what were some of your early influences?
I grew up in the West and in the Southwest. In Seattle, an illustrator named Jasper Thompkins visited my class in an artist-in-residence program. He spoke of how he lived on an island near Seattle with his cat, and I thought that was just the best life to have and it was at that moment that I realized being an artist was an actual career.
Living in New Mexico had a huge impact on my art. I collected hummingbird tiles and glass hummingbirds, which are prevalent in the southwest artwork.
Please share the struggle during the pandemic to your business.
In 2006, I started Hummingbird Arts. For 10 years I worked out of my home, teaching art lessons daily and painting. In 2016, I rented a small office space near the YMCA.
In the year prior to the pandemic, I focused on doing bigger events with preschools, public schools, senior centers, libraries. I had my entire 2020 booked with these events. In March 2020, all of my programs were canceled.
In a service industry, there is nothing scarier than a blank calendar. I only get paid when the work is performed. My business interruption insurance didn't cover pandemic and I didn't qualify for any loans. I went from a full schedule to absolutely zero income within a week.
How did you adapt?
Everything was moving online. Most of my clientele were schools and senior centers, so I didn't have the ability to suddenly find new clients to take online classes.
What kept me going was the desire to not lose what I had taken 15 years to achieve. It was hard to cope with losing all of my scheduled work in one moment, but I was not alone. Many of my friends with art related businesses had to give theirs up. I was fortunate that I was able to cut my rental overhead.
How can Hamilton support and get engaged in the visual arts?
Over the years, there hasn't been enough interest in the arts in Hamilton. In other communities, they have created spaces for community arts education (West Windsor Arts Council for example), and that is lacking in Hamilton. I am a big believer in arts education.
My suggestions are:
Offer more creative programming at the library. Hamilton has their own huge library which I feel like greatly underserves the community in the way of creative programming. I know that so many families would bring their kids if more was offered.
Community gallery space. Give artists the opportunity to display their work. This would be a really easy way to get the community involved with art. Encourage artists to stay and work in your community by offering opportunities. Having artists teach watercolors in the senior center.
So often people say that Hamiltonians only like food, but I don't think that's true. As a member of SHOP Hamilton for 3 years, I know that Hamilton is much more. The township can explore ways to bring arts related business and education to the people in Hamilton.
We unfortunately lost a few arts related businesses with the pandemic, and hopefully we can recover.
April Zay, Hummingbird Arts. Web: hummingbirdarts.com. Phone: (609) 658-6717. Email: april@Hummingbird-arts.com.
Instagram: @hummingbirdarts. Facebook: facebook.com/HummingbirdArts.