Chidi Iloka graduated from Nottingham High in 2015 but is still an active soccer player locally. Thus, he and his teammates need a place to practice and play pick-up games.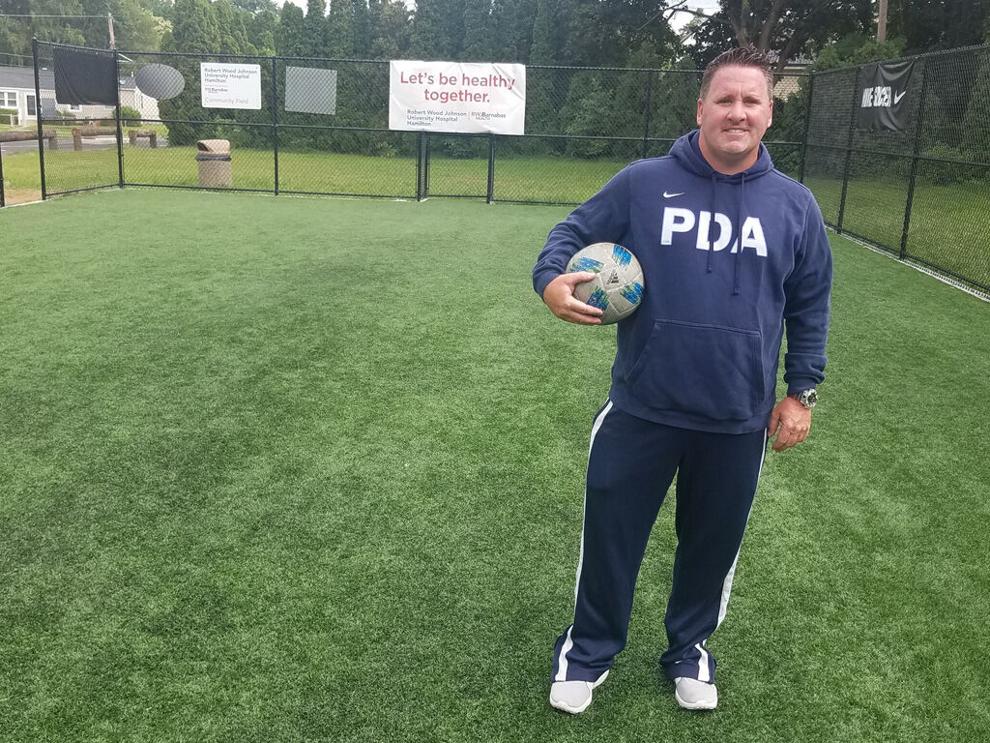 They gravitated to Bromley Park, which has a lot of high grass mixed with patches of dirt but served as the only nearby area to knock it around.
"I'd go to kick the ball and all this dust would come up and get in my nose," Iloka recalled. "Or you'd kick it in the grass and it hardly went anywhere."
But in early August, they showed up one day and were delighted to find a spanking new, fenced-in turf Futsal field with the gate unlocked and open to the public.
"This is a good situation," Iloka said while practicing with a friend. "A lot of us are working and then we come here to play. It gets us off the street and you get in less trouble. To come out here and play on a good field is great. You get a bad field and some people don't want to come and play. They go do things that are not good."
The 40-by-70-foot surface is courtesy of RWJUH Barnabas Health, the PDA (Players Development Academy) and Hamilton Township, which partnered to provide an inviting pitch for urban residents to hone their skills at no charge. Robert Wood Johnson provided the funding while PDA and the township laid out the plan and execution.
Located just off East State Street on Hollywood Drive, it is first turf field of any kind in the township, and third such PDA facility in the state, along with Harrison and New Brunswick.
It's a welcome addition, specifically for Hamilton West and Nottingham, which have players in urban neighborhoods. The field provides a place for their current players, or those who will be coming into their program, to work on their skills in a quality environment.
"I think it's great," new Hornets coach Pat Snyder said. "It gives these kids kind of a safe haven to get out there and play a bit. Hopefully it leads to some better things for us. It's for the kids who aren't getting out to parks like (Veterans Park). Some kids can ride their bikes there. The reports I get from Harrison is that guys are showing up from everywhere to play."
First-year Nottingham coach Rob Nosari should benefit greatly since the facility — officially named RWJUH Hamilton Community Field — is in his school's backyard.
"It will help a lot and it's gonna expose more kids to playing the sport prior to getting to high school," Nosari said. "In my neck of the woods, there are some freshmen who come in and want to try soccer but they're kind of behind that curve a little bit because they haven't had that experience to play for a travel team or even a rec team, sadly. But the futsal park will give them an opportunity to start earlier. It's also a positive place for them to go after school, or in the summer or the off-season, to drill and get better."
The whole project moved quickly once it was confirmed and the site went up in two weeks. James Angiolino — famously known for his Joey's Angels organization — had worked closely with Dan Donigan when Donigan was the director of the Hibernian PDA. When Donigan left for St. Louis, Brian Grazier took over and introduced Angiolino to Gerry McKeown, who is Executive Director for the PDA Boys Program and founder and director of the PDA Urban Initiative.
McKeown feels that soccer in America is fast becoming an upper-middle class game; and growth in urban areas has been slowed or simply halted. He asked Angiolino if Hamilton might be a good fit and the Notre Dame High assistant coach quickly endorsed it.
"I've been part of PDA for five years now and thought this would be great for our community and local kids that may not have the opportunity to participate at places like this," Angiolino said.
The group brainstormed between McKeown, Angiolino, Hamilton Recreation Director Kathy Fitzgerald, PDA's Tom Anderson and Nidhi Kumar and Hamilton Mayor Jeff Martin's team. According to Angiolino, they decided Bromley would be the best section for the new site as "it's easily accessible for locals and has an overall great setting."
Angiolino served as liaison between PDA and the mayor's office, and got a resounding response from City Hall.
"When I brought the idea for the project to Mr. Martin, he was extremely excited for several reasons," Angiolino said. "It would come at no expense to taxpayers and it's a great way for kids to stay healthy and active; all while playing and developing at a great game."
The field sits toward the front of the park, just to the left of the parking lot. It is open sunrise to sundown and, although it was built with Hamilton residents in mind, anyone can use it. There are no reservations, as it is first-come, first-serve.
In its first three weeks, the facility has gotten ample use, particularly at night when Iloka and his teammates come to practice. Because it can only house 5-v-5 games, the action is non-stop for all 10 players.
"It definitely helps a lot with fitness, which is the most important thing," Iloka said. "If you're not fit you can't play. It also helps with your skills because you get more touches at a quicker pace."
The true beauty of the field is that it costs urban families nothing for their children to learn the game at their own pace. They are not at the mercy of a coach who will stick them out on a wing where they may never see the ball all day.
As New Jersey soccer legend Manfred Schellscheidt often reminds parents, the best way for a child to get better is to let them have ample time with the ball at their feet.
"For sure," Snyder said. "It gives you that chance to try stuff. Nobody's gonna yell at you, except maybe your buddy if you keep losing the ball. You gotta go give it a shot.
"I have clear memories of being down LBI and finding a pick-up game behind a pizza place one day. It was the only patch of grass out there. I pulled my car over, I had a pair of boots in the trunk and got out and played for two hours. It was just great."
Snyder alluded to the legendary pick-up games at Nottingham when it was still a junior high school in the early to mid-70's. The greatest names in Mercer soccer history would show up to play shirts against skins and the games were as fierce as a state final. Pride was on the line.
"You hear those stories about Nottingham and you learned you had to be good enough," Snyder said. "You learned you have to be a certain level. My dad tells a story of being sent off. They told him 'Pat, you can't play anymore.' You knew you had to work to be better."
And Pat Snyder was already a good player when he got benched.
Nosari agreed that those type of games infuse players to become more hard-nosed.
"We're doing a lot of drills and technical things, but there's something to be said about playing pick-up sports," he said. "You learn about competitive nature and drive and teamwork and leadership. There's stuff we can teach and coach but there's some of that intrinsic stuff that comes from playing pick-up games with your buddies.
"You don't want your buddy to beat you because they'll be talking all day and all night. The competition and sportsmanship is big. If you get beat, you get back up and play the next day and try to get the bragging rights back."
As Iloka alluded, the fact that it is a smaller sided field gives each player a chance to learn skills by always being around the ball.
"Futsal is even more technical than soccer," Snyder said. "The game is a different game and it's great because it gives those kids an opportunity to play more with the ball at their feet; instead of running all over the place."
Angiolino, who said "the project would not be possible without the partnership with Robert Wood Johnson," is anxious to see the results.
"The Urban Initiative will change the landscape of soccer in Hamilton and will help bring diversity on the field," he said. "PDA is one of the top soccer programs in the country and we have extremely dedicated coaches and loyal families that want to be a part of our program. We believe in development through competition and we truly believe that we will find the next "big" player through these projects."
And while Iloka revealed that PDA used to be one of his club team's biggest rivals, the new field has altered his view somewhat.
"Right now," he said with a grin, "I'm OK with PDA."