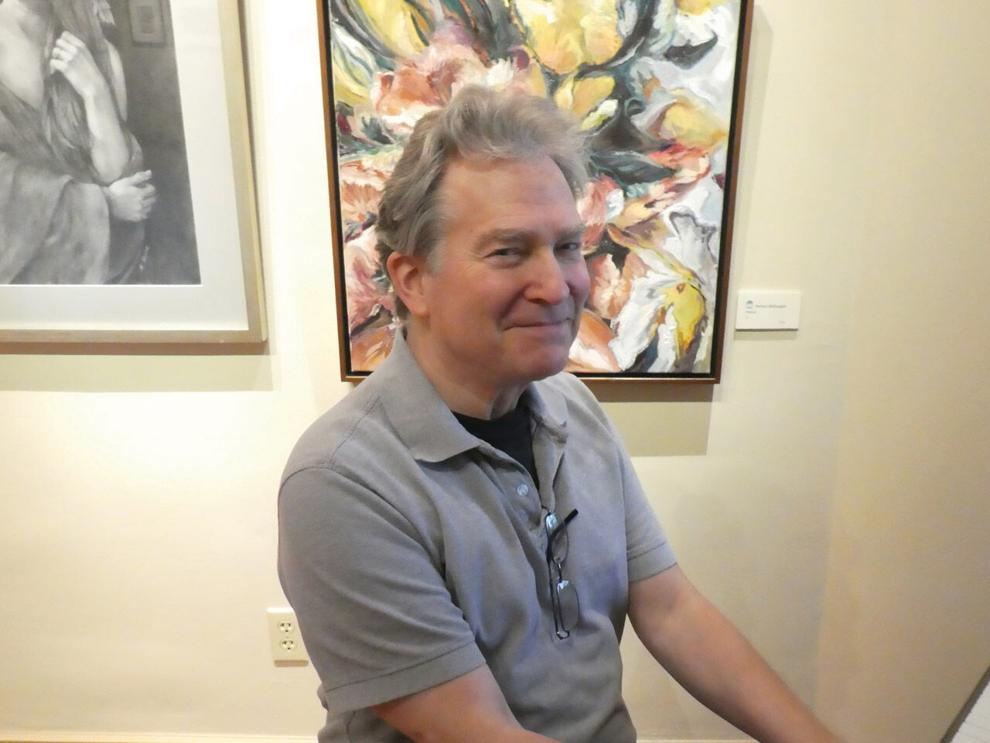 Sunday visitors to the Trenton City Museum in the Ellarslie mansion in Cadwalader Park can expect a sound helping of art — thanks to pianist George Dabrowski.
The Hamilton-based musician is there at the museum's Yamaha baby grand piano most Sundays between 1 and 4 p.m.
"I can't say I entertain," says Dabrowski, 72, about the weekly sessions he started in 2007. "I play quietly as background music."
But, he is quick to add, there are some people — mainly older — who just sit and listen.
"I tend to play music from the 1920s to the '50s and some original compositions," he says about his repertoire. "I also do some improvisations because I don't want to bore the regular Ellarslie volunteers. So I try to play to different music."
Dabrowski started playing at the museum when he retired from the railroad after 33 years. That includes Penn Central, Conrail, and finally NJ Transit.
"I was getting rather sedentary," he says. "And I made the conscious effort to play music — especially at nursing homes and assisted living facilities," such as Acorn Glen.
And while residents there generally enjoy his playing, some complain about him competing with their television watching. "You have to have an ironclad ego," he says.
The Hightstown-raised pianist lived in different areas of the country before moving to Hamilton more than 30 years ago. He lives near the Hurry Back Inn.
He says the idea of playing at TCM came to him when he saw a piano in the first floor gallery. "I went over and asked if I could play. The fellow who ran the place was a bit hesitant, but I'm still there."
And it seems to have paid off. In addition to providing live background music for art lovers, he seems to have struck a chord with some donors. "There have been a couple of quiet contributions to the Trenton Museum Society from people who enjoyed my playing. It was greatly appreciated by the museum society and rather touching to me."
But otherwise, Dabrowski, says, "I'm just part of the furniture."
And while he calls his playing "pedestrian," his music was informed by a professional. "My father (Waldemar Dabrowski) was a conducting student at the Curtis Institute. There were only two (conductors) who graduated that year. The other was Leonard Bern­stein."
Calling him an "exceedingly fine pianist," Dabrowski says his father didn't follow a musical career. "He went into electronics after World War II, something he learned in the military. He said, 'Music was a good way to starve to death,' so he did it on the side."
That included playing at home and regularly at the White Marsh Country Club outside Philadelphia. "He played dining and dancing music. He had a trio. He wasn't famous. He wasn't interested in performing."
But others were, and the older Dabrowski received an invitation from a Curtis classmate who also happened to be the concertmaster of the New York Philharmonic. "He offered (my father) a job touring. He thought about it, but it was too much time away from the family. He didn't want to get into that life traveling."
Dabrowski takes pleasure in recounting his father's artistry. "People who know their classical music are amazed when I tell them that he studied with a concert pianist who got tired of performing and was one of the finest of his day, Leo Ornstein" — also a composer ranked by the New York Times as an equal to Igor Stravinsky, Arnold Schoenberg, and Trenton's George Antheil. Dabrowski's father was also friends with the late Willy Kapell — called by the Times "the most prodigiously gifted and exciting American pianist of his generation."
Dabrowski says his father was a born musician from Philadelphia. His mother was from outside Hightstown. The two met during World War II at a Florida military base where his father was playing piano. They married and lived in New York City, where George was born, then moved to a farm outside Hightstown to be close to both their parents and families.
"My mother is a retired nurse. She's 101 years old and lives in Jamesburg," says the divorced stepfather of two adult sons.
About his own musical training, Dabrowski says, "I had piano lessons for a few years, along with my two brothers. We lost interest quickly when we had to practice. I also studied oboe in high school. That kept me out of Vietnam — I played in a military band in 1969."
Dabrowski says his musical taste is a blend of standards, classics, new works, and things "my father would play in the evening. A lot of stuff I play now I remember him playing."
He also plays "a little bit of Rachmaninoff, the 17th and 18th variations on a theme by Paganini. The 18th is a very lovely piece. The 17th is difficult and took me a year to learn and memorize. I'm not a pianist by training. The training I had was exceedingly elementary and not particularly helpful."
In 1980, Dabrowski started "fooling around" with ragtime music. When he was learning the "Maple Leaf Rag" he decided the work needed a musical introduction and created one. That in turn inspired the creation of series of ragtime-styled compositions. "I wrote out about 30 and there's another 30 that I play that I didn't write out — something I should do before I croak."
Although he isn't a known composer, he says that his compositions are starting to be recognized in ragtime music circles. "A couple of musicians around the country play my music. One was playing at a ragtime music event and someone came up and said, 'What do you think of Dabrowski's music?'"
And while the pianist likes the story, he says he is indifferent to the answer. "If someone likes (my music), they like it. If they don't, they don't."
The same is true about playing at the Trenton City Museum. "When I play there, there is no pressure on me. If someone asks for something, if I know it I'll play it." And if he is unsure about a musical arrangement, he has help at the tip of his fingers. "I can use my smartphone to find a song, write down a bridge and key changes, and then I'll have it."
Yet while Dabrowski helps keep the mood bright at Ellarslie, he is also dealing with some unseen challenges. "I have severe arthritis in my right hand that makes (playing) kind of tricky. It gets a little harder to play. And if you get to be over 70, your memory gets a little fishy, and it is tiring to play for hours."
Then there is also a disappointment he silently harbors. "When people come in and walk around for five minutes and leave — they don't know what they're missing. It takes time to look at art."
Looking forward, he says he is adding to his repertoire to help keep his mind sharp, and except when he is visiting his granddaughters he plans to keep his Sunday date at the museum.
Or as he sums it up, "Unless they disinvite me, I will play there as long as I can."
George Dabroswki, Trenton City Museum at Ellarslie, Cadwalader Park. Sundays, 1 to 4 p.m. Museum hours are Wednesday through Saturday, noon to 4 p.m., and Sunday 1 to 4 p.m. Free. (609) 989-3632.