There is a new place in Hamilton where girls can learn leadership, engage the community and help to make a difference.
The Girl Scout Experience Center is now open in the Briarwood Shopping Center at 2450 Kuser Road in Hamilton. The ribbon cutting on Feb. 15 was well attended by scouts, leaders, parents and local government officials.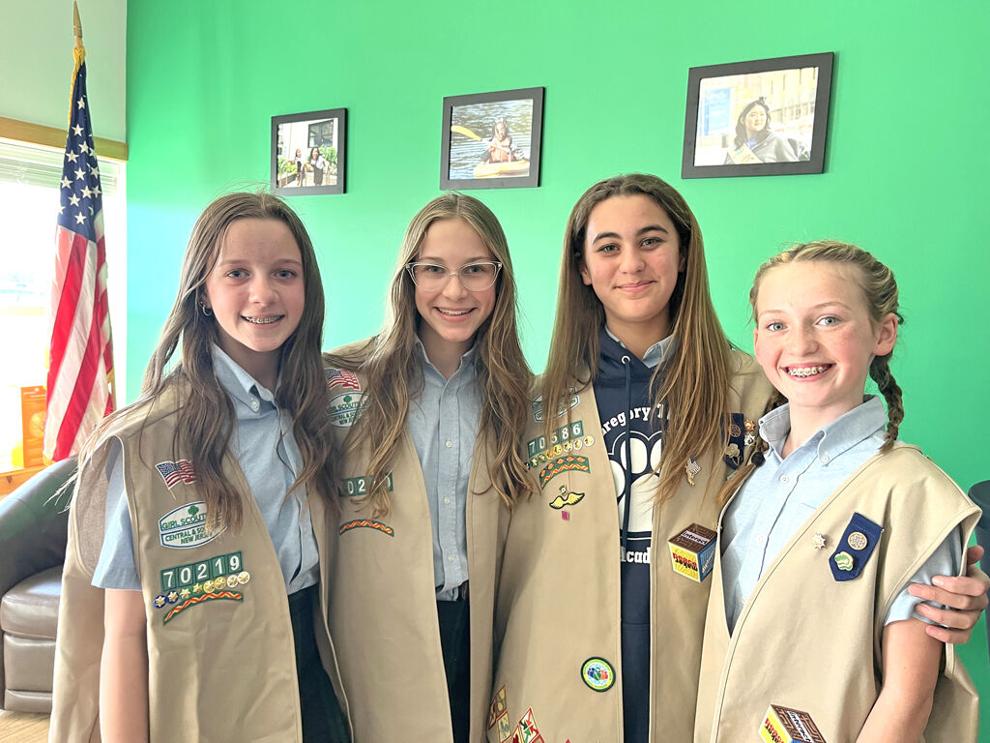 The mission is that scouting builds girls of courage, confidence, and character, who will make the world a better place. The organization has been in existence since 1912, begun in Savannah, Georgia by Juliette Gordon Low, whose nickname Daisy, is also the name of the entry level of girl scouts, which begins at kindergarten and first grade.
Girl Scout troops usually meet in schools, churches and community buildings. Having a center will provide a dedicated space for new and existing programming while at the same time providing a space where girls not yet associated with scouting can stop in and see if scouting may be a good fit for them.
This new Girl Scout Experience Center will provide for the Central and South Jersey Council which encompasses more than 100 troops. The council stretches from Edison to Cape May.
Celenia Bechtel is the full-time director of the new center and is very excited to see the opening and for the hosting of programming and events. Bechtel, who was into scouting herself as a youth, has been on board with the Girl Scouts of Central and Southern New Jersey since last October. She has previous experience working with nonprofit organizations and is happy to see the center fully opened.
Bechtel, who is originally from Tabernacle, is looking forward to the programs and sees the local troops benefitting greatly by having this resource so close.
"This is so accessible to troops from Hamilton, Robbinsville, Allentown, all Mercer County and also Burlington County" The central location of the center is very near the Interstate 195 interchange for Yardville and Hamilton.
"The Experience Center will be a hub with different stations such as a maker station with a Cricut material cutting machine, heat press and various materials. The scouts will be able to make custom cards, custom artwork and design and make their own apparel," she says.
Bechtel says there is a grow station with lights, soil and seed planting material. There is a kitchenette where the scouts can work on cooking and food badges such as New Cuisines, Simple Meals and Eating for You.
"Programming in the past has included speakers, demonstrations, music and other "cool" programs. We also see the center as a nexus or meeting place for scout excursions and trips," she says.
Last year the Girl Scouts of CSNJ served more than 13,000 girls and had more than 10,000 adult leaders and volunteers.
Lisa Cordeiro Kricun, who is vice president of fund development and marketing for the GSCSJ, is based in the headquarters in Cherry Hill. Kricun says there is one existing Experience Center in Egg Harbor, and there will be a third one opening this summer in North Brunswick.
Kricun says, "During the Covid period, we got a little lost. We were virtual, and then gradually came back in person. The Girls Scouts are in the business of creating strong leaders, creative thinkers and scouts who contribute to and provide service to the community they live in. Meeting in person, working on badges and skills and relating with each other is a must. This Experience Center will provide a place to do this," she says.
There are more than 150 badges the different levels of scouts can earn. The categories include STEM (Science, Technology, Engineering and Mathematics), Outdoors, Life Skills and Entrepreneur.
There will also be a Scout Shop in the Experience Center in Hamilton. The shop will stock items such as uniforms, badge equipment, gear, t-shirts and other apparel.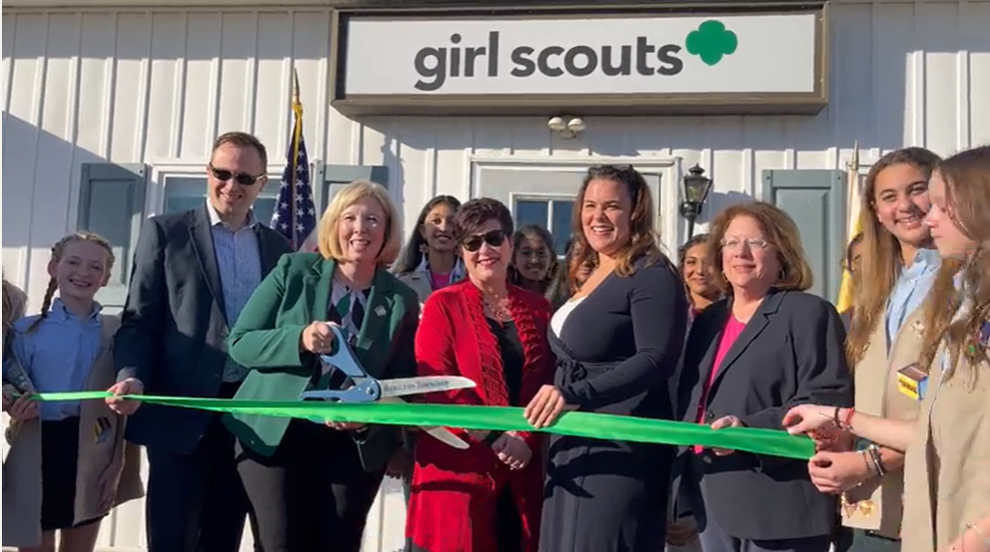 Rachel Holland, who was there for the grand opening, is well known in the area as a leader with the Hamilton YMCA, the Hamilton Partnership and is also chair of the board of directors of GSCSNJ. She is a troop leader for both her daughters' Girl Scout troops: Eva, who is in 10th grade and Jacqueline, who is in 7th grade, are both active in scouting. Holland was a Girl Scout herself, and recognizes the benefits.
"We have already used the new location for the programming that GSCSNJ is offering. The programs that they run help to expose the girls to other girls in the area from different troops and have them work with some of our corporate partners. The program that the Cadette's (grade 6-8) went to was organized and run by volunteers from Bristol Myers Squibb. It was a Super Sleuths Badge and they were able to do some science experiments to accomplish it with real life scientists. We are excited to be able to have the experience center so close," she says.
The Cadette Troop was going to see Romeo and Juliet on Broadway the weekend of the grand opening, and the Senior Troop is going to Europe next summer before they all graduate and are off to college," she added.
The Girl Scout Experience is open Tuesdays, Thursdays and Fridays, 10 am until 5 pm. Wednesdays, 10 am until 7 pm and Saturdays, 10 am until 3 pm. The Center is closed Sunday and Mondays.
Post Covid, this centrally located center has many possibilities. The excitement from the troops and community is real. The future of scouting looks bright.
As the slogan says, "One Girl Scout can make a difference, but together we can change the world!"