Most people run away from fires and natural disasters. Some run toward them, and some sign up for more. Firemen and women are those kind of people.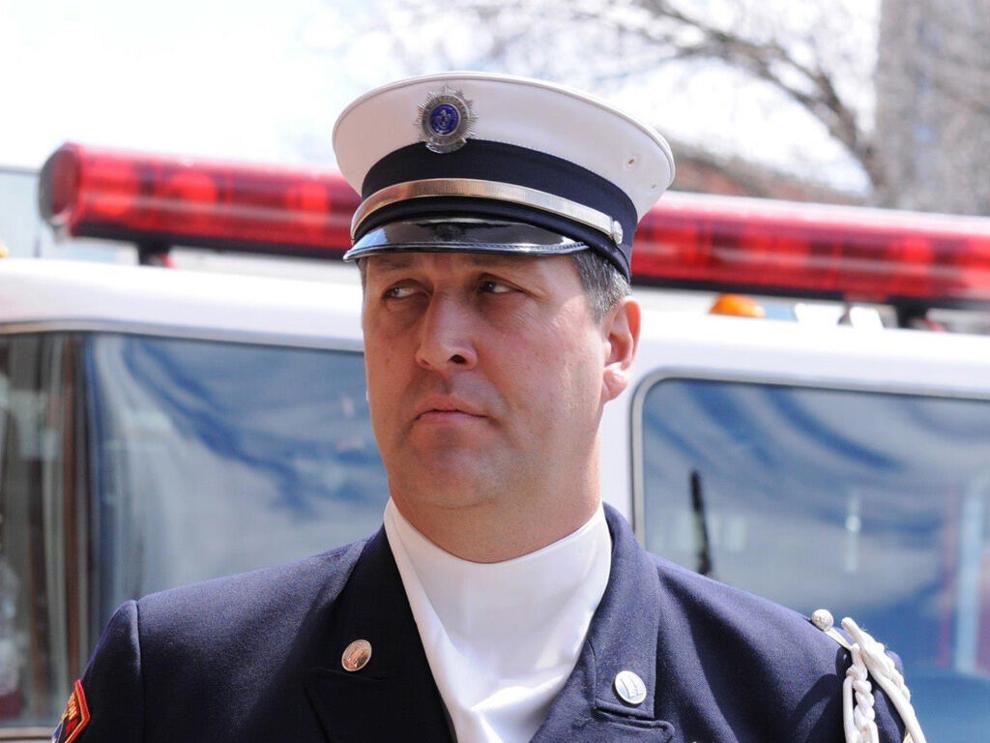 Dave Smolka is a fireman. It is his calling. Not from birth or as a child, but from once he got a taste of the job and the satisfaction helping others brings.
He is a battalion chief with the Trenton Fire Department, was a volunteer in the Hamilton Fire Station 14 for many years, and for the last 20 years has beeen a member of the New Jersey Task Force 1, one of 28 federal FEMA urban search and rescue teams established around the country.
NJ Task Force 1 is one of 28 FEMA teams based throughout the United States that are regularly deployed in response to for natural disasters such as hurricanes and floods, as well as manmade disasters such as the recent Surfside condominium collapse in Miami, or the terrorist attacks on the World Trade Center on Sept. 11, 2001.
The 200-member team is nearly self-contained with firemen, police, engineers, logistics, paramedics, nurses, and doctors. They use high tech listening devices, cameras and drones to assist in search and rescue. They bring boats for floods after hurricanes and may live in tents for 2 to 3 weeks at a time.
There are 200 people on the team, and they train every month. Smolka is a technical search specialist with the Task Force, and is also qualified to be a Search Team Manager, if the need arises. Specialists like Smolka work with both "Live Find" dogs and "Human Remains Find" dogs, depending on the need.
"The olfactory senses of these dogs are amazing," Smolka says. "On top of all the listening devices, scopes and cameras the dogs are a very important search tool."
The team was most recently deployed to North Miami, where 98 people lost their lives in the Surfside condo building collapse. The task force was on site for two weeks, recovering victims and were the last team to leave.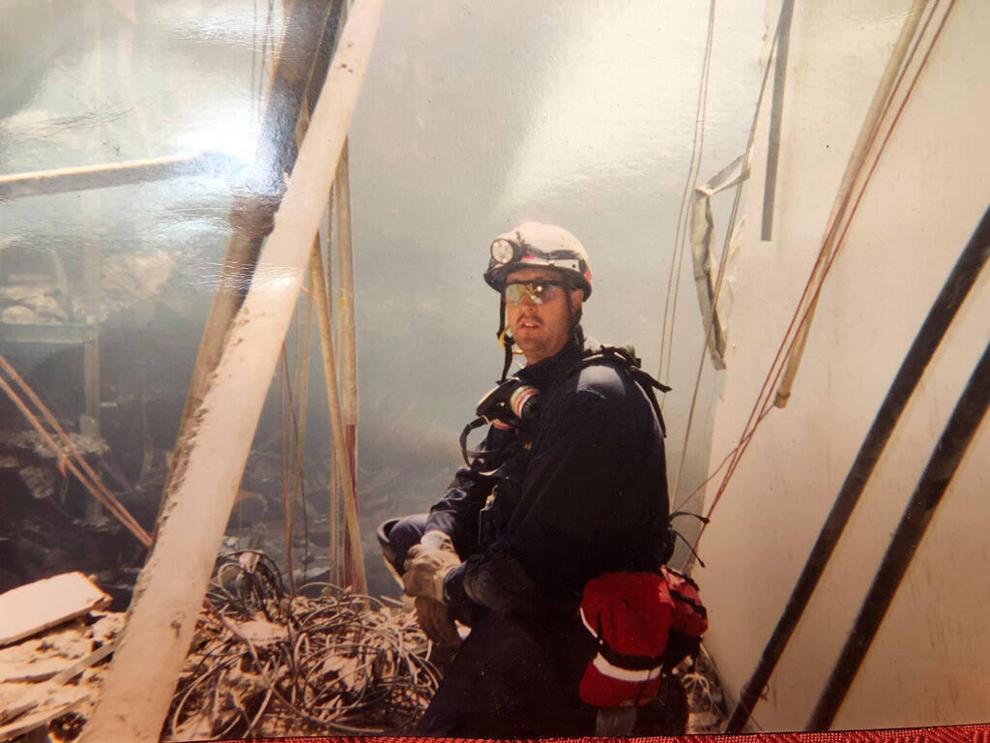 Smolka was also on site 20 years ago, on Sept. 11, 2001, when terrorists attacked the World Trade Center in New York. When Smolka talks about the recent deployment at the condo collapse, his 6-foot-7 inch frame sinks down in his chair, and his eyes soften.
"It took us right back to 9/11. It was that kind of devastation," he says. "On 9/11, there were many voids and places where people may have survived. In Florida, there were none of these. The collapse was what they call a pancake collapse. The 12 floors flattened on top of each other."
"The smell of death also took us right back. The sadness of the families surrounding the site, clutching photos of loved ones, was very emotional. We had family photos given to us to help identify victims. Photos like you would have on your living room bookcase. It was very sad."
Looking back at 9/11 as the 20th anniversary of the attack approaches, Smolka becomes thoughtful.
"The search scene at Ground Zero was so quiet and eerie. I lost a good friend, a college friend, who worked at Cantor Fitzgerald," he says. "It was an honor for us to be there, but the feelings of inadequacy linger. We all wished we could have done more. There were many victims who were never found. It took me a long time to even talk about 9/11, nearly 10 years. Comparing to the collapse in Florida, there was a completion. All the victims were recovered."
The Task Force has training facilities in Wall, and also at Naval Air Station Lakehurst. There they train monthly on search and rescue. There are collapsed buildings, vehicles to extricate from and heavy equipment to train with, on site for training. The teams must train in lifting and removal of large remnants of fallen buildings. Their own safety is as important as their mission.
The task force is also deployed to help rescue people from hurricanes and subsequent floods. Smolka and his team have rescued many people by vehicle and boat in North Carolina, Louisiana, Texas and Florida in recent years.
Smolka was born in Trenton and graduated from Wagner College on Staten Island. He began working for the Trenton city clerk's office, doing bookkeeping and other tasks.
A friend asked him to volunteer at the Hamilton Fire Company, Station 14, on East State Street in Hamilton. He got involved and was hooked on the job. He applied to the Trenton Fire Department, passed the test and was hired full time in 1991.
Starting as a fireman with Trenton Ladder Company 4, Smolka has risen in the ranks and is now a battalion chief, managing personnel, equipment and strategy at the fire scenes.
"There is nothing else I would rather do. I have no desire to retire. I will do this job as long as they will let me," he says.
His wife Luann is one reason that Smolka is able to give his all to the job of helping others. She has a lot of firefighters in her family, with father, brother and uncle all serving as both professional and volunteer firemen. One gave all. Uncle Joseph Woods was one of two Trenton firemen killed in a three-alarm restaurant blaze in 1986.
"I would not be able to do anything without her full support," Smolka says. "She holds down the fort, and is wonderful with our four kids. As she comes from a firefighter background, she gets it."
Though not ready to retire, Smolka looks back at his career with relish. Starting as a ladder truck fireman, he was a tiller, or rear driver, helping guide the large trucks around tight corners. Sometimes in open trucks with cold, rain and snow he laughs. He has many commendations and awards that he humbly explains as, "being in the right place at the right time."
"The best part of the job is the brotherhood and sisterhood of the firefighting community. We work in 24 hour shifts so you are with these people for large blocks of time. They are truly quality people, who would give you the shirt off their backs," he says. "Second to none, they do a lot of things for the community without any fanfare. It is a tradition, an extended family and in the worst of times they will be there."
Smolka also speaks of the family aspect in the firehouse about cooking and feeding the crew. Cooking is rotational, and there are some top chefs in the fire department.
"Cooking for 16 everyday, you learn a lot. You need 10 pounds of ground meat, 12 pounds of chicken and 10 pounds of potatoes. I learned a lot about cooking and firefighting from my predecessors," Smolka says.
He adds that while can he cook anything, shrimp po'boys are one of his specialties.
Along with his wife Luann, two sons Anthony and Bryan are in college, and the younger Victoria and Steven attend Crockett Middle School in Hamilton. The red painted, family living room is a sanctuary filled with museum-quality firefighter artifacts. Call boxes that used to be pulled for first alerts, antique helmets, commemorative axes and many, many photos of the firemen teams and family.
To say his wife gets it is an understatement. "How many wives would let you decorate a room like this?" he laughs, waving his arm around the room.
Smolka adds: "I am truly blessed. From a volunteer job, I found a career and a team that I love. Helping people is the best part of it all. I wouldn't trade it for anything."
Joe Horn, who started a year behind him as a volunteer at Station 14 in Hamilton, knows Smolka very well. "I could sit here all day and talk about him. He's a family man and phenomenal with his fire career. He teaches at the fire school, he shares knowledge with the new guys, he is in the Honor Guard, he takes it to the next level," he says.
Horn, who is now a captain at Station 14, says Smolka is a true credit to the fire service.