Back in March, a new community moved into some tree hollows in Veterans Park. Neither insect nor animal, their bright colors, permanent smiles, and charming choice of abode caught me, and many other walkers, joggers, and bikers off guard.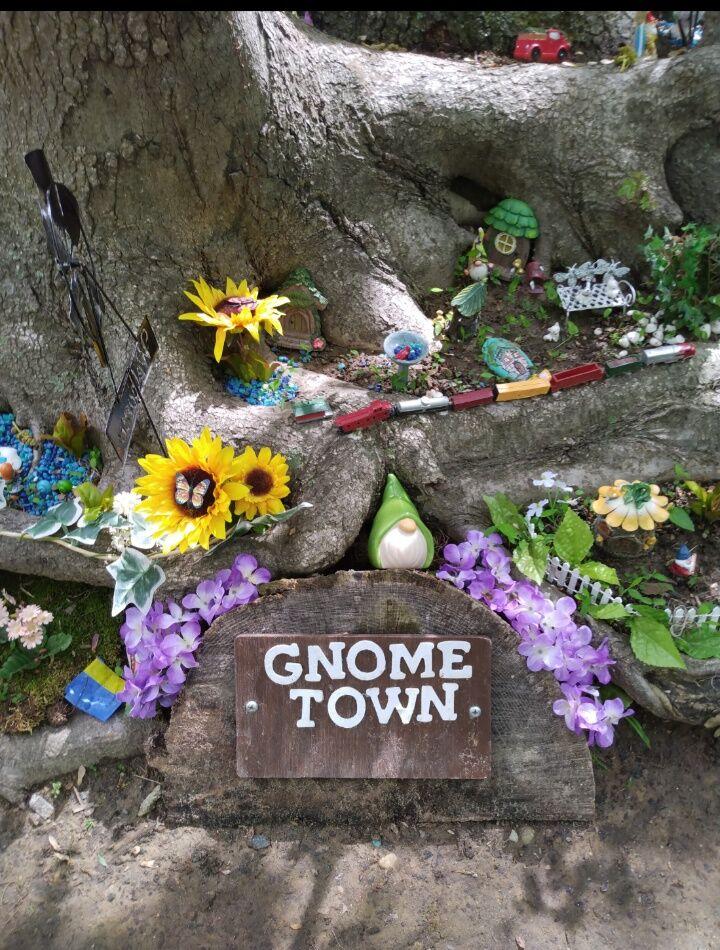 The primary territory of this small society is easily accessible by parking at the northernmost lot of the park's southern (tennis courts/dog park/skate park) entrance. From there, a short walk along the paved path into the woods yields a sight out of a fairy tale: Gnome Town.
Though a well-read fantasist might possess a thorough understanding of gnomish characteristics, or the differences between gnomes, dwarves, elves, and other fictional races, most of us hear the word "gnome" and think only of a particularly well-traveled variety, as seen in the 2001 film Amélie, or the countless ads and commercials for a certain online travel agency. Yet, despite the myth that gnomes tend toward a gnomadic lifestyle, most prefer to spend their time in a proper gnome village—an earthier, manlier counterpart to the similar, more commonplace "fairy garden."
The Veterans Park location contains a sign that reads "GNOME TOWN," along with doors and domiciles, flowers and vegetation, trains and cars (it's also a myth that gnomes are Luddites, or the Amish of the four-foot-and-under set). More practical-minded than other races, the gnomes have secured their gold, silver, and bronze inside a tree, in a sturdy-looking "BANK VALT" (such misspellings, while plenty cute, betray the gnomes' lack of formal education).
Details reward the careful observer: miniature tents, trailers, decorative stones, and of course, plenty of gnomes, wearing those pointed hats and hoods they're so fond of.
After stopping several times over several weeks to enjoy this and other gnome sightings in the park, I began to hear rumors that one man was responsible. He loomed in my imagination as a mysterious, invisible benefactor, both Gnome Man and no man, until one day I happened upon Michael McConnell, along with his faithful canine companion Skynyrd, hard at work clearing out weeds and placing new additions to Gnome Town. He told me about his creation, and its origin:
"I've been walking this park almost daily for about two years now. One day, I decided to uncover this root system and later started placing tiny gnomes there, four or five pieces. I noticed others leaving a piece here or there, and I slowly began collecting and placing pieces, keeping quiet about it just to see what kind of reaction there would be.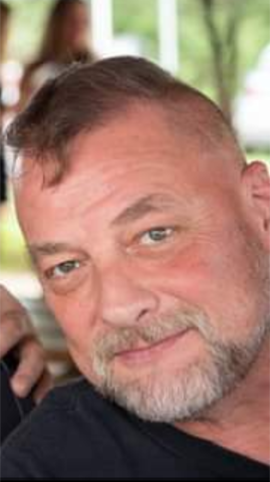 "The first thing I noticed was that people weren't just passing by anymore. People were gathering, shaking hands, introducing themselves, and talking amongst each other. I realized that "Gnome Town" was doing exactly what I intended it to do: stop people from passing by. To slow down and enjoy a moment, stretch some imagination… get out of the house and bring your kids, even be a kid again yourself."
McConnell spent part of his own childhood in Hamilton, down the road from what later became Veterans Park. "We'd go down the street to what used to be a little horse farm and go horseback riding in those very woods," he said. His family moved to Pennsylvania, and at age 16, he was struck by a car. "I broke nearly every bone in my body," he recalled. "It took me about three years to walk right again."
From there, McConnell's life took another unusual turn. "When I turned 18, I left and went to Florida, bounced around a bit, and ended up in Providence, Rhode Island, having walked and hitchhiked the entire East Coast. One day, Ringling Brothers and Barnum & Bailey Circus pulled into town. I saw an opportunity to travel the country while getting paid for it. So I joined them, and was with them for about five years."
He told me that he jumped off the train in California and began hiking around the country. He had a tent, sleeping bag and everything he needed. He hiked around the country for four years, periodically rejoining Ringling Brothers when their paths crossed. "I've been to places you couldn't even take a mule, and have seen sights that would take your breath away," he said. "Maybe that's why I'm doing this, to fulfill those pictures in my head."
Eventually, McConnell settled back in this area and raised a family while working in the construction industry. In March 2022, he began construction of a new project—Gnome Town. This Gnome Man's land is an amalgamation of found, purchased, and donated items, maintained regularly and creatively arranged: someone's discarded blue aquarium gravel is repurposed to become a pool or fishing pond; pieces of a necklace found in a consignment shop become the eggs in a bird's nest.
Alas, every gnome improvement project has its setbacks, and McConnell and his gnomes have faced their share as well. Weather and animals usually present minor problems; the major one comes from humans who are apparently consumed by a desire to acquire tiny gnomish items.
"I did start spreading small towns throughout the park," McConnell said, "but someone began stealing the pieces, so I gathered up what was left and brought them to one location. That's when I gave it a name—"Gnome Town."
Perambulating pilferers strike often—McConnell says that something goes missing every week. A case for Sherlock Gnomes, perhaps? Catch the culprits and show them gnome mercy, I say. But the creator of Gnome Town is undeterred: "Other people have contributed by leaving things there for me to position, so it helps to combat the fact that people are taking things. I try not to let the thefts get to me too much. I'm not going to let it discourage me," he said.
McConnell's enthusiasm is inspiring, and his efforts add a welcome bit of whimsy to the beautiful but rarely-changing pathways of Veterans Park. "This project is forever evolving and there will always be more change," he said. "I'm making things up as I go along, nothing's been planned. This has honestly become more than I thought it would be."
Meanwhile, a bit of internet research reveals that Dawson, Minnesota has proclaimed itself "Gnometown, U.S.A." on the basis of assorted three-foot gnome statues around the city, based on likenesses of actual inhabitants. As gnome-related achievements go, it's admirable enough—ranking slightly higher than writing a column full of gnome-related puns, for example—but while I won't dispute the title of Gnometown, U.S.A., I daresay it might be time to update Hamilton's own self-given nickname, "America's Favorite Hometown." Ladies and gentlemen, I give you Hamilton—America's Favorite Gnometown.
Images and updates of Michael McConnell's project can be found online via the Facebook group "My Gnome Town" — or by visiting Veterans Park.
Peter Dabbene's website is peterdabbene.com. His latest work, "Suburban Complaint #1988: Skunked" can be read at themetaworker.com. His book Complex Simplicity collects the first 101 editions of this column, along with essays and material published elsewhere. It is now available at Amazon or Lulu.com for $25 (print) or $4.99 (ebook).