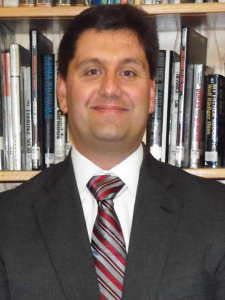 The Mercer County Association of School Administrators has recognized the Hamilton Township School District's chief school administrator, Dr. Scott Rocco, as the 2021 Mercer County Superintendent of the Year.
MCASA says that during an unprecedented school year, Rocco has been a strong and effective leader, not only for the Hamilton Schools, but also in educational and equity issues throughout the county and state. As Hamilton and school districts across the nation navigated the public health crisis and resulting complex educational challenges, Rocco has collaborated with school leaders to conduct panel discussions with experts on pandemic issues for educators and wrote an op-ed featured in NJ Spotlight promoting the need for schools to serve as community vaccination sites.
He then worked with various professional organizations and Walgreens to run a series of vaccination clinics in Hamilton that allowed over 2,000 educators and community members to receive their Covid vaccinations. In Hamilton, he ensured that all students had access to technology and the internet access the district implemented its "Return to School" plan.
Rocco has been the superintendent of the Hamilton Township School District since 2017. During his time at Hamilton, he has spearheaded the successful passage of a $55.4 million facilities referendum and implemented a multi-year high school media center modernization project.
In his tenure, Rocco's efforts have included providing more equitable access to gifted and talented programming, providing the PSAT at no cost to students, and increasing Advanced Placement courses and enrollment. His work at Hamilton has also featured programs such as the district's high schools starting E-sports teams, and community outreach initiatives that resulted in HTSD being awarded 500 T-Mobile hotspots and a $25,000 COVID relief grant.
Rocco has a bachelor of arts in social studies secondary education degree and a master's in educational administration degree from The College of New Jersey, as well as a doctorate in educational leadership from Seton Hall University. He is the immediate past president of the New Jersey Association of School Administrators, and serves as the co-chair of the Techspo professional development conference. He is an adjunct professor at The College of New Jersey and an instructor in the NJEXCEL program.
"Dr. Rocco is a talented and dedicated school leader who is held in high regard by his colleagues," MCASA President and West Windsor Plainsboro School District Superintendent Dr. David Aderhold said. "His work and leadership during the school year unlike any other has been vital not only to Hamilton, but to school districts around the state. Scott is an outstanding selection as the 2021 Mercer County Superintendent of the Year and we offer him our thanks and congratulations."