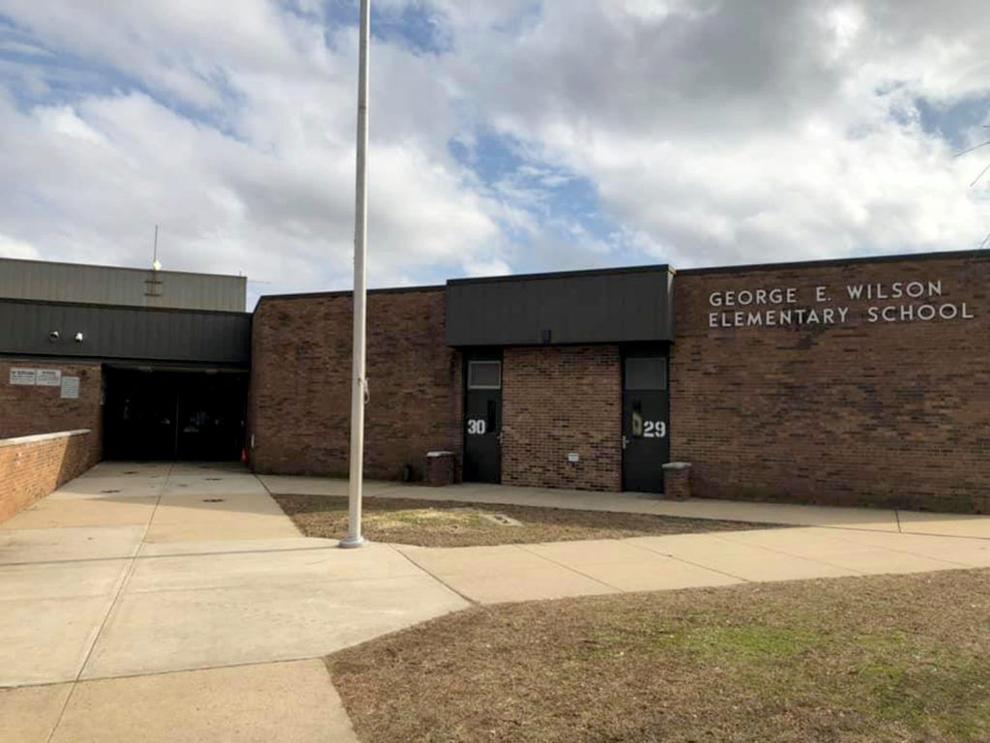 It's Shakespeare who has Juliet telling Romeo: What's in a name? That which we call a rose by any other name would smell as sweet.
I thought about Juliet's words after a lively discussion at the March school board meeting about the names of the schools in our district. And of course, a school by any name is still a school, but where did all the building names come from?
Let's start at the beginning. The Hamilton Township Board of Education had its very first meeting on July 13, 1894. Here's a description of the number of students who attended district schools according to the census of 1898.
Hamilton had 981 school-aged children. Of those, 517 were formally enrolled in the township school system. Twenty-five children attended private schools. The remaining 339 didn't attend schools.
Local historian Tom Glover has noted that at that time, Hamilton was a large farming community, and many children worked alongside their parents farming instead of attending schools.
That farming piece played a big role in naming names, because often farmers donated portions of their land for the building of schools. Thus: Klockner, Lalor, and Sayen Schools. But those are just the schools which remain standing in the district. One of the discoveries on this path was how many schools this district has seen over the years.
Maple Shade School was the first in the township and was located on White Horse Avenue, down near Pete's Steakhouse. The district administration building that we all call Park Avenue was once the Hamilton Square School.
Several of the district schools take their names from the surrounding neighborhood, or a housing development. Think Langtree, Sunnybrae, and University Heights. The land Sunnybrae sits on was once a golf course.
Mercerville and Greenwood seem to get their names from government proximity. Greenwood, of course, sits on Greenwood Avenue across the town hall. Greenwood came about when Bromley residents decided there was a need for a new school.
Mercerville School, like the Mercerville section of the township, and Mercer County, derive their names from the Revolutionary War general Hugh Mercer. Tom Glover has collected some fun historical clips on Mercerville School.
Many district schools bear the names of former school board members, or esteemed employees of the district. There was a call at the March 24, 2021 board meeting to have future buildings named after women, but I was delighted to learn that three district buildings already bear the names of women.
Two of those women served the district with distinction and one was a philanthropist of her time.
Kuser school, according to a 1908 news clipping, was originally named Rosalie Kuser School.
Mrs. Kuser was a very prominent philanthropist in the area who died in 1923 at the age of 90. She was married to Rudolph Kuser and had six children. They owned acres of farmland in Hamilton as we know from tours of Kuser Mansion.
The second school in the district named after a woman is Emily C. Reynolds Middle School. Ms. Reynolds started her teaching career in the district at Kuser school in 1913; by 1929 she was principal of Kuser. She remained the principal of Kuser until her death, serving the district for a total of "44 years, 2 months and 27 days," according to a write-up.
Reynolds died in 1957, and a year later, in 1958, the middle school was dedicated in her name.
And the third school is the Leona Kisthardt Elementary School, which was named after a long-serving Hamilton Township school nurse. Her name was attached to the school in 1955; the school was previously known as the DeCou school. DeCou was originally located on South Broad and Dewey Avenue and was named to honor Martha DeCou. Mrs. DeCou had donated the land behind the school for use as a playground. That school was torn down in 1964 and many students moved to what is now Kisthardt. Some went to McGalliard.
According to Ms. Kisthardt's obituary, she retired on April 1, 1954 after working as head nurse for the district for 35 years. She began her career working for Bethlehem Steel. Sadly, she died a little over three weeks after retirement due to a long illness. She is buried in Greenwood cemetery.
As referenced earlier, many of the district's buildings are named after people who were either employees of the district, or school board members.
Morgan school was named after William B. Morgan who was a school board member from 1952-1957. Mr. Morgan ended his board service as Vice-president of the board.
Alexander school gets its name from James W. Alexander, who was the Supervising Principal of Township Schools from 1916-1939. The role of supervising principal is now akin to being the Superintendent. According to a story about the school's 50th anniversary, Alexander Elementary School opened in 1963-64. He was known for traveling by trolley car to visit the schools. Alexander served the district for 23-years. He died at the age of 93.
The name of Robinson school comes from William A. Robinson who was the Secretary to the Board of Education. As secretary to the board, Mr. Robinson would be required to keep minutes of meetings. This role today is performed by Ms. Katie Attwood who is the Business Administrator and the Board Secretary. A 2013 Community News story noted both Alexander and Robinson opened their doors to students in 1962.
McGalliard School was named for Edward and William McGalliard. Edward McGalliard led a district committee assigned to examine the need for a new high school. Here's a story written by a Hamilton High student on Nov. 26, 1930: in the "Hamilton Flash," Hamilton High School newspaper:
About four years ago the Hamilton Township Board of Education started a discussion as to the need of a high school in Hamilton Township, because at that time Trenton High School was so small it was all they could do to accommodate their own pupils. Part time started and the tuition rate rose. It was rumored that Hamilton Township would have to take care of its own pupils, thus the Board of Education got busy.
A committee was appointed to make a survey and report back to the board. The committee consisted of G. A. Yewell, of Yardville, Chairman; Edward McGalliard, of White Horse, and Morris Blackford, of Yardville Heights. The committee recommended in 1928 that a high school be built in Hamilton Township.
The board took a vote after several discussions and public meetings to put the matter up to the vote of the people. This was held a few months later in Rowan School in White City. The vote was in favor of the building. This settled the proposition as far as the Board was concerned, and a building committee was formed consisting of Edward McGalliard, Morris Blackford, and William Wolfinger. The committee was instructed to find the cost of a high school building suitable to seat from 900 to 1,200 pupils.
Several plans were drawn and submitted to the committee, and in turn a final plan of 40 rooms was adopted. About this time a discussion started through the township that Hamilton could not afford to maintain their high school. This propaganda started more or less from the city of Trenton, and was saturated through the township.
The board started another round of meetings to find whether they were right or wrong to go on. Here a survey committee, consisting of Joseph Arnold, superintendent of Mercer County schools; William A. Robinson, secretary of the board of education, and James W. Alexander, supervisor of township schools. These men finally reported favorably and recommended that the Board of Education should still go ahead with the high school.
Construction was started March 1, 1929, and finished Sept. 1, 1930.
Here's another fun story about a McGalliard family member.
The McGalliard family has lived in this area for 150 years of continuous residence in Mercer County. Over 125 of which have been spent in Hamilton Township. One of the members of the family is a familiar visitor to the Chambersburg section, and is known by one and all as "Uncle Dave."
His ability as a farmer was evidenced by the regular weekly trips in his market wagon through the Chambersburg section of Trenton. A basket of eating apples carried under the front seat added to his popularity with the children.
"Uncle Dave" McGalliard obtained his education by attending night school once a week in nearby Allentown. He rode on horseback to and from school, which was a six mile journey over rough back country roads from Windsor. Later, he spent the winter months teaching school in the one room school at Edinburgh.
The George E. Wilson school on East Park Ave. opened in 1977, and replaced two older schools in the district — the Rowan school and the Willey school; and George Elmer Wilson was principal of both schools, at the same time, until his death. Trying to figure out how he came to lead two buildings at once isn't clear.
According to a newspaper account, in 1897, the community wanted a school in the Broad Street Park area, which is south of Broad St. Since Andrew Kenzie Rowan agreed to pay the interest on the $2000 "as long as it belongs to the township" they likely named the school after him. The school sat at Broad and Chambers Streets.
The Willey School, which is now home to the Hamilton Educational Program, known as HEP, opened in 1914. A 1916 Trenton Times article was called Willey school "one of the most up-to-date rural schools in this area of the state." I suspect the school took its name from the landowner, Eugene S. Willey who was a lumber dealer.
Apparently in 1923, more of Eugene Willey's estate was donated to the school for "a fully equipped recreational center." This came about when the Rowan and Willey PTAs joined forces.
Rowan school sat one half mile from the Willey school. Whether Rowan students walked to Willey for physical education is anyone's guess. But what is clear is that Rowan (a descendant of Joseph Bonaparte) and Willey lived together in later years. In fact, according to a story in the New York Times, Rowan's relatives had Willey arrested and charged with kidnapping!
And the history of Rowan and Willey becomes important when looking at George Wilson, the district's first African American principal. Wilson was born in 1916; he graduated from Trenton State Teachers College in 1939, and eventually earned a master's degree from Rutgers according to his obituary. His first teaching assignment took him to Cape May. From there, on June 8, 1943, he enlisted in the Army. Before shipping out, he married Clovia Hackett, a classmate from Trenton State. First Lt. George E. Wilson and his wife landed at Camp Plauche (pronounced ploe-shay) in New Orleans, Louisiana.
When Wilson left the Army is still unclear; however, Lt. and Mrs. Wilson moved to Hamilton where they lived at 305 Grand Ave. Wilson began his career with the district in January 1949, teaching 6th grade at Yardville school. By the fall of 1949, he was teaching at the Willey school, where he taught for twelve years. In February 1963, he became the principal of both Lalor and Willey schools. In 1966 he was principal for Rowan and Willey schools, and served in that capacity until his death in 1969, at the age of 53. He too is buried in Greenwood cemetery.
The naming of Yardville and Yardville Heights schools is a bit unclear. There were Yard families in Philadelphia and New Jersey, and one person I spoke to thought that's where the name Yardville came from. But again, there was very little readily available information.
The district middle schools: Crockett and Grice are also named after former school board members Richard C. Crockett and Albert E. Grice. And as an aside, Mr. Grice's daughter, Carole, died in May of last year at the age of 83. A time capsule was placed in the cornerstone in 1961. In April of 2011, the time capsule was opened and then resealed.In the capsule was a pair of Albert Grice's cuff links.
Nottingham High School has had many incarnations. Built as a middle school, it was called Steinert Grammar School until it became a high school. The Nottingham name comes from Isaac Watson, the man who, in 1708, built his house at 151 Westcott Ave. Watson's house is the oldest standing house in Mercer County.
According to a 1993 Trenton Times story: Watson was of such local import that he himself named the municipality the "Township of Nottingham,'' after his birthplace, Nottinghamshire, in England. The name was changed years later to the ''Township of Hamilton,'' but a main thoroughfare was dubbed ''Nottingham Way'' to keep alive the original name.
There are three schools in Hamilton which carry two names. Langtree school takes its name from the surrounding housing development; however there is also memorial naming of the school for Joseph Pirozzi. Langtree has a brief history of the naming on its website:
Joseph Pirozzi came to the Township of Hamilton in 1952 and purchased The Philip S. May farm on Klockner Road and White-Horse Hamilton Square Road. He began construction of what is now Langtree Estates just prior to his passing away in November, 1956. The project was then taken over by his sons, Jack and Neil, and 475 homes have been constructed to date. His widow, Mrs. Florence Pirozzi, generously donated the 14.5 acres on which Langtree School is built.
Hamilton High West is actually Hamilton West-Watson High School. Watson comes from Edward "Pop" Watson, who was the West attendance officer, but back in the day was called a truant officer in the district. The school has amassed an extensive collection of articles about the school's history.
And Steinert is named Hamilton High School East — Joseph Steinert Memorial. This information is from the obituary for Mr. Steinert's grandson, Harry, who died in 2018 at the age of 93. Mr. Steinert's grandfather was honored by Hamilton when the Joseph S. Steinert High School East, now known as Nottingham High School, was built on land he donated to ensure additional education opportunities for the children of Hamilton Township.
Author's note: I can't sign off without a few thank-yous. Tom Glover's sites have so many fascinating articles and stories which helped piece this story together. Tom's love of history and his dedication to saving Hamilton history for future researchers is a lasting gift. Research librarian Mary Lopez of the Hamilton Free Public Library tracked down Lt. Wilson and Nurse Kisthardt's obituaries.
Librarian Jim Snow of the main branch of the Mercer County Public Library found Clovia Hackett Wilson's obituary. Hamilton parent Lisa Schulz introduced me to the amazing genealogical archives curated by the Mormon Church. Grice Middle School Principal David Innocenzi fueled my curiosity and kicked off what he called "the quest." Hamilton West vice principal Chuck Zalescik sent the plaque photos and enough reading to last the rest of the year. And the district's retiring Human Resources manager, Dawn Charles, has a future as a Hamilton Township Schools archivist.
Dr. Sue Ferrara began her career in broadcast journalism, and for a time, worked as an ABC News researcher. A member of the Hamilton Township School board, Dr. Ferrara shared this information at the April school board meetings. Email: sferrara@htsdnj.org.