Tucked away on a busy road once traveled by George Washington and the Continental Army is a hub of health services for many who have served this country both here and abroad.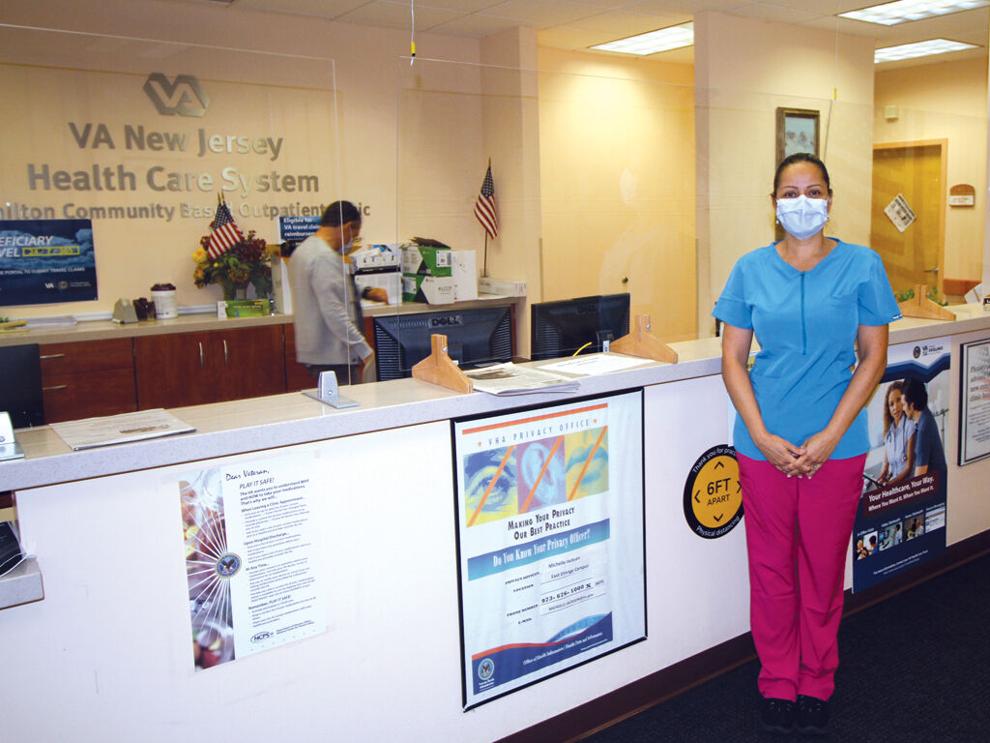 The Veterans Affairs Health Care System of New Jersey has a Community Based Outpatient Clinic at University Office Park on Quakerbridge Road. It may not be familiar to the general public, but the facility is very familiar to area veterans of all the armed forces.
One of 14 outpatient clinics in New Jersey, the center is connected to a full service VA Health Care Center in East Orange. A staff of 15 care for patients who come from Central New Jersey and Eastern Pennsylvania.
Three teams consisting of a primary care doctor, two nurses and a mental health provider are assigned to each patient. The team approach is meant to be efficient and very personalized. Many of the staff are veterans themselves or may come from families with military ties.
The landmark VA Mission Act passed with broad bipartisan support in 2018, and has looked to modernize and improve services within the VA system, which provides services to more than 9 million veterans via almost 1300 healthcare facilities. The Mission Act statement is to honor America's veterans by providing exceptional health care that improves their health and well being.
At the Quakerbridge Road clinic, which opened in Hamilton in 2010, new patients are assisted by a social worker to help understand the myriad of offerings and available services offered by the clinic. As with many healthcare providers, getting enrolled and accustomed to the different benefits can be daunting.
Erica Zimmerman, who is the Lead Nurse Manager at the Hamilton Clinic, says tasks where social workers can assist veterans include:
Helping newly discharged veterans access their benefits; assistance to find housing; employment assistance; and assist them in navigating the VA system itself.
Zimmerman has been with the VA Clinic starting as a nurse in 1996. She is committed to assisting veterans due to family ties. Her parents are veterans, and her sister also works for the VA.
"We help with any and all healthcare needs. Primary care is our number one use, followed closely by mental health services. The stigma is gone regarding mental health. Younger veterans have seen their older counterparts struggle while keeping their issues inside. This is thankfully no longer the case.
Zimmerman said staff observe patients at each interaction and freely offer the clinics mental health services based on their needs. Patients may be hesitant at first, but will usually keep the offerings in mind.
"Many will use our mental health help with medicine management, psychotherapy or group meetings regarding substance abuse and post-traumatic stress management," she says.
Zimmerman has seen a lot of changes during her tenure. "We have much better intimacy with the patients using our team approach. The patients will be seen by the same doctor and nurses for each visit. We can keep better tabs on the patients in between visits also, with virtual wellness calls and in between care," she says. "The telehealth virtual appointments were necessary during the pandemic and have proven to be very popular with our patients. Some have transport issues, and some just love the convenience."
Zimmerman shares that the clinic may also assist with living wills, coordinate home healthcare, adult day care, hospice and palliative care.
"We care for the veterans from service discharge for the rest of their lives," she says.
The clinic sees about 35 patients a day with its 3 teams of doctors and nurses. Most staff has been there close to ten years and add continuity to the patient relationships. There are four exam rooms, including a women's health room suite. With women composing 15 to 18% of the military both active and reserve, women's health care needs are a priority. Pregnancy and neonatal care, mammograms and OB-GYN services for veterans are part of the standard services offered.
* * *
Outreach program coordinator David Brimmer lives in Hamilton and has a mission. It is to get the word out to veterans about the work the VA does, and how they can enroll for services.
"We offer so many things. Though primary care and mental health are well known, we also offer hearing aids, vision services, prosthetics, durable medical equipment such as wheel chairs and very low cost prescriptions. We do in-house assistance visits to install aids such as shower grab bars and stair lifts," he says.
He says of 325,000 veterans in their service area, only 50,000 are enrolled in the VA and have access to the benefits available. They would like to reach more.
"Younger veterans are sometime hard to reach and sometimes wary to enroll. 'Let someone who needs it more than I,' they say. We try to show them they are entitled to assistance and we are there to help them," he says.
Brimmer says online forms are truly easier than ever before and enrolling can takes just minutes. "It is part of the military agreement. Both parties agree to take care of each other. We are here to honor that agreement," he says.
Brimmer visits American Legions, VFWs and other government agencies to share the news of the good work the VA does. He travels where the demographics take him. "Police and corrections departments hire tons of veterans, so we reach out to assist enrollment. Some feel that they do not need the VA but most do not know all we have to offer," he says.
One aspect of outreach takes them to correctional facilities where veterans may be incarcerated and their benefits may be suspended. "Upon release, their benefits may be reinstated and we assist with this," he says.
Wanda Otero Sanchez is a nurse at the Hamilton VA Clinic, and is a veteran herself. "I love my veterans!" the army-trained nurse says. "I love listening to their stories. For them, it is very therapeutic. I hear war stories, Vietnam stories, sad stories. The leaving stories are hard, soldiers who had to deploy and were forced to leave their families, their babies."
Sanchez has been at the Hamilton VA clinic for 10 years. "When I was in the army, the older soldiers, and medical staff guided and helped me. They advised me and now I help advise the patients here. We are very helpful and here for each other. When I started this job I just lost my mom. Now I see her and keep her spirit in helping these patients.
"Some veterans should be utilizing our services and are not. If I see a veteran wearing a service related hat when I am out and about, I ask them, do you come to the VA? If not I tell them where we are located and what we offer. I am a big advocate of helping our veterans," she says.
She was happy when the staff were able to see the patients in person again. "We had been virtual for so long, seeing them in person made everyone happy. This is a social outing for some patients, who don't get out much. I only wish I could spend more time with them, and listen to all their stories," Sanchez says.
Besides their regular large slate of services, the VA Community Based Clinic offers Covid testing and vaccines.
"As the needs change, the VA will change. I can't imagine not having telehealth services now," Brimmer says. "We are here to honor our veterans with world-class healthcare. Please reach out, we will get you started. It is part of our agreement."
Hamilton VA Outpatient Clinic, 3635 Quakerbridge Road, Hamilton, NJ 08619. Phone: (609) 570-6600. Mental health clinic: (973) 676-1000, Ext. 1421.