When it comes to centerfielder Danilo Perdomo, no one play or moment stands out in the mind of Hamilton West coach Mike "Mo" Moceri.
That, by the way, is a compliment.
"He was always the spark, always making that big play," Moceri said. "There's nothing that sticks out because there's just so many. It was like one big highlight."
That highlight reel ran for six years with the two, as Moceri began coaching Perdomo at age 13 with the Hamilton Babe Ruth All Stars. The two went to a 14-year-old World Series together and went 56-22 (counting last year's Last Dance tournament) in four years with West. It's a relationship that will likely stay intact, even though Perdomo has graduated and is moving on to play for Mercer County Community College.
"I've coached Danilo since he was 13 years old he's like one of my kids," Moceri said. "Just watching him grow as a baseball player, watching him grow as a person, we became very close over the years. He's just a great kid. He comes from a great family, he works hard at home for his family, helps around the house with his mom, his sister. He takes on a lot of responsibility and to still be as good as he is on the field it's pretty remarkable."
Perdomo returned the praise.
"The comfort level with us was good," he said. "The chemistry built the summer before I got here when we played in a state tournament atmosphere down in Virginia. Coming into high school it was very comfortable. Mo's a solid coach and always had my back. Playing for him was good."
And Perdomo played good for him. After making the varsity as a freshman, Danilo had a career average of .322 with 58 hits in 180 at-bats. He scored 51 runs, drove in 24 and had 15 doubles, two triples, 32 walks and 20 stolen bases. After batting .242 in a part-time role as a freshman, he hit .303 as a sophomore and .382 this season.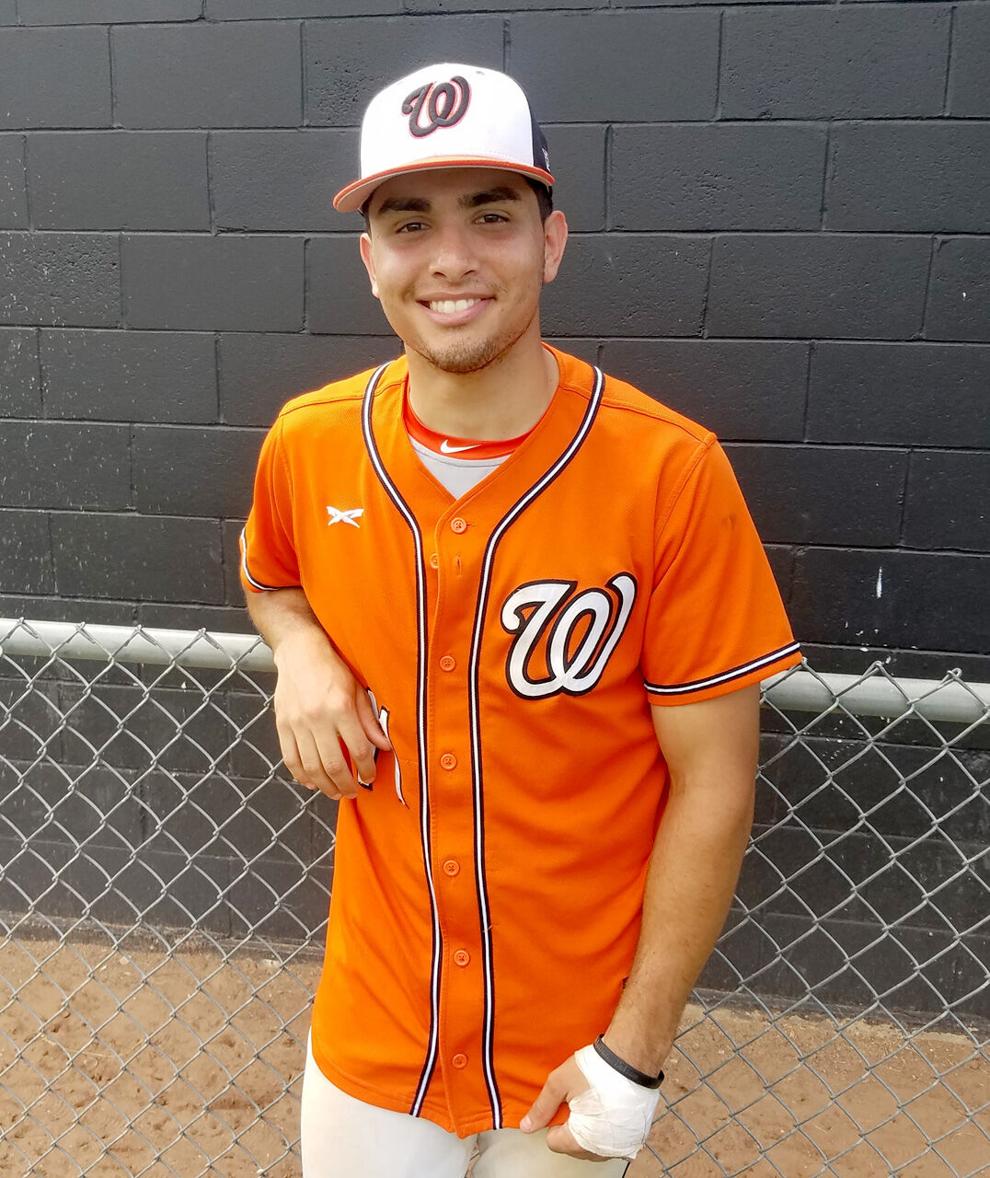 Danilo helped get the Hornets to three state tournament berths, including the sectional semifinals this year and 2019. He was happy with 16-6 record and state run this year considering West had some unknown quantities entering the season and some serious pitching injuries during it.
"It went a lot better than I thought," Perdomo said. "I had confidence coming into the season and we went onto a nine-game winning streak (before losing to Northern Burlington in the states). Losing (Pitcher Jack) Angelini got us down a little bit with negativity, but at the end of the day we came out and battled. Obviously I want to win and make it as far as I can. But I'm pretty much satisfied with where we were."
As for his own season, which started slowly offensively before picking up in the second half, Perdomo just looked at it in terms of how it helped his team.
"The goal was just to win and finish off strong," he said. "I tried my best to help us win and I guess the stats talk for themselves. But the goal is to win as a team, I never came in saying I wanted to play for myself. I played for the team and did the best I could. Baseball is a game of failure. You fail 70 percent of the time but if you have a good mindset, work on your mechanics you can do OK. I battled, I worked hard this off-season. I guess that helped too."
During his little league days, Perdomo played travel ball in North Jersey while growing up in Belleville. He moved to Hamilton in eighth grade and David Zamora, who Danilo knew through travel ball, helped make him feel comfortable with the Babe Ruth All Stars and at West. It was then that the lifetime shortstop got moved to center.
"I was actually pretty good at shortstop and third base," he said. "But I guess my speed helped a lot in the outfield when we moved on to the big field."
"When he came to our Babe Ruth All Star team he could run and we knew that he could swing the bat," Moceri said. "At that time we had a pretty good middle infield so we threw him out in center because he was a pretty good athlete. And it kind of just took off from there."
Upon arriving in high school, Perdomo played both basketball and baseball as a freshman. He quickly decided to focus on just one sport.
"Baseball and basketball are my go-to sports," he said. "At one point you have to pick what you love more and baseball was it, obviously. Playing basketball I didn't work as hard in the off-season obviously, because it's back-to-back seasons. Freshman year I came in, did what I had to do to make varsity. I didn't have the best season; but after that I didn't play basketball and I just worked hard."
Perdomo's extra work was evident his sophomore year, when he impressed with both his bat and glove. Despite playing a shallow centerfield, he is able to go back on fly balls with relative ease.
"It stems all from his work ethic in practice," Moceri said. "He'll always play shallow and just work on going back on balls live off the bat during BP in practice. It just pays off in the end."
Perdomo said his speed gives him confidence to play shallow, and he also credits Moceri and defensive assistant coach Jim Maher for their positioning. Being a student of the game doesn't hurt, either.
"I can see the signs the catcher is giving from there so I know if a pitch is gonna be off speed, if a kid's gonna sit back on the ball," Perdomo said. "Also, I remember what the kid did his last time up. And getting a good jump on the ball helps a lot too."
After having a strong showing in the Last Dance during the 2020 shutdown season, Perdomo was being counted on as one of Hamilton's big offensive threats. He had an OK start, going 6-for-23 (.260) in the first seven games. He then caught fire, hitting safely in 12 of the final 15 and batting .444 (20-for-45) during that stretch.
"Sometimes he tries to overthink everything," Moceri said. "We talked about having him simplify the game. Just relax, take a deep breath. He puts too much pressure on himself and when he just simplifies things and lets the game come to him he's a really good hitter. That's kind of what he did toward the second half of the year and he had some big hits for us."
Perdomo will look to keep getting big hits at MCCC in his quest to play for a four-year program.
"Hopefully I'll play a solid two years there, give it my all and transfer out to another good school," he said. "I had interest from Monmouth but academically and with the money I wasn't all the way up there. But Monmouth was definitely on the radar."
Moceri feels that Mercer is the perfect college start for Perdomo.
"That's definitely the best option for him," the coach said. "Obviously school-wise, just being able to get some college classes under your belt helps. I think if he went to a four year school he might have been a little overwhelmed by the schoolwork and the workouts and by baseball. I think with him getting two years at Mercer, you're gonna see him definitely play at the next level at a four-year college."
And Moceri will be watching every step of the way, thanks to a bond that has gotten stronger each year.