When the leaves are changing and the local gridirons are cooling off, the Nottingham-Steinert and Nottingham-Hamilton games are fierce. Once those leaves have fallen and the weather is chilly, it's just as intense when Hamilton meets Steinert on Thanksgiving.
But at Nottingham High School in the summer heat of July, players and coaches from all sides were friends at the Hamilton Coaches/Skills Camp.
"We're a community here," said Reynolds Middle Schooler and future Steinert student John Logorda, who has gone to the camp for seven years. "We're all friends and if you're bullying other people, you're out. This camp brings a lot of people in and together."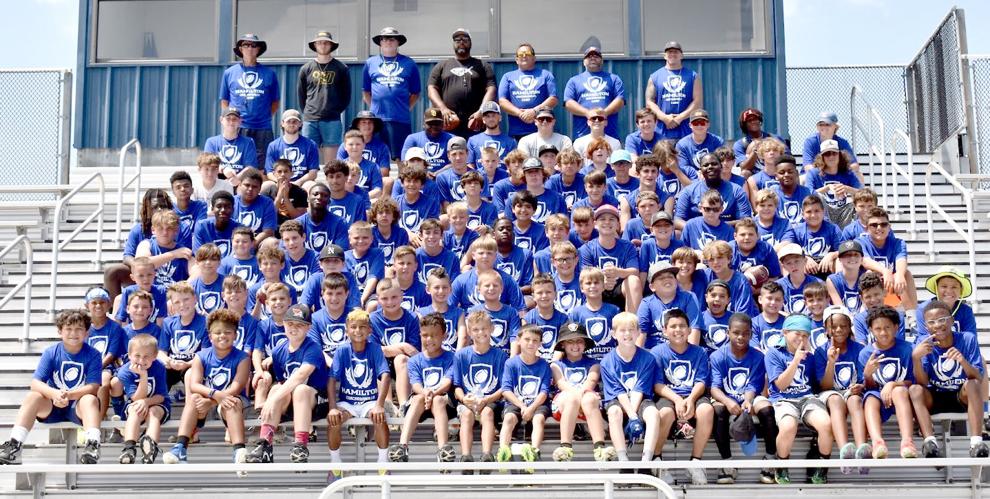 That goes for the coaches as well, as Nottingham's Milo McGuire and Hamilton West's Mike "The Meatball Master" Papero were both on hand (Steinert's Dan Caruso was on vacation).
"Me and Papero run drills together," McGuire said. "Everybody gets a first-hand look at how we relate to each other, so it's good."
The camp is a combination of the former Hamilton Coaches Camp, and the Skills Camp.
"During Covid, we got rid of it because we didn't want to bring the three high schools together and have them get the virus," said Keith Zimmerman, the camp director and Nottingham's offensive coordinator. "This is the return, and we've combined it. It just made sense to get everybody together again and build it for the township as one big thing."
Papero said the merger has made for a better all-around camp in looking at positions.
"Since we combined we're seeing a lot of offensive linemen now," the Master said on the final day of camp. "With the Skills Camp, it was just skills players. This is really good. It's hot, there's not too much complaining. They're running around having fun and building those friendships whether they will be playing with or against each other. I'm seeing kids out here going to Steinert and Nottingham and I'll be rooting for them all but one game of the year."
The camp was held from July 11-15 and drew nearly 100 players during the same week that Hun and Robbinsville were running their camps. While the majority of the turnout was from Hamilton's youth leagues — Rouge One and Hamilton PAL/Pop Warner — there were also players from Princeton, Bordentown, Lawrence, Ewing, Trenton and Robbinsville.
The camp is broken down into groups for each position. First comes offense, then defense.
"Each kid is allowed to switch to whatever he wants," Zimmerman said. "We just try to say, 'Do this one for today.' Too many kids are being specialized in one thing. They're young, so we're trying to give the opportunity for a kid that can't play quarterback on his team, to come out here and play quarterback. Because in two or three years, you might be that quarterback."
Zimmerman used Nottingham's incumbent quarterback Joe Lemly as an example. He was not a quarterback when he attended the camp, but has since gained that role.
Logorda, who was a star for the HTRBA 12-year-old All-Stars in District 12 play this summer, wants to play QB and also likes wide receiver. He enjoyed his lessons. "It's a lot of new things," Logorda said. "The coaches are real nice, they teach you things. You have to work hard, but it's fun too."
Former Nottingham quarterback and Delaware Valley All-Conference punter Stephen Adams worked with quarterbacks, receivers and defensive backs, and was impressed by what the camp accomplished.
"This is the only camp I do. I'm super pumped up," he said. "These kids work hard. I think it's creating a positive example that shows them what hard work really looks like and where it can take you.
"It's awesome for the community. You get all these youth kids out here, all the schools. I think it's something way different that you haven't seen. They had the coaches camp when I was young, but nothing that was this integrated throughout the community."
Zimmerman says the goals of the camp are simple. Coaches want to teach the game, instill confidence and inspire sportsmanship.
"We haven't had one situation," he said on the final day. "This is a thing that bonds kids. They're making friends. We have kids who never played football, so as coaches we take a little extra time and pull a kid aside and say, 'Hey, lunchtime let's go over there and work a little bit.' We're trying to build confidence, we're trying to build the game back up, because we all know what's going on (with parents afraid to let their children play due to injury issues)."
Papero is a product of the Hamilton Coaches Camp, and is happy to be on the other end now and giving his expertise to young players.
"This is the time we want to get these kids to learn about the game and fall in love with the game," he said. "Especially these youngsters, who are maybe starting out, it's important they learn the safe way to play it. They also get to hang out with kids that maybe they wouldn't, who live across the township. They'll be going to different schools, but this week they're all on the same team."
Despite the fact the players had only five days to interact with coaches, Papero felt that many of them grasped important details during the week.
"From the day we start until the day we finish the first thing we do is review what we did the previous day," he said. "You can see that they're retaining it and by day five, I won't say they're mastering it but they have a really good handle on the techniques we're teaching and hopefully they can now take that into their youth leagues and that will help the coaches out a little bit."
And when they use that experience in the cold-weather games against each other, there will be no love lost. But in the warmth of summer, everyone got along.