The Social Profit Center at Mill One welcomed a new tenant at the end of May when Inspired Threads moved into the renovated 125-year-old former factory on North Johnston Avenue in Hamilton.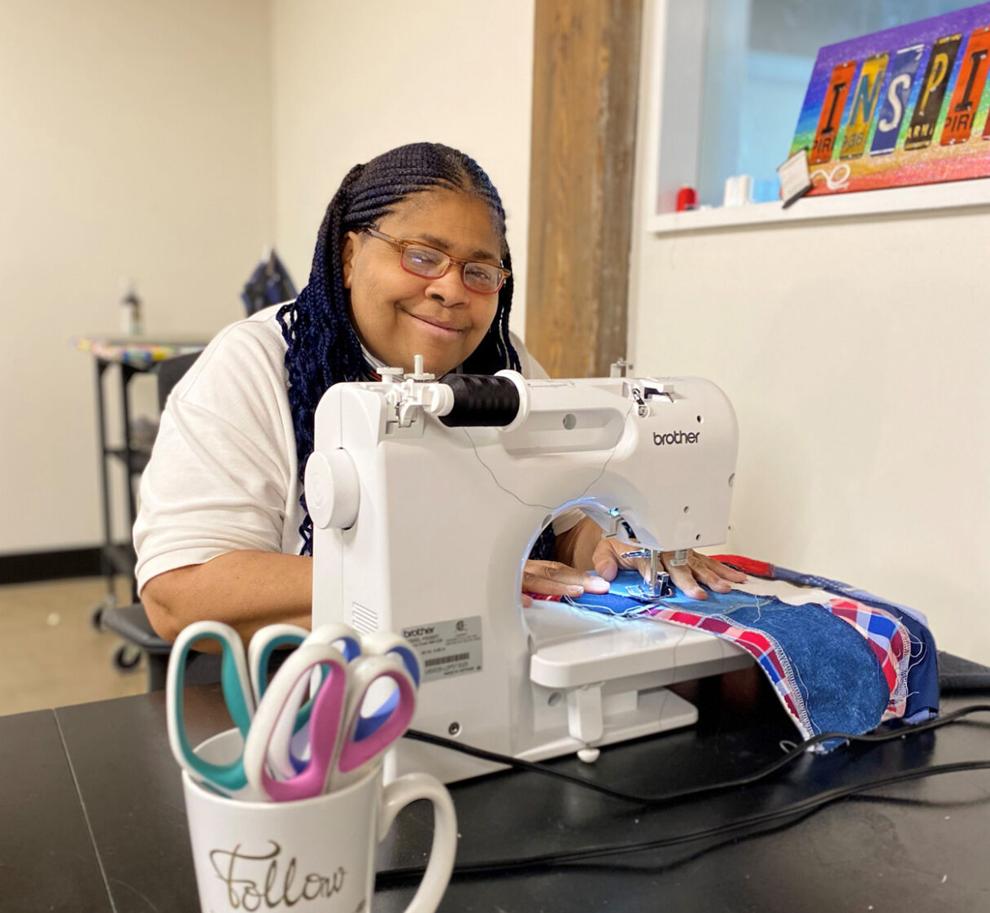 The move represents the next step for Inspired Threads, the nonprofit co-founded four years ago by Susan Colacello and Jeanene Leppert with the goal of creating employment opportunities for people with disabilities.
Inspired Threads also has the mission of raising awareness of the sometimes overwhelming obstacles that people with disabilities face in the job market.
Inspired Threads has a small and growing workforce of people who design and make blankets and other products out of reclaimed fabrics. The organization works with people from a number of area communities, including designer Margo Lee of West Windsor.
Many of the fabrics are donated from regional fashion design houses through another nonprofit, Brooklyn-based FabScrap. FabScrap founder Jessica Schreiber is on the Inspired Threads board.
What sets the staff apart at Inspired Threads is that the designers are all people with disabilities. Colacello and Leppert wanted to create jobs, but they also wanted to show the way forward for other organizations that want to create truly inclusive workplaces.
When they go to work for Inspired Threads, designers get all the training they need to be able to sort through and select fabric and to be able to sew and serge products using the donated scraps the organization receives.
By creating customized job descriptions that maximize the designers' strengths, and by setting them up in a supportive, barrier-free work environment, Inspired Threads is achieving its mission of successful, fair employment for all.
"We want to show that people with intellectual disabilities and other different abilities have really strong skills and talents, and if given the opportunity, they can make huge contributions," Colacello says.
* * *
The Social Profit Center is the brainchild of community development organization Isles, Inc. It is a facility where "social impact" businesses and nonprofits can share space and services.
Inspired Threads joins Isles and several other enterprises already in the space, including Literacy New Jersey, Princeton Baby Lab and Front Row Seat Productions, a music recording studio. The move comes at a time when businesses and organizations are just starting to return to the office environment after the long Covid-19 pandemic.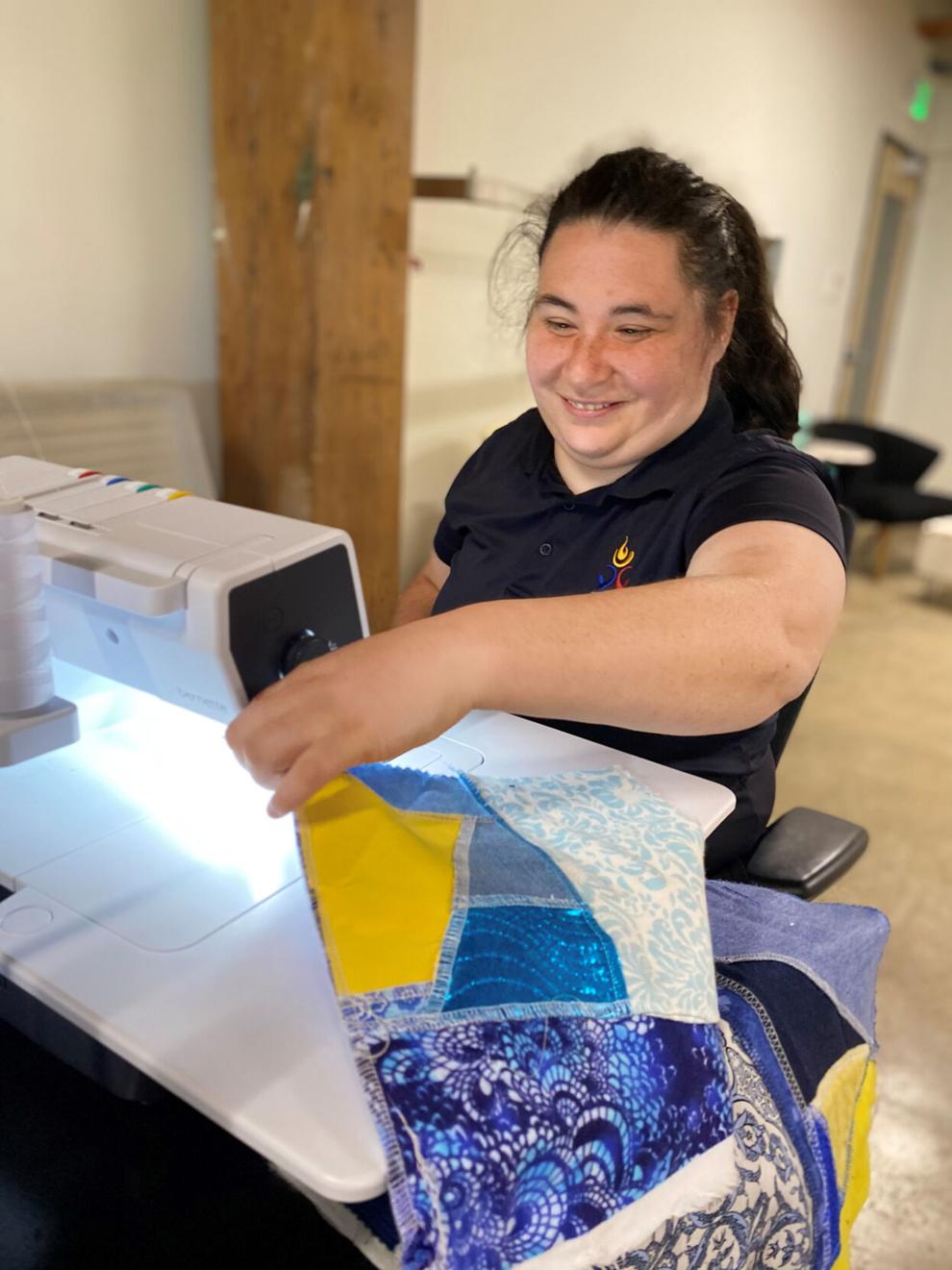 Until recently, Inspired Threads has been run out of Leppert's home in Skillman. That also became unworkable during the pandemic, so the designers have spent much of the past year working at home.
Statistics show that Covid-19 disproportionately affects people with disabilities, or with genetic disorders such as Down syndrome. So Inspired Threads has been extremely cautious when it comes to exposing staff members to potential risk factors related to the coronavirus.
Since the move into Mill One, many of the designers have been spending at least a few hours a week in Inspired Threads' 1,000 square feet of space in the new facility. There is a common kitchen area as well as conference rooms that Inspired Threads shares with other tenants.
"We don't have a lot of employees, but now our designers are part of a real community," Colacello says. "Every day when they come to work, they're meeting people in the kitchen, in the break room. It's expanded our ability to offer community integration and inclusion."
Leppert and Colacello met at Special Olympics New Jersey: Leppert as a member of the staff and Colacello as a parent of a Special Olympics athlete — Kevin, who has Down syndrome, and who today is a member of the Inspired Threads staff. Leppert still works full-time at Special Olympics, in addition to her work with Inspired Threads.
The two women found that they had a common interest beyond Special Olympics.
"We talked and we decided that we wanted to build a nonprofit that really could look at what it takes to have meaningful inclusion in the workplace, and share that with other people," Colacello says. "We both care about the environment too, so we had this two-pronged mission, where we could create different things that people with disabilities could make that would have this other message of not putting everything in the landfill."
Colacello notes that while many employers have adopted Diversity, Equality and Inclusion policies in recent years, research shows that few of these DEI policies include language for people with intellectual disabilities.
"There's just a complete lack of opportunities for jobs and for training," Colacello says. "People with intellectual disabilities want the same opportunities that everyone else wants — instead of someone saying, 'This is the only job we have for you.'"
Margo Lee, 33, is one of Inspired Threads' designers. Lee had worked at Gold's Gym in East Windsor for 12 years, until the pandemic closed all fitness centers, leaving her out of work.
A friend who knew both Lee and Leppert suggested Leppert contact Lee and offer her a job at Inspired Threads. Lee started working there last year, and says now that even though gyms are reopening and Covid-19 is receding as a threat, she would rather stay and work at Inspired Threads.
Lee, a graduate of West Windsor-Plainsboro schools, makes blankets and other things like purses, fanny packs and wine bottle holders.
"I really like working for the company," Lee says. "I feel like home there because Jeanene and Susan make it feel warm and cozy there."
Colacello says that when she asks the designers what they love about working at Inspired Threads, they say that it is because they get to be artistic.
"They get to do things they love, and they're things that make people happy. A lot of times, people just work to make money. But all human beings want to feel that they have purpose, and that's a big part of what we're doing," Colacello says. "We look at our designers and the ways they want to contribute, and build their jobs and experiences around that."
In addition to her work with Inspired Threads, Colocello works as an inclusion consultant.
"I've worked a lot with schools on how to create inclusive learning environments," she says. "I've learned personally the challenges that my son faced, and that I faced having my son as part of the community. I've really been able to leverage all of that knowledge and some of that pain to build partnerships and also to see both sides."
She says with Inspired Threads, she and Leppert seek to look at the whole ecosystem around their employees and to support and manage that ecosystem. Their needs are complex, she says, and they live in a system that requires support.
From a parent's perspective, she says, it is wonderful when you can see your child, as an adult with an intellectual disability, doing something that they can enjoy and that they are good at.
"We are pushing as hard as we can in our tiny little place," Colacello says. "But our blankets are beautiful, and what I'd like to say is that we're bringing back craftsmanship. We're training people to be artisans and making it so people can find their niche in life. All of our designers who are drawn to work with us are extremely creative people. They're artists, and they're learning regular job skills too."