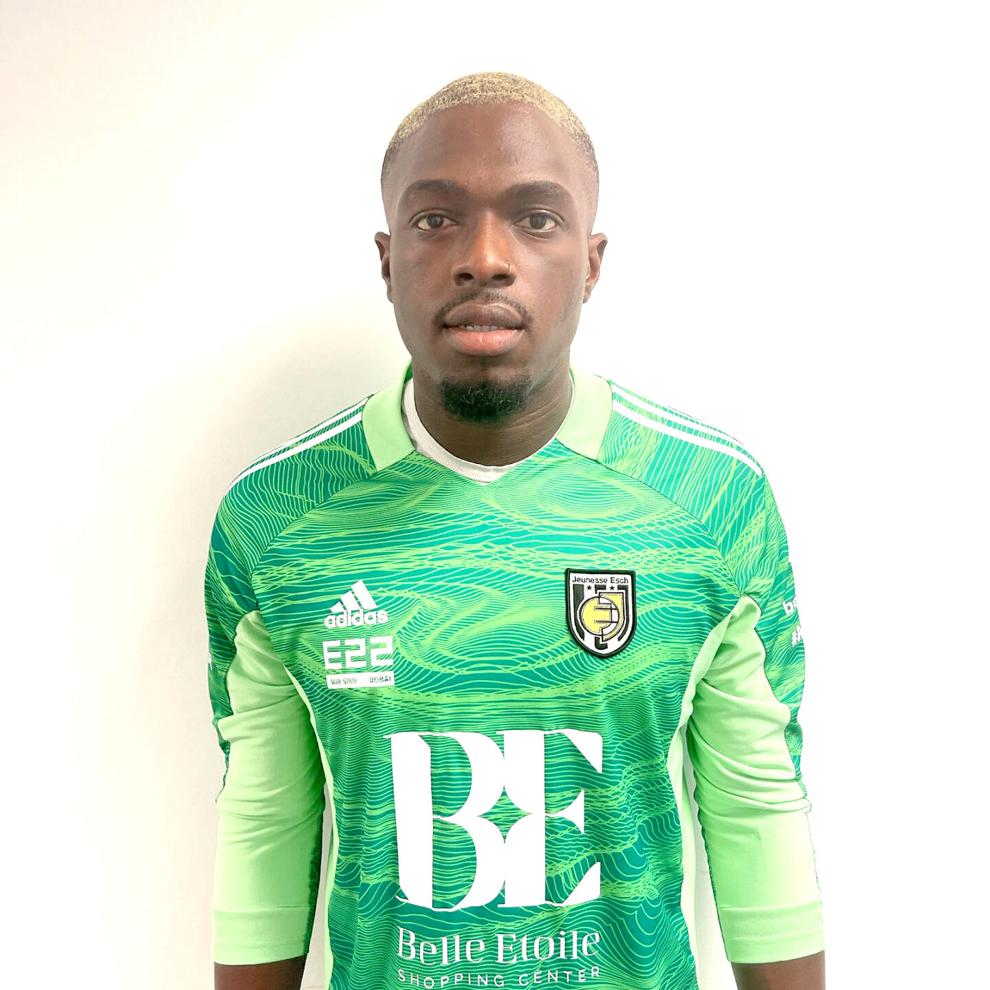 Chidi Iloka has always been a grinder on the soccer field, and is even more of a grinder in life.
In the seven years since he graduated from Nottingham High School, Iloka has relentlessly pursued a professional soccer career overseas. He finally achieved that dream earlier this fall after signing with the Jeunesse Esch Football Club, based in Esch-sur-Alzette in southwestern Luxembourg.
The club plays in the Luxembourg National Division, the highest league in the country, and won the league title 28 times between 1921-2010, the most of any Luxembourg team. It stood at 4-4-4 and in seventh place in a 16-team division on Nov. 14.
Those championship numbers were all news to Iloka when he signed.
"I was honestly not familiar at all with them," he said. "I didn't even know they were a big team. No disrespect, but I honestly didn't know anything about them until I got back home, then I did my research and saw that the team is very big and has the highest trophies in the league with 28, while other clubs have won the league maybe three, four times each. So it's a pretty big deal."
Iloka was playing keeper on Jeunesse Esch's B team as of mid-November, with hopes of moving up to the A side at some point this year.
"I'm playing on the B team starting off to get adjusted to the league, also the language," Chidi said. "They are speaking French and German here and I've been taking French and German lessons on my phone since coming here. But I hope to have my chance to play officially for the A team because that's my goal."
And if one thing is certain, Iloka never stops pursuing his goal.
After a career as one of the Colonial Valley Conference's top performers for Nottingham, he attended Kean University for one year and won numerous awards his freshman season. Iloka hoped to parlay that success into moving up to a top Division II program, but when things didn't work out, he played one year at Mercer County Community College.
From there he went to D-II Queens College in New York, but had to sit out the first half of the season due to NCAA rulings. After being cleared, Iloka helped Queens make a late-season run at the playoffs that fell one game short.
After that season he decided to take his chances on making it overseas. He tried out in Greece, Albania, Romania, Spain and Germany before trying his luck in Luxembourg.
For one reason or another, it never worked out. But he says that in each country he went to, he met someone who motivated him to continue on his journey.
Iloka would eventually cross the line after several tryouts in Germany and Luxembourg. He had no preference in countries. His only interest was finding a team interested in him.
"I was just so focused that whichever team gave me a chance I was going to take it," Iloka said. "So my agent would tell me I'm going to train with this team today and this team tomorrow. But my mindset was very focused and I didn't pay any mind to the team."
Things finally broke Chidi's way when he arrived in Esch-sur-Alzette. He tried out for Jeunesse Esch in the preseason, and after two weeks, was told to start filling out paperwork to join the team.
"Afterwards, maybe like another two weeks after, that's when I first got my uniform meaning, yes they're going to sign me," Iloka said. "During that time there were a lot of players coming to the preseason to train and try out and a lot would leave each day so for me to have been told to stay for that two weeks was something. Usually you can train or try out with a club here just for one day, and they could tell you 'Thank you, but we don't need your service.'"
The more days he remained, the better chance he had of making the team. But that didn't lessen the tension.
"I thank God because each day of training I was a bit nervous, to be honest," he said. "You're training with professionals while you're an amateur so it's a difference. They look at you like 'OK can you perform like this?' and it's a lot of stress on your body because you're doing more than you can to impress them each day.
"I'd come home from training and my whole body was exhausted. I'd have to eat, sleep and rest up for the next day, then do the same thing, which is not easy on the body."
Not to mention, he was going against players whose skills were somewhat sharper than in the United States.
"The biggest difference over there," he noted, "is the style of play and the level and the quickness you have to play at here as opposed to the American style of play."
He was willing to drive himself as far as his mind and body would take him and it all culminated in his October signing.
Once that happened, Iloka needed a place to live. He decided on Trier, the oldest city in Germany, near the Luxembourg border. It's a whole new world, but the 25-year-old is loving it.
"I have been adapting very well," Iloka said. "Sometimes it's a bit hard. When they send mail to my place, I have to use Google translations to read my mail. Sometimes when I go to the grocery store they don't speak English so I have to figure it out on my own. And the town is friendly and very historical. I didn't know I'm living in the oldest city in Germany."
Indeed it is, as Trier was founded in the late 4th century B.C.E. by the Celts before being taken over by the Romans. The rich history gives Iloka the chance to be a tourist as well as a soccer player.
"It's been a great experience having to adjust to a country that speaks two languages," he said. "I'm also training in a professional environment each day and improving myself, which is the most important thing."
It has become important because he finally reached his goal, and hopes to use this as a jumping off mark to reach bigger and better things.
"This has always been the dream since I was young," Iloka said. "I'm hoping this opportunity can open more doors for me in my soccer career and lead to nothing but the best."
The way he grinds it out each day, don't bet against him.