Irish dance is colorful, energetic and traditional. Originating in the 1600's from Celtic celebrations, these dances are usually defined by limited upper body movements and energetic, fast-paced footwork.
The Kotelnicki School of Irish Dance continues teaching these traditional dances in Hamilton at their studio on Route 33. Training children from ages 4 up through age 22 when students may be in competitions in the US and around the world.
Justin Kotenicki and his sister Erinn Kotelnicki Rasin, have been operating the dance studio since 2010. Now located at 2251 Route 33 near the Hamilton and Robbinsville border, the school trains students 4 evenings a week after school and early evening.
Their mother, Maria McKnight, was born in Ireland and was a championship dancer herself. When Justin and Erinn were growing up in Hamilton she drove them to Scotch Plains and Richboro, Pennsylvania, for Irish dance lessons. They also attended the Ryan-Kilcoyne School of Dance, where they both rose to championship competitive levels.
Justin joined the Lord of the Dance, the wildly successful music and dance, stage production. The Lord of the Dance was originated by Michael Flatley after he left years of touring with Riverdance, which was also an Irish music and dance touring theatrical performance.
For nine years, Kotelnicki toured the world with Lord of the Dance. Seeing 40 countries and every U.S. state was quite the experience. With 32 dancers Kotelnicki learned a lot about working with a team.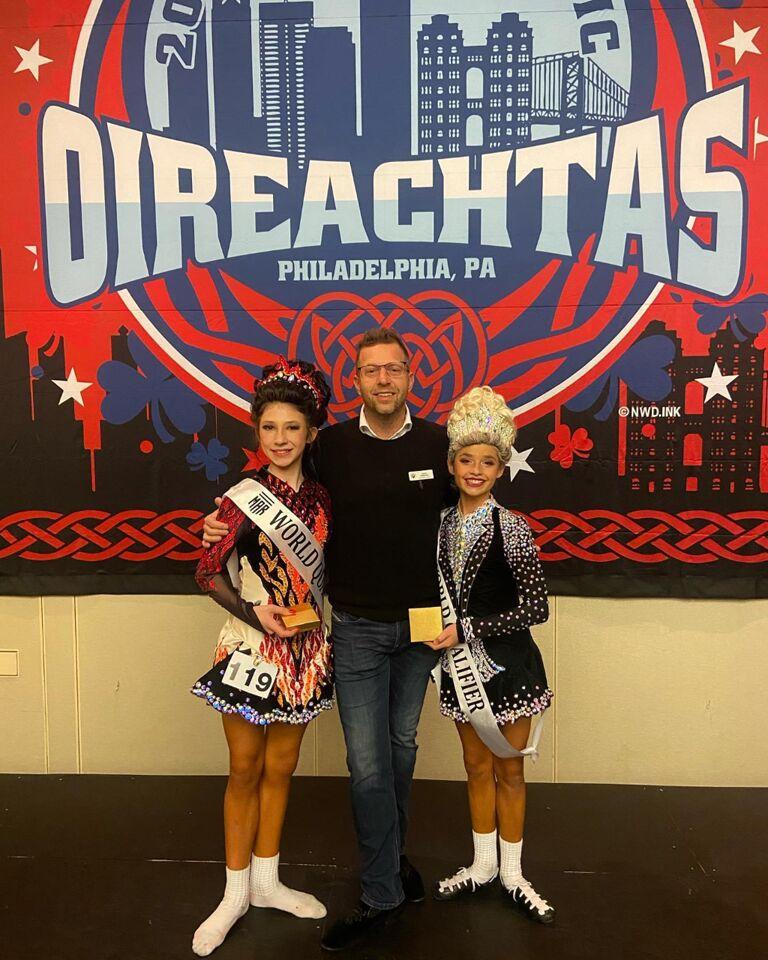 "Michael Flatley was tough. He expected perfection. He wanted us at our best as he told us people are paying hard-earned money to come and see us. He wanted the audience to leave with a terrific experience. If the dancers did not buy into that idea, they would really be the odd man out," he says.
Kotelnicki toured the world for almost 10 years, and needed a break. He wanted to stay involved in Irish dance, so he started the school, teaching in church basements at Saint Paul's in Princeton, Saint Raphael's in Yardville and the Notre Dame School in Lawrence.
"We would have 4-6 kids at a time with the three different venues to practice in. It was kind of crazy," he says.
Later, Kotelnicki took space in a building by the Iceland Rink in Hamilton. Where other area dance studios offer many types of dance instruction, Kotelnicki's school offered only Irish dancing.
"We are definitely specialists in the dance type. This area has a long Irish heritage, but we get students from every background and type. The dancing is energetic and terrific for fitness," he says.
Kotenicki has a day job with the State of New Jersey in the Department of Health and Human Services. He is in the Quality Control division and focuses on compliance, making sure people do not abuse the benefits system but do get what they are due to help them sustain.
He lives in Hamilton, with his wife Karina, who works in accounting at Bristol Myers Squibb, and two daughters, Milanya, 4 and Viviana, 2.
Erinn Kotelnicki Rasin, in addition to teaching at the school is a Child Psychologist and Counselor with the East Brunswick, school district.
The pandemic hit the school hard, as it did many similar organizations.
"Covid cut us in half. We went from 100 students to none and then to half of that now. We were in the same boat as gyms, restaurants and hair salons with the restrictions, distancing and protocols. We were much different upon resuming though. Where we had kids who started at 4-6 years old and move up, we had gaps in the enrollment due to pandemic. That was much more difficult to deal with as there were no kids moving up," he says.
"We did come out of the pandemic with the help of some parents who desperately wished for their kids to get out of the house and have some exercise. They wanted them out in social circles again."
To get started dancing, there is not much equipment to bring. The kids are encouraged to begin with sneakers and then maybe Capezio type ballet slippers.
"The no-laces ballet slippers are very helpful," says Kotelnicki. "They are great, I don't spend half the class tying shoes for the kids."
The school has a few levels. There are beginners, intermediate, pre-championship and the competitive Championship level. Irish dance is currently taught as a cultural and a cross training skill. "High intensity drills, create strength and muscle memory. There may be a 20 minute warm up with high repetitions that will build stamina for the dancers," he said.
"In competitions the dancers are allotted all the exact same amount of time between 1 to 2 minutes, which seems short, but these are energetic dances."
Both Kotelnickis have competed at high levels and understand the discipline and training needed, but also the fun and excitement for the students.
"We have 3 students competing in the 2023 World Championships at the Montreal Convention Center in Montreal, April 2 through the 9th. It is a big deal. You must qualify at local and nation levels before competing in the World Championships."
The World Championships are usually held in Ireland or Europe, so this year is a little closer for U.S. competitors. The World Championships will bring in participants from Ireland, England, Canada, Australia, Asia and South America in addition to dancers from the U.S.
"It will be at least 100 dancers. It's not huge, but it is the best of the best." Says Kotelnicki. "The dancers are excited, nervous and full of energy. We have been working toward this since the Christmas break. I will coach them a little in the morning and then they are competing. They will have "good" nerves and we are excited to see how they perform."
Right now the Kotelnicki Irish Dance School has all female students. "We would love to have some male students. Golfer Rory McIlroy, fighter Colin MacGregor were Irish dancing as lads, both swearing that the dancing increased their mobility and stamina. Both the Irish national soccer and rugby teams incorporate Irish dancing into their training regimens."
Soon after opening the school Kotelnicki took a class of students and their parents to see Lord of the Dance on Broadway. When Michael Flatley heard that his former dancer had opened a school in NJ he came out to meet with Kotelnicki and catch up.
"It was so nice and supportive of him. He was very encouraging and was glad to see that I had opened a school. I had come full circle," he says. "We are ingrained in the area here. Growing up here, eating fish and chips at the Hibernians Club on Kuser Road is all part of it. The kids and parents all look forward to being in the Saint Patrick's Parade in Hamilton each year.
"As much as I enjoyed performing in front of packed halls all over the world with the Lord of the Dance show, I love the teaching of the traditional dances even more. I love that we have trained hundreds and hundreds of kids. I love that we pass on the knowledge, dance, music and traditions. This was all from my mother. It is a legacy."