Morgan Bressler, a sophomore on the Hamilton West girls lacrosse team, calls her big sister Madison "my role idol."
But sometimes those role models can be tough.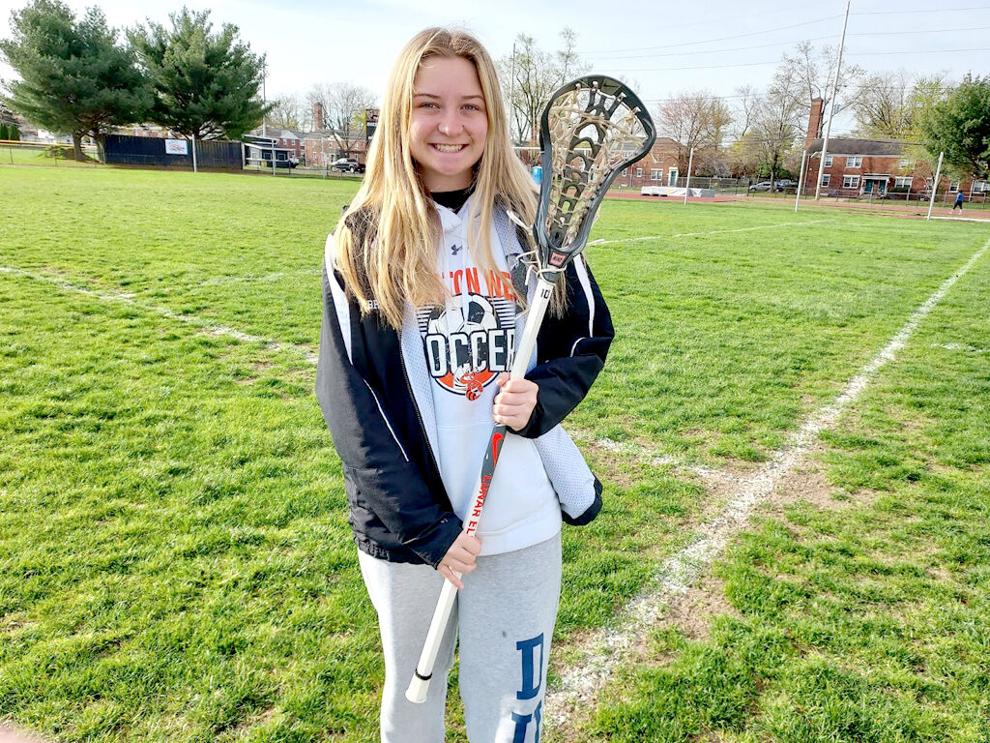 "She came to two games and she's the meanest sideline person ever," Bressler said with a laugh. "She's so tough on you. I'll come off the field and she'll be like 'Faster! Faster! Come on!' It's never ending. I always do something wrong on the field."
So, is she still the role model?
"Oh, one hundred percent!" Bressler said.
It is actually easy to see why. Were it not for Madison, Morgan would not be among the Colonial Valley Conference's scoring leaders with 26 goals through the Hornets 4-3-1 start.
Both sisters play soccer; Madison, who now plays soccer at Mercer County Community College, began playing lacrosse at West.
"My sister really influenced me to play, lacrosse my freshman year because she was playing (as a senior)," Bressler said. "I played travel soccer so that was my sport. I got into lacrosse last year and I was like, 'Wow, I really like this sport' and I was eager to do everything. So now I play winter leagues in lacrosse so I get more reps in."
When Bressler came on board last year, she played midfield on JV for Katie Bloodgood, who is now the varsity coach. There was also a stint on varsity, in which Morgan scored a modest three goals on a senior-laden team.
With numerous spots opening up this spring, Bloodgood decided to move Bressler up to attack.
"This year with a lot of people graduating, we moved people around to figure out what works best," the coach said. "She has an aggressive mind, so we put her on the forward line and we're capitalizing on that. I was expecting goals from her, but not as many as we've gotten."
Through the first eight contests Bressler had scored at least once in every game; and had one six-goal explosion and two five-goal efforts. From Apr. 4-20, Hamilton went 4-1-1 (with the loss being a gut-wrencher in overtime to Steinert) and during that time Morgan had 24 goals.
"I'm definitely surprised," she said. "I wasn't expecting to have this many goals. I'm just very eager to score all the time. Lacrosse is definitely a sport you really have to learn and adapt to and I was really lucky that I adapted to it quickly."
Asked what her biggest challenge was at the start, Bressler said "Probably ground balls. It's hard because you have to get low and sweep it and then instantly get into the cradle."
In assessing Morgan's skills, Bloodgood feels that her speed and the fact she is a left-hander gives her some natural advantages.
"There's not many lefties coming around to the crease where she benefits from rolling the cage," the coach said. "She has a lot of ways she can shoot. We're practicing different techniques. With her speed, sometimes we put her on the draws to get the ball and sprint right down the field with it."
Bressler feels it gives her the element of surprise.
"Once I get the ball in the midfield I just take it up the field and I don't think they expect that," she said. "I actually asked to play attack in the winter (at Deuces Wild bubble in Lawrenceville) because I didn't want to play mid. That really got my attack eagerness going. I'd go straight to the goal.
"I've taken that into spring and I will go to the goal. In the winter I was 'Is this gonna be a good shot? Should I roll to the cage or pass it to someone?' Now I'm like 'I can take it to the goal if I have the opening.'"
Bloodgood notes that one of her best attributes is using that speed to be on the attack before the defense can even set up.
"Or," the coach added "just rolling the cage and having the girls call cut and distracting the defense so she could easily roll in with the help of her team."
Bressler, who also plays varsity basketball, seems to be a natural born scorer. She plays forward in soccer and has collected seven goals and four assists in her first two years. Her hunger to score is a mindset that frontliners need in every sport.
"I like it so much more because that's all I have to focus on is scoring, and I like that," she said. "Playing it in soccer helps. Once you're offensive minded you start to think 'If I sprint out wide, will I be able to attack here? If I go closer to them, or if they're making a run, do I pass it to them now?' All the offensive skills you learn from soccer you use with lacrosse."
Bressler is not the only one finding the back of the cage for Hamilton. Junior Hailey Cavanaugh had 11 goals through Apr. 21 and senior Alexandra Margelis had 10. Nine different players had goals, and sophomore Rachel Nixon led in assists with three.
"We've had four to six girls score each game, which is nice," Bloodgood said. "I'm happy with how we're playing. Our goal is to get at least the five wins we had last year."
Bressler has actually become a young leader after getting some varsity experience last year.
"The more we play the more we grow and I think it's going to be very successful in the years coming," she said. "We have some freshmen on varsity and once we keep playing with them they will grow too and be better players. I love the people here. The team is the best group of girls ever. They're all so kind and so sweet and all amazing athletes."
Aside from her athletics, the well-rounded Bressler is also involved with the yearbook, student government and the Bright Club. It's a lot to handle, but she manages her schedule well and still makes time to work on her lacrosse skills.
"'You can always learn something in lacrosse," she said. "I learn something every practice. I'm actually thinking about playing lacrosse or soccer in college."
If focus and determination count for anything, she's got a nice head start with that. "When she's on the field it's all game time, it's all focus," Bloodgood said. "There's really no distractions. She doesn't let anybody else on the field rattle her."
Even "the meanest sideline person ever." But Morgan knows it's for the best, and it's the tough love that makes big sister the perfect role model.