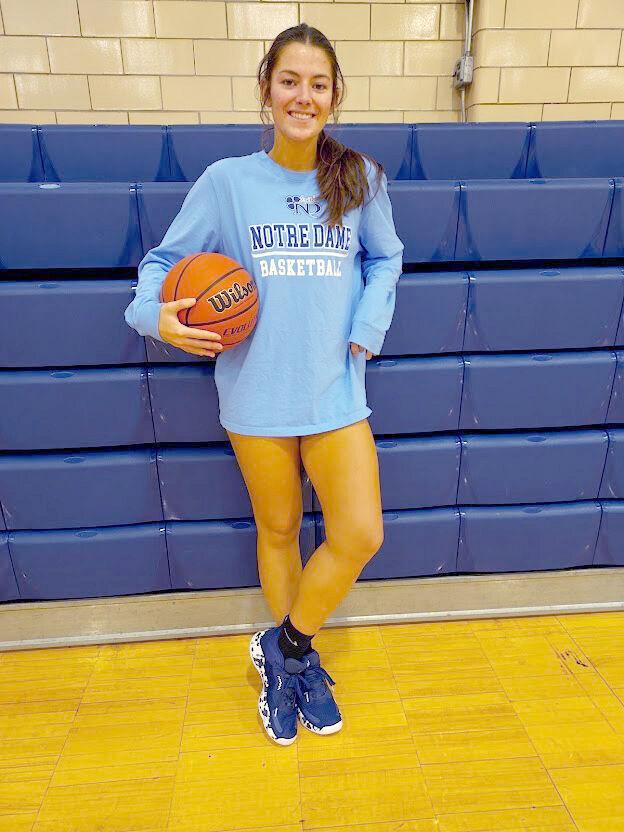 Jill Giori was starting to wonder if a "real" basketball season would ever exist while she was wearing a Notre Dame uniform.
After transferring from Steinert prior to her sophomore year, Giori missed the Irish's preseason practice and first 10 games due to the rule stating transfers have to sit out for 30 days. After that shortened season, she had an even shorter year as a junior when two Covid 19 shutdowns limited the Irish to just eight games.
The Hamilton resident is hoping this year — knock on wood — will provide a full season to show her talents.
"I definitely did not luck out from the fact I transferred in, and then last year was just a whole situation in itself for everybody," Giori said. "This year, I'm so happy to finally have the chance to get going from the start and just have a typical season. I think that will really be beneficial for me and I think it will be a whole new game."
That's good news for coach James Martinos, who is facing his biggest rebuilding job in 12 years with the Irish. After senior Nicole Villalta-Barrantes, who has started since her sophomore year, Giori is one of the Irish's most experienced players despite not having been a regular for most of her time at ND.
She played in 23 games as a freshman and, after playing just 17 games her first year at ND, has been in a total of 25 and averaged just over two points. This year, her role will increase significantly. The only question is, where will she be on the court?
"She's strong enough to be a forward as far as her athletic ability and her strength, but she also has a good outside shot, she can bury a jump shot," Martinos said. "So mostly for us she looks like a three, which is more of a guard-forward position. A lot of our positions are interchangeable anyway, so she'll play multiple positions. I would say if I had to give it a position it's a three.
"But she has the ability and strength to rebound, hit the outside shot, put the ball on the floor, post up if need be. She's an all-around player, 100 percent."
Asked if she had a preference, Giori just smiled and shook her head. In her mind, it's all just basketball.
"Honestly no, because I find myself just falling wherever I fall," she said. "Say I'm a four. I'm not necessarily gonna say 'OK, I'm a four so I'm only gonna do stuff a forward would do.' I just try to keep what I play true to me when I'm playing and that will just show in the game."
Her versatility did not happen by accident. After starting in Hamilton PAL, Giori played AAU for the Mavericks, Shore Shots and AUF Lady Hawks. Each stop saw her in a different role while learning new things.
"I've been with a hundred different programs," she said in winning the best exaggeration of the year award. "I'd say in basketball I've seen it all. I've been to the shore, I've been north, I've been everywhere I possibly could go. I think it's helped me a lot because I get a lot of different sense of how people play and I've definitely gotten more experience from that."
And while she can play everywhere on offense, it is the other end of the court that Giori really enjoys.
"I love defense, that's my big thing," she said. "I just want to get us in a good offense so I just try to keep that edge going on defense; do the little things I can and hopefully that will create bigger things for my team."
Giori is a strong all-around athlete, having played on the Notre Dame varsity soccer team the past two autumns. Due to her love of hoops, however, she began focusing mostly on basketball in high school.
"I quit travel soccer my freshman year and just stuck to basketball so most of my off time is pretty much basketball," Giori said. "With soccer I put my three months in, but summertime is pretty much big for basketball."
With that in mind, Giori is happy to be working with former Hamilton West football standout Frank Quartocci, who has replaced the late, legendary John McKenna as Notre Dame's strength & conditioning coach.
"I love Coach Frank," Giori said. "I think he's really helped us a lot and focused on what we need personally as basketball players and just as overall athletes. He's really personalized workouts for each athlete. He really helps me a lot. I know I've had times where I've wanted to come in early to get in a workout after school and he's always been free for that, he's always helped."
While Giori brings different skills to the court, Martinos is even more appreciative of what she brings to practice each and every day.
"Senior leadership," he said. "She's a great athlete, plays really hard and leads by example. She's a great practice player, which is great because we have a lot of younger players. So she can lead by example that way.
"The experience she brings to the table is fantastic, and then you add in the versatility; and on top of all that she's a great kid. She's a fantastic kid, someone you want representing the program and showing the younger players things you need to do. She's well balanced academically and athletically."
A tight-rope walker couldn't have better balance.
Off the court, Giori owns a grade point average of 95 on a scale of 100, which would be around a 4.0 on the usual scale. She also spends her time helping others as a member of numerous clubs at Notre Dame.
"When I transferred in, I remember they had this little club fair and I signed up for like, 11 clubs," Giori said. "I just wanted to get out there and I stuck with a good amount of them so I'm happy with that."
Giori is in the National Honor Society, serves as a Peer Leader and Student Ambassador, and belongs to the ND Cares club that helps run events in the school. She also helps her mom, Melissa, volunteer with Maria Remboski's acclaimed Jeremy Fund organization.
"I get my volunteer hours in (required for Catholic school students)," Giori said. "But it's also nice to help out with them and see the events that they do."
In looking toward next year, Jill has gotten all her college applications in and divided them between schools where she could play basketball (Cabrini, Washington) and schools where it would strictly academics (Maryland, Delaware).
"I'm looking for something that has a good pre-physician's program, and then going from there," Giori said. "I have a variety of schools I'm interested in so I have to make a decision."
She will be slightly distracted from that decision over the next several months as Martinos is counting on Giori to be one of his main leaders. It's a role she embraces.
"I love it," Giori said. "I know how much I appreciated it when I was a freshman on varsity at Steinert. I so much appreciated the leadership that was shown to me and I just feel it helps the game so much. I want everything to work cohesively. I think the faster we take leadership, the faster we'll get things done. I'm into it 100 percent."
And barring another shutdown, she will finally get 100 percent of a full season at Notre Dame.