When Q McMillan went down with a knee injury in October; it not only altered the dynamic of the Nottingham High football team; but its basketball team as well.
The Northstars knew they would be without their returning leading scorer and top player for the entire season; and word around the Colonial Valley Conference is that Nottingham had gone from a contender to mid-level threat.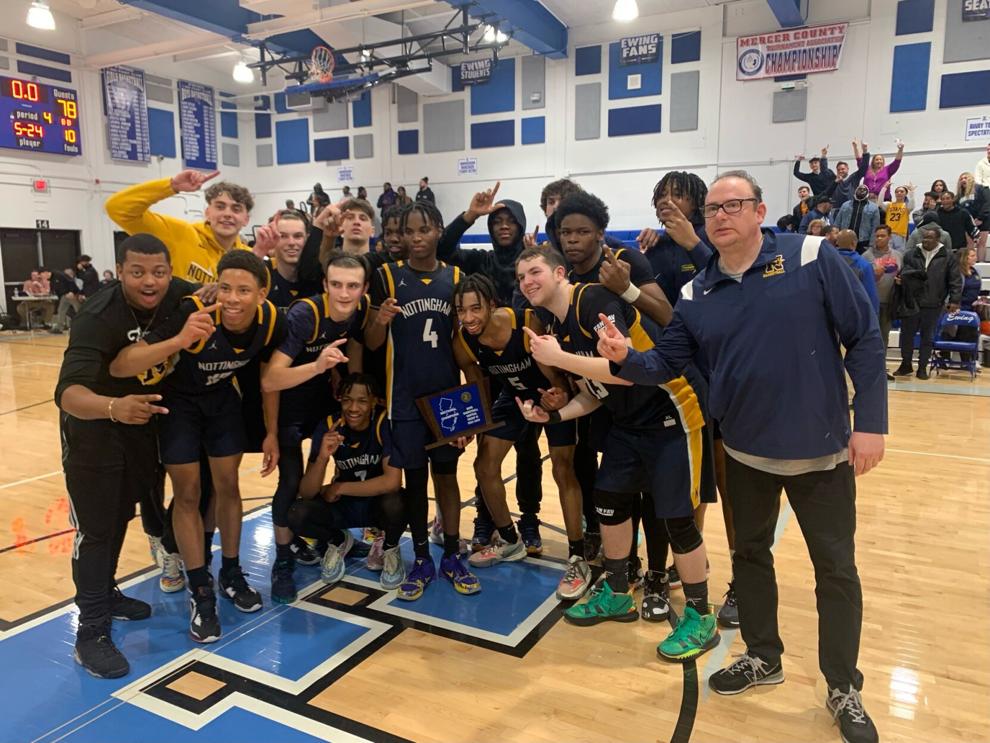 "I knew we were counted out since the beginning of the season," senior guard JP Dickerson said. "We took every game personally going forward."
It started on opening night, after McMillan delivered an inspiring text to coach Chris Raba, which The Baron relayed to his team. It read:
"I miss you guys so much coach and it's really (messing) with my head, it's hard to handle this all mentally honestly with this being my senior year and feeling like everything i worked for went out the window. I know what we built and it would have been amazing to play this year, good luck to you guys!! Tell the boys don't take it for granted, it's a blessing. . ."
Raba said the message made his players think hard about living for the moment.
"The kids realized that their season or their high school career could end in a blink of an eye," he said. "Q's message was to enjoy the time that we have together, play like it's your last play, and don't ever take anything for granted, because he would do anything to play."
Fueled by that advice, Nottingham survived McMillan's loss and also a mid-season ending injury to Jordan Raba – one of the team's top scorers, rebounders and assist men. The Stars finished 22-9, won the Central Jersey Group III title despite being the underdog in every game; and reached the Group III championship game before falling to Ramapo.
As McMillan advised, they never took anything for granted.
"His text definitely gave us some type of attitude to keep our heads up and keep going," Dickerson said. "It gave us motivation as individuals and as a team."
Throw in the fact that Nottingham got help from two Trenton Catholic transfers; Raba added to his legacy as one of the top coaches in the CVC and beyond; and the team itself had an innate toughness both mentally and physically; and it became a memorable season defined by the team's state tournament run.
Despite a No. 2 seeding in CJ III, Nottingham was not a clear cut favorite against Red Bank and Matawan in the first two rounds. After surviving both games (and nearly blowing a huge lead to Red Bank), the Stars were expected to lose against Robbinsville and Ewing, which beat them in the regular season. Nottingham beat both in memorable games that went down to the wire, and then did the same against Moorestown in the Group III semifinal. They nearly blew huge leads against the Devils and Quakers but got tough when it mattered.
"We were underdogs from the first round of the state tournament," Raba said. "We watched film and prepared for every team we played. Going into every game we felt like we were going to win. It didn't matter what anyone else thought. We were prepared and we had a chip on our shoulders.
"The guys were locked in, and none of them wanted to let the person next to them down. Regardless of the outcome at Rutgers (against Ramapo), these guys are winners.They learned sacrifice, selflessness and that no one is bigger than the program. Those qualities are going to make them successful in life. I learned a long time ago, it's not about the X's and O's, it's about the Jimmies and Joes. The kids made the season. I will be forever indebted to them."
Nottingham hit a late-season speed bump with losses to Marlboro and Notre Dame in the Mercer County Tournament before winning its finale against West Windsor-Plainsboro South. That lit the match.
"After we went on the losing streak, we just put all the pieces together," Dickerson said. "We got the job done. I feel like it was a sign from God or something. We played these teams again in the playoffs and turned around and beat them to win a sectional title when no one thought it was possible. Before every game they would say in the paper that we lost to them by this amount of points. It was fuel for me and the team."
Dickerson rode that fuel to a phenomenal state run. He averaged 22.4 points in the first five games before being plagued by foul trouble in the final. A fierce penetrator who could score at the rim or kick to a teammate for a 3-pointer, JP was a work in progress who finally found his niche when TCPA transfer TJ Keese became eligible in January and took over at point guard.
For much of the year Raba and Dickerson butted heads with the coach saying "it was a lot about tough love. It took a while for him to buy into what we wanted him to do."
What Raba and assistant Anthony "Jellybean" Alston – who the coach praised for being an outstanding right-hand man – wanted was for Dickerson to share the ball more and find his open men on the perimeter.
"He always had the mind set that he had to score," Raba said. "I used to always ask him 'How come when you're open, your teammates find you, but when they are open, you don't find your teammates?' We would watch film, and pause the film and show him the players that were open.
"He started to buy in once TJ became eligible. He saw how great of a player TJ was and how he didn't even have to score to impact the game. I feel over the last eight or nine games of the season, there was no one better in the area than JP. He put us on his shoulders and carried us. He refused for us to lose. What he did was remarkable."
And it wasn't just on offense.
"He is also the most disruptive defensive player in the county in our system," Raba continued. "He plays the top of our traps extremely well. Teams have to game plan for him on the defensive end, and you can't say that about any players in the area."
Dickerson admitted he had some work to do; especially blending with several new players.
"I guess the chemistry finally settled in where I got to know each player individually and became more able to read everybody and know what they could do and know where to find each person," he said after averaging 17 points, six rebounds and 2.6 assists. "During mid-season and going into the end of the season, I was able to do my game and also find others on my team open."
The supporting cast included TCPA imports Dom Raymond and Keese. Raymond, a junior who played through injury in the state final, was a relentless force inside, averaging 12 points and eight rebounds. Keese, a senior, changed the Northstars fortunes when he became eligible, providing a true floor general while averaging nine points, three rebounds and three assists.
"Dom and TJ have that winning DNA that is infectious, and contagious," Raba said. "They both played in the state final last year against Roselle Catholic. They are winners. They have been on winning teams since they were little. They don't care about points or stats, they only care about winning.
"Dom is a skilled big man. He can score in the low post, because he has great footwork, and Kevin McHale-like moves. He also has a great mid-range game. TJ was a coach on the court. He was an extension of me. He played tremendous defense, and he allowed JP to play off the ball. This made JP much tougher to guard."
Not to be discounted were senior Joe Lemly, a team leader who averaged 10 points and led the team with 59 3-pointers; junior Jake Dormevil, who played strong minutes underneath in giving Raymond a break; junior Donte Alexander, who came off the bench to hit countless key buckets and junior Jahmere Miller, who provided toughness and strong defense. They all stepped up in the face of adversity.
"When Jordan got hurt he led the team in assists and was the only one who had a positive assist to turnover ratio," Raba said of his son, who's a junior. "We always say not everyone can be a superstar, but everyone can be a star in their role. Joe Lemly, Donte Alexander, Jahmere Miller, Jacob Dormevi, Matt Juliano, Tyree Thompson, Mike Rocco, Mike Charles and Yasin Britt all accepted their roles and they all pushed each other in practice.
"We never played with our whole team throughout the season. TJ had to sit 30 days, Jordan got hurt, Jacob was going through some personal issues. But it's funny, I was getting compliments from other coaches on the way we were playing."
That style of play enabled Nottingham to join the 2018 squad as the lone teams in program history to win a sectional title and reach the state final. It wasn't always easy, but it was worth it.
"Caring was a major part of creating the type of environment that made success possible this year," Raba said. "There were a lot of times where I'm sure parents and players didn't like me, but I always had the team's best interest on my mind. And they knew it was tough love. I was always honest with our players, and that meant saying things that our guys didn't want to hear.
"But once the team bought in, we were fun to coach, fun to watch. They played with such intensity and enthusiasm.They played the right way. I was just happy they allowed me to be part of the ride."