Zach Howland is headed to Rutgers next year and will major in Mechanical Science, which is quite commendable.
"I like math a lot, I'm good in science," said the owner of a 3.8 grade point average. "I figure math and science works in well. It's basically engineering."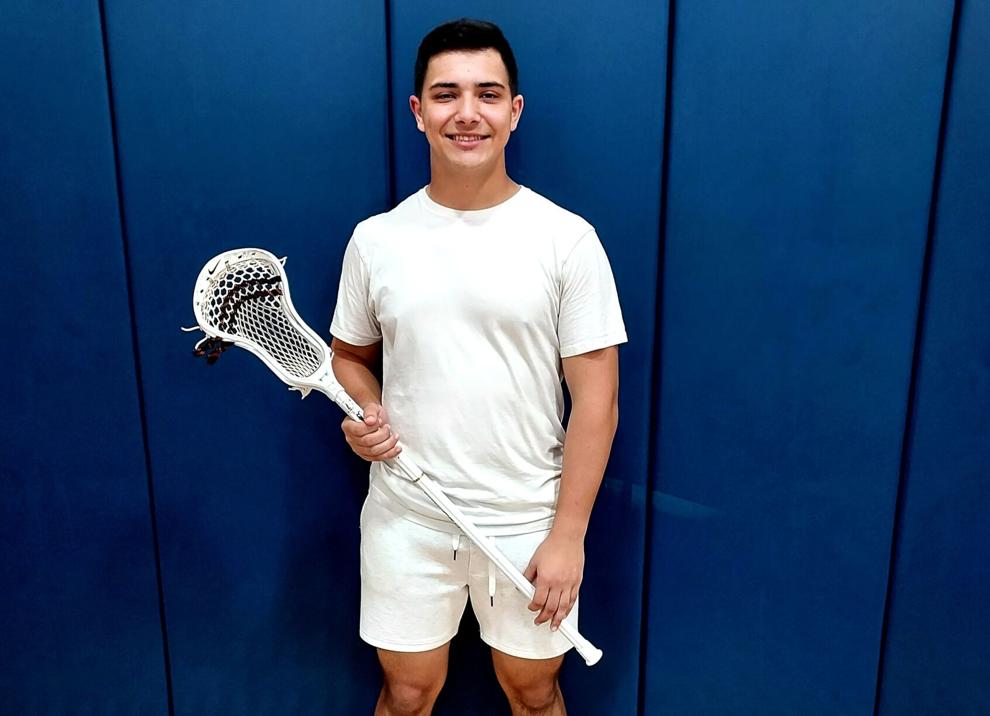 He may be good in math, but there are some numbers he has trouble with. The best example is in the sport of lacrosse, which he plays so well.
Prior to the season, Howland set a goal of scoring 30 goals from his attack position for the Nottingham-Hamilton co-op team known as the North-South squad.
He finished with 56. He better not be off by that much once he's in a college classroom.
"I thought that was a reasonable goal considering how last year went," said Howland, who attends West. "I think our whole team's amount of goals together was close to 40. I had eight last year, I thought 30 was a good goal. I got that by like, the second or third week. Now I'm here with 56."
Howland's efforts helped the North-West squad improve from 2-8 last year to 7-8 this season. It has been an odd career, as Zach was the lone freshman to come out for Hamilton West as a freshman. A Covid shutdown followed the next year, and last year the merger took place.
"I came in thinking West's program isn't that big, I'll start playing, I'll score a bunch like I used to do with Mitey Mites," said Howland, who began playing at age 7. "That season I only had one goal but I was on the field the whole time. That was like a realization that I'm playing against these 18 year old seniors and I'm coming in as a 14-year-old freshman."
Howland felt he would start getting a better feel for things as a sophomore but that didn't work out with the shutdown. Thus, his junior year became his sophomore year as he had just eight goals and four assists.
"I feel like I should have had this year last year," he said. "This big explosion my senior year is due to a maturity level. I feel like I've gotten more confident and more comfortable with the ball and playing the sport; but if I had that sophomore year I'd have felt like this last year."
Better late than never, of course, and Nottingham coach Kyle James couldn't be happier with what the captain has brought to the team.
"He's a good kid," James said. "We started passing the ball, moving it around a little more so we can get him the ball at attack; and he's able to do his thing. He's a playmaker, we've got a few playmakers on the team and I know his number is always someone who gets doubled. When he gets doubled or tripled he can pass to somebody else and they can shoot."
Others who aided in Howland's success were Colin Henderson, who led the NorthHornets with 15 assists to go along with 15 goals; Vinnie Bartole (nine goals, nine assists); and Dario DeJonge (22 goals, 12 assists). That trio helped take some defensive pressure off Howland, and also gave him options when his path to the goal was blocked. Jeremiah Northern also fed Howland with 11 assists.
Zach feels his success, along with the team's, can be attributed to a better knowledge of the game. After a rocky start, North-West won four of its final five.
"Our team didn't really know the rules or how to play last year," he said. "As we've gone on longer in the season we've started to learn some of those rules. We've started to learn how to play and catch the ball, pick up ground balls and just play the sport overall. By the later part of the year we started winning."
Howland, who also played varsity football for West, got into lacrosse because he was looking for a spring sport to play after not liking baseball or soccer. Fortunately, he joined a Hamilton rec league during its only year of existence. Had that not been around, who knows what would have happened?
From there he went to a Northern Burlington program that has produced some of the top players in the area. Howland always played attack, but also played some defense and long stick midfield. Scoring, however, is his biggest forte.
"He's skilled with the stick, he can go right and left on you," James said. "People say 'Oh he's only a righty?' Then they'll cover that, he'll switch it up and shoot lefty on them and go that way. He can sit there with pressure and people in his face hitting his stick and just keep going.
"He's just so aware of the field, aware of where the goal line is and everything else. He knows 'This is where I can shoot, this is where I don't need to be.' He wants to be in the crease so he can do his little roll arounds or whatever. He's awesome at getting it up top from Dario passing it to him. He catches it, does a move right or left and he'll be able to score."
Howland feels he can dodge well and has good stick control; but feels his biggest weapon could be the fact he can attack with both hands.
"I've always had to work on using my left hand a lot," he said. "I don't think you can play lacrosse effectively on attack if you don't use both hands. It takes away half the field for you. I love when someone asks me if I'm a lefty or a righty. That means I've worked hard enough to know I can use my left hand."
He got that good by sheer repetition, using the left hand 100 straight times going to goal, then switching to the right hand 100 times.
"You gotta get comfortable," he said.
In looking at the fact Howland scored 48 more goals this year than last, he's pretty comfortable. James feels part of the reason is they had him at long stick middie and defense "because we needed some help there." This year, they wanted to showcase their stud where he could shine the most.
Another reason for his improvement is just the fact he got another year of experience.
"A big difference is, he's matured," James said. "He plays other sports but this seems like the one where he was determined; like 'I want to make my mark and I want to go for something this year.' We've given him those opportunities; we've been feeding him the ball more; rather than last year where he didn't get to see a lot of touches."
Howland's success is a good sign the merger is working. James feels if North-West can get enough numbers, it may be able to start a JV team as well.
Aside from a talented offense, he praised goalie Lewis Cassidy, who made 284 saves this year.
"He was a big part of it too," James said.
Howland was happy with the merger, saying it has helped him make some new friends from Nottingham. And of course, he would never have gotten those 56 goals without his new buds.
Did he surprise himself?
"I feel like I did," he said. "Everytime I look at an article with stat leaders of the week I see my name up there. It's something different. It's nice."