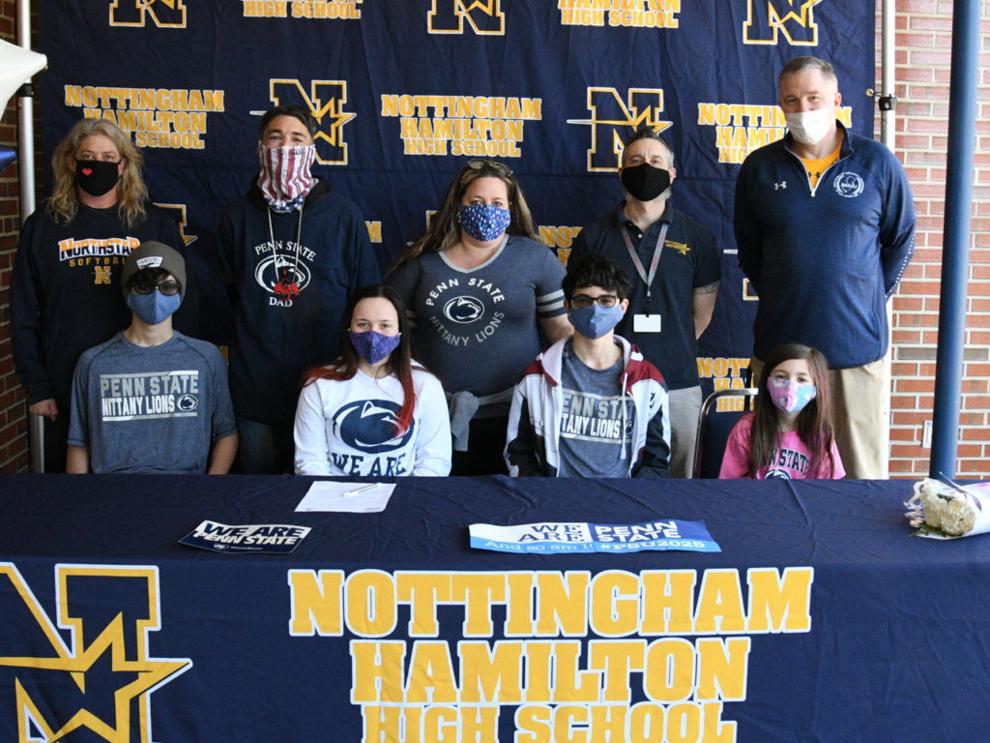 Becca Bocock and Lexi Scourtas grew up 1,100 miles from each other as kids and will be playing college softball just 25 miles from each other in Pennsylvania. In between, they met as sophomores at Nottingham, bonded throughout high school and are looking to enjoy a final season together as senior teammates.
Then it is off to their respective Division III programs, with Bocock playing at Immaculata and Scourtas at Penn State Brandywine.
It's actually a pretty neat little story.
"My first two months at Nottingham were a little rocky, and then I found Becca," said Scourtas, who came to Hamilton from Palm Harbor, Fla., the summer before her sophomore year. "We had winter workouts in December. Right away I felt I was part of the team already. Becca was welcoming, they were all welcoming."
Bocock remembers it well.
"The first day we had hitting at HGSA in the winter, I introduced myself to her and we were talking," Bocock said. "No one really knew who she was. Now she's become more of a leader. I'm so glad she came to Nottingham."
Both girls started as sophomores in 2019. Scourtas, a shortstop/catcher, batted .305 with seven RBIs, three doubles, nine walks, 19 runs and 13 stolen bases. As a starting pitcher, Bocock went 10-11 over her first two seasons with 87 strikeouts in 107.2 innings. Offensively over that time she hit .324 with 11 RBI, three doubles, eight runs and 11 RBIs.
Both lost a year due to Covid shutdowns, and Nottingham had its first six games this season wiped out due to Covid-related incidents. The Stars did not play their first game until May 3.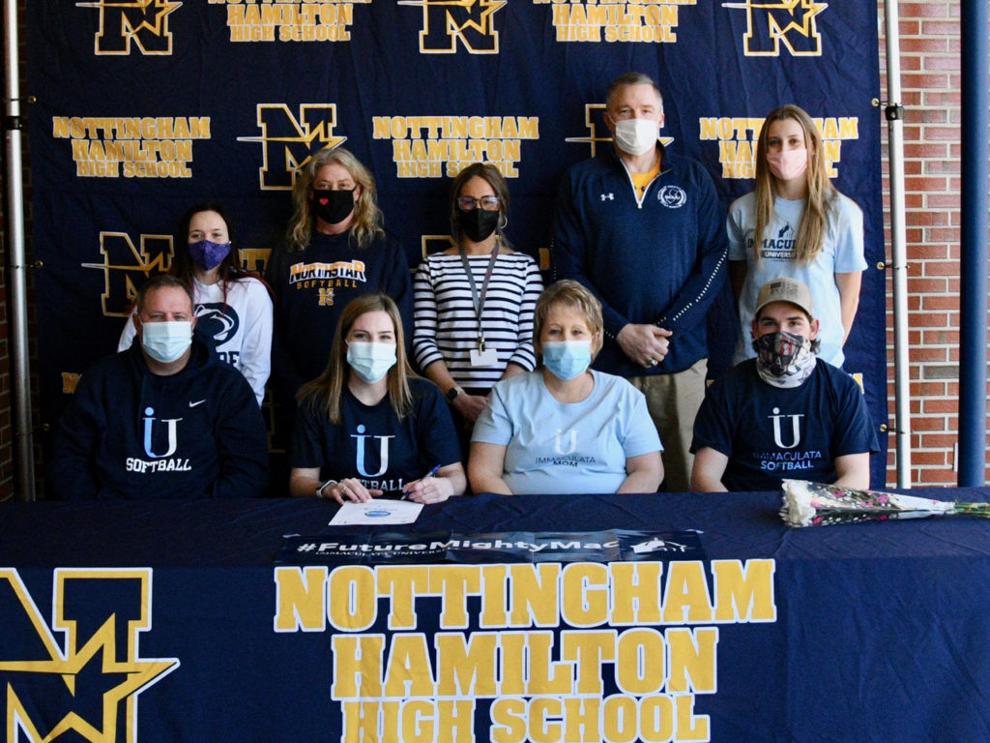 "It's a little tough, but I'm hoping we'll come back strong and make the most of our season," Bocock said.
Scourtas took the silver-lining approach, saying "I was really sad when we got the news, but now I feel like maybe it's a break for the girls who were hurt."
In the old days, losing their junior season would have been brutal for softball players trying to get recruited by colleges. But that method has long been replaced by showcase tournaments and travel ball, which is where both were found.
Scourtas began softball at age 8 in a state where the sport is played 11 months out of the year between travel and high school. While starting at Dunedin High as a freshman and playing travel for the Clearwater Bullets, she drew interest from Rutgers and Princeton.
Since most of the attention was coming from the Northeast, her mom, dad, two brothers and sister relocated to New Jersey so she could adapt to playing in the less-than-ideal weather conditions up here. "My dad and my mom have been my number one fans since I started," she said.
Along with playing for Nottingham, Scourtas started travel with the South Jersey Mystics, moved to the Central Jersey A's and then joined Bocock on the Hamilton Hurricanes. Her mission to play Division I softball softended when scholarship money was not forthcoming, so she leaned on the advice of a friend at Penn State Brandywine.
"I was talking to one of my old teammates and she told me what school she was going to," Scourtas said. "I looked into it and I realized how great the campus was and how great everything else was about the school. When I met the coach, he was really nice and when I had my first visit it caught my eye right away and I loved that school.
"It felt amazing to finally decide. I was really nervous that all these deadlines were coming up and I was scared I might not get into a school. I always had the mindset I'm gonna play in college."
As it turns out, her good buddy's campus will not be far away. Both are in the Philadelphia suburbs.
Bocock was being courted by former Steinert standout Amber Dietrich — who coached her in HGSA — to check out Cabrini, which is where Dietrich starred. Becca was leaning that way until an adviser from Immaculata visited Nottingham and made a big impression.
"I got a good feeling about it," Bocock said. "I only had two schools on my list. I was about to commit to Cabrini, I went Immaculata and met the coach who is unbelievably nice. Right when I stepped on campus it was breathtaking. I'm so excited to be part of this family and spending the next four years studying and playing softball there."
Much like Scourtas, it was the culmination of a lifelong goal.
"Ever since I was little I wanted to play college softball," she said. "I never knew where I wanted to go, I just knew that I needed to be playing softball because I knew that I wanted to play as long as I could. It's a dream come true, honestly."
While Scourtas is a relative newcomer in town, Bocock is as Hamilton as it gets. Her mom, the former Kelly Inman, pitched for Steinert, and her dad, Bob, was a township resident who went to McCorristin. The two met while working at what once was Yardville Bank.
Becca started in HGSA at age five and never left, learning how to pitch from the legendary Jerry Herrera. After Herrera passed away in February, 2019, she continued with his son, Jerry Jr., while still paying tribute to Jerry Sr.
"I actually wrote my college essay about him," she said. "I constantly think about how proud of me he would be. On my signing day, I brought his prayer card because he really means so much to me. I also keep it in my bat bag. I credit all my pitching to coach Jerry."
She also has another influential coach in Bob, who invades her thoughts as she serves as an HGSA mentor and coach.
"When I was little I had a (HGSA) mentor I always looked up to, so now I mentor the rec team and also coach the 8U team," Bocock said. "It's so nice to give back to the girls and be that role model for them. I really enjoy it. It's definitely something I want do when I'm older —- give back to HGSA. I've met my best friends through there. I totally credit HGSA for everything.
"My dad has been my coach my entire life. Now when I coach, I see him in me. I say the same exact things. Sometimes I'll be coaching third base and I'll say something and think, 'Wow, I sound just like my dad.' I'm proud of that honestly."
In looking back on it, Bocock was the perfect person for Scourtas to initially befriend on the Northstars.
"I am so glad I found her. I like hanging out with people, and Becca is so fun to hang out with," Lexi said. "I really appreciate what she did because she helped me so much. In looking back at sophomore year to now, I just can't believe I am where I am right now. After Becca, it was Erin (DeWispelaere) that helped me out too, because I didn't hang out with anybody. It was fine, I was a new kid, it was a new environment. I knew it was gonna happen."
Bocock is happy she played a big part in making it happen, especially considering how their relationship has blossomed.
"She's such a good friend, a good teammate," Bocock said. "She always has my back, whenever we're down or something bad happens she's always there, always very talkative on the field. She's just a very good teammate and a very good friend."
And the saga of their friendship makes for a nice little tale as it looks to continue in the shadows of Philadelphia over the next four years.