Pat Snyder is moving down a level and Rob Nosari is moving up, and both men are exactly where they want to be.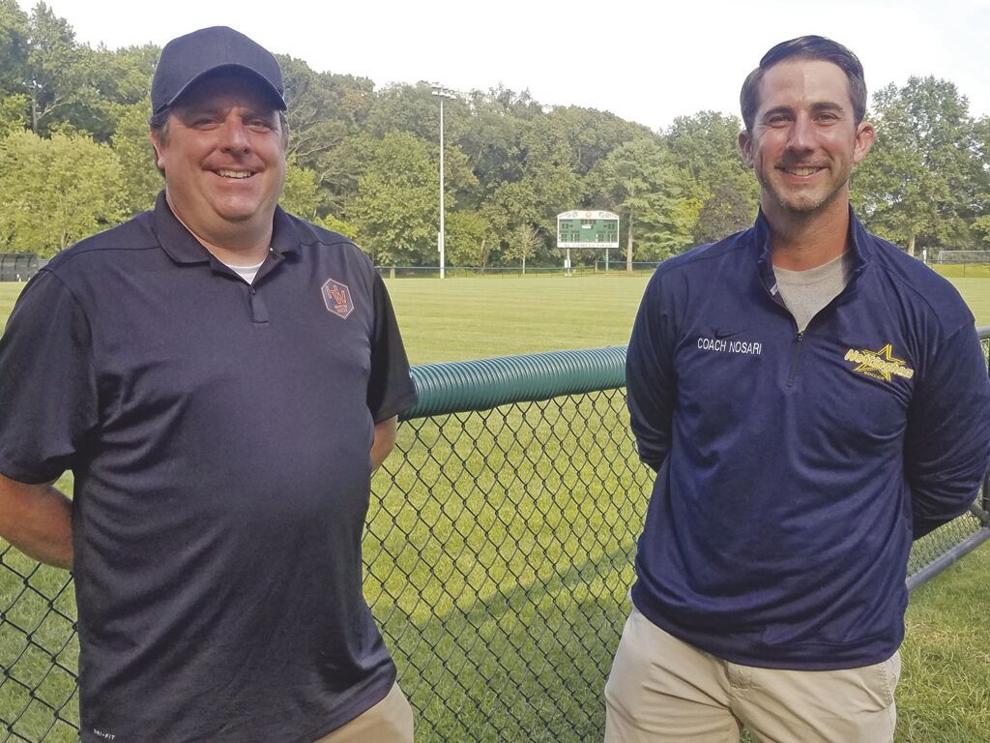 Snyder, who spent seven years as head college soccer coach, is the new leader of the Hamilton West program, taking over for Chris "C Mo" Morales. Nosari, who has spent several years as a sub-varsity coach and varsity assistant at Nottingham, is replacing Mike "Bullet Head" Braender as the Northstars head man. It is Nosari's first head varsity job.
Both are Mercer County products, with Snyder coming from a famous Lawrenceville soccer family and playing for Notre Dame, while Nosari is a township guy who played baseball and soccer at Steinert.
Snyder spent three years as a Mercer County Community College assistant before guiding Division III Felician for three years and New Jersey City State for four. For the past several years he has coached PDA soccer, including the Hibernians with Dan Donigan before Donigan left for St. Louis.
"I wanted to get back into running a program," said Snyder, a TCNJ graduate who played soccer for Mercer and Ursinus. "For a long time, I have admired the impact a high school coach can have on their players. I've known Brian and Jeff Fisher (Notre Dame and Robbinsville coaches, respectively) for a long time and seeing the impact they have, along with many of the coaches in our area."
One of Snyder's major influences was current Rider coach Charlie Inverso, who he learned under at MCCC.
"He is probably the biggest influence on my coaching career," Pat said. "My time playing for Coach in '97 when we were national finalists and being his assistant from 2004-2006 were some great learning experiences as well as life lessons in dealing with some of the boys and what they were going through.
"One moment stands out the most for me. Coach and I were out in one of the vans, picking up food for the boys, and we were talking about what I wanted to do going forward. Coach encouraged me to pursue head coaching opportunities and his belief in me gave me all of the confidence in the world to chase this dream like I have for the past 15 years."
Since then Snyder, whose full-time job is account manager at Ewing Sports, also looked back on other former mentors.
"To be fair, I didn't realize it at all at the time, but the influence that Mike Perone and his staff had on me when I played at ND was huge," he said. "They showed how to make the tough decisions when thinking about the program as a whole and how to interact with your players and the lasting relationships that can be forged in these high school years. Another big influence in my formative years was my club coach at GAK, Kalman Csapo, a Hamilton West alum."
Snyder has been at some of the highest youth levels in the state during a coaching career that began in 2005. Nosari wasn't even out of high school then, as he graduated in 2006. But the Nottingham social studies teacher already set a goal while still a Spartan.
"I knew I wanted to be a high school coach when I was a junior at Steinert," said Nosari, who played baseball at Ramapo. "I had a tremendous experience growing up in Hamilton Square and participating as a student athlete at Steinert. I always felt at home in the classroom and on the athletic fields. My experiences with my coaches and teachers guided me to pursuing a career in high school coaching.
Nosari has paid his dues, serving as a volunteer varsity assistant at Steinert, boys varsity boys assistant at Nottingham and head JV girls soccer coach for the Northstars. He has also been part of the 'Stars baseball program and lists his influences as Nosari lists his influences as Todd Jacobs, Michael Hastings, Rich Giallella, Brian Giallella, Christie Paglione, Braender, "and many more coaches that I can name from Hamilton that have had a positive impact on my life."
"It is a great honor to be given the opportunity to be a head varsity coach at Nottingham," Nosari said. "Nottingham has some of the best coaches around and to be given an opportunity to be in a leadership role on the athletic field is a humbling feeling. I'm looking forward to this new chapter in my coaching career where I can have a greater impact on our student-athletes and the Nottingham soccer program."
A former goalie, Nosari played on Hamilton Township's last Mercer County Tournament soccer champ in 2004. He spent one year in the Hopewell school district as a vice-principal at Timberlane Middle School, but had a desire to return to Nottingham.
"When I was given the opportunity to be a school leader in Hopewell, it was a path that I knew would lead me to more growth and new experiences in my career," he said. "After all, being an administrator is like being a coach, but for the staff.
"During my time away I began to realize that my home was in Hamilton. More importantly, the Nottingham High School classroom and athletic field is where I needed to be. Nottingham is a special place where I have the opportunity to work with an amazing group of people and student athletes that are eager to learn. I couldn't be more proud to be a Nottingham Northstar."
Both coaches are inheriting programs that have fallen on hard times. Hamilton is coming off a 2-3-1 Covid-tainted campaign and has not had a winning season since 2009, while Nottingham hasn't been north of the .500 mark since 2012 and was 2-9 last year.
Snyder feels that being a new coach gives everyone a fresh start. Like the late Bob Ross, who painted his way into the hearts of millions on public TV, Pat plans on creating his own little world.
"It's like taking over a blank canvas," he said. "We can start fresh and build the program how we want it. The group of seniors we have as a whole might not have a ton of varsity experience but they are a dedicated group of young men that want to leave their mark on West soccer history."
It helps that he has players dedicated to the sport.
"There are also quite a few boys that play club soccer," Snyder said. "I'm not sure how it has always been, but it's encouraging to see these guys playing soccer outside of just the fall. We have boys playing at Mercer United, German American Kickers, Upper Freehold Allentown, and Lawrence Hamnett to name a few. I know these clubs well and they are full of good coaches that do a good job teaching the game.
"We, as high school coaches, get such little time with the players we need these clubs to do much of the heavy lifting when it comes to development. We help the process but playing two to four games a week doesn't leave a ton of time to be on the field training with the players."
Having overseen numerous squads, Snyder feels he has a handle on how to revitalize things.
"The challenges are the same whenever I have taken over a program or a team. Finding a way to establish yourself as the leader, defining the style of play along with the type of program you will be. I have two great assistants in Brian Emerson and Simon Lapointe that will be running the JV and freshmen teams. They are in on how we want to do things. What I can say right now is that West is going to be tough to play against and at the end of 80 minutes our opponents will know they have been in a match against the Hornets.
As for Nottingham, Nosari feels the talent is there, but needs to mesh.
"The biggest challenge that we will face is getting the boys to play as one cohesive unit," he said. "There is such a wide range of talent and experience of play among our boys, which can be a challenge. Sometimes that can work against us, but I believe that if we can grow together as one program that supports each other, we can overcome any struggles from the past."
And along with having a group with skill, the new coach also likes the hard-nosed attitude it possesses.
"One thing that all Northstars have is grit," Nosari said. "There is a unique toughness that they have that will raise the level of our training, practices and gameplay. I believe that our grit will keep us in every game and make us into a winning force in the CVC."
Both programs have been winning forces in the past. And they are looking to two new men to revive that reputation in the future.