Pickleball is on the rise, like a rocket. The game that combines many elements of tennis, badminton, and ping-pong is truly a phenomenon, and is being played all over the area.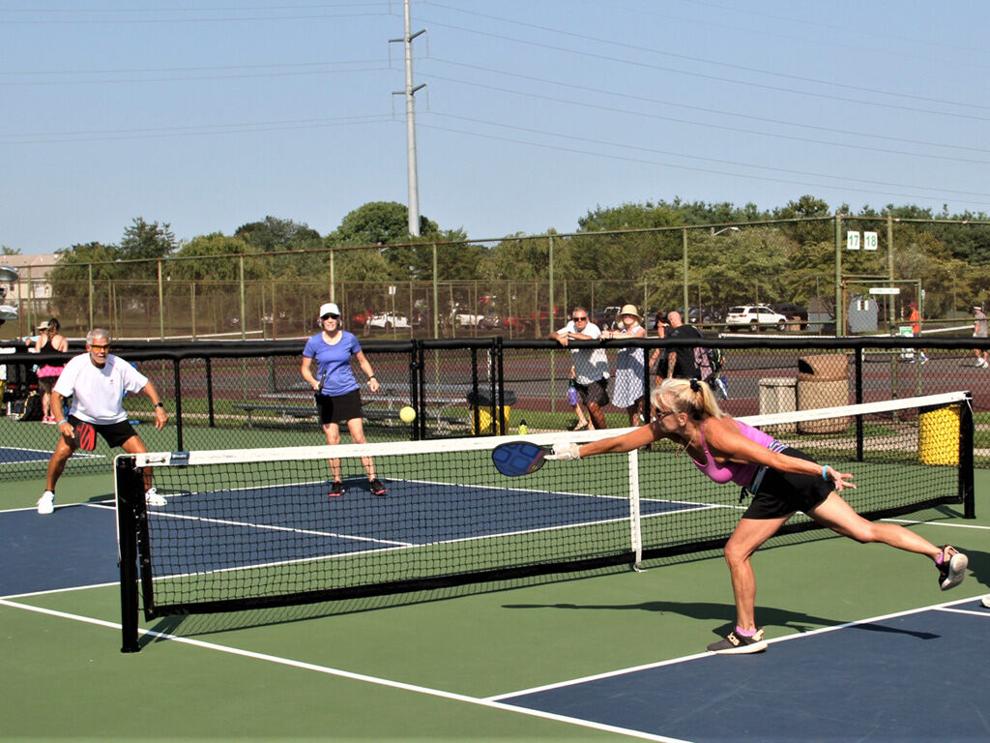 Pickleball often appeals to tennis aficionados. The shorter court, low net and easy to understand rules make it a very simple transition. It is also a little less strenuous than tennis, so it's easier on the body as the players' age. Mixed doubles are common, but there are singles, men's and women's doubles too.
Pickleball is mainly an outside game, with courts popping up alongside or on top of tennis courts all over the area, in both public parks and private club facilities. Pickleball's name is a reference to rowing and crew. After the game was begun in Washington State by Joel Pritchard, Bill Bell and Barney McCallum, Prichard's wife Joan, who was a competitive rower, named the game after a "pickle boat" in crew.
A pickle boat was one where leftover, non-starting rowers were thrown together as a team. The game and the name originated in Prichard's backyard in 1965. A game that the entire family could play together, due to its easy rules and easy fit onto existing tennis courts.
The Association of Pickleball Professionals (APP) held the inaugural New Jersey Open Pickleball tournament in Hamilton's Veterans Park from Aug. 12 to Aug. 15. The event drew 600 players from as far away as Florida and California, all playing for $25,000 in prize money.
In addition to the 600 players, and 15 person APP staff, there were also 20 referees brought in for the tournament.
Hamilton Mayor Jeff Martin said that the tournament was a big success not only for the area's avid Pickleball community, but also for local restaurants and hotels that saw an increase in business during the tournament. "We are looking forward to partnering with APP again next year for an even larger tournament," Martin said.
Veterans Park has 12 total Pickleball courts that are interwoven in and around the Tennis Center. The courts were built in 2020 after local players advocated for a place to play the game.
The APP tour created an additional 14 temporary courts on the park's existing tennis courts to accommodate the tournament's many divisions and the 600 players. The APP tour was shortened this year due to the pandemic, but still carried out tournaments in 16 cities across the U.S., usually holding them in northern states in the summer and in southern and western states during the winter. Officials say they plan to resume their full 32 city tour in 2022.
Terry Hartley, the chief finance officer of the Association of Pickleball Players, said they loved it in Hamilton and were excited to be in New Jersey. He found New Jersey to be accommodating and welcoming of both the sport and the tournament.
"We would love to return and make the New Jersey Open in Hamilton a yearly stop on the APP Tour," Hartley said.
That sentiment is echoed by Johnathan Clay, the founder of the New Jersey Open.
"The venue was awesome, the Recreation Department and mayor's office were extremely helpful and we can't wait to be back next year," Clay said. "We plan for 1,000 players, live music, more food trucks and a real festival atmosphere."
During the pandemic and subsequent quarantine, Pickleball actually gained momentum, players and popularity. It is Covid friendly in that it is played at a distance and two or more household members may play together. Hartley estimates that the sport has grown 25% in popularity since the beginning of 2020.
Equipment costs for Pickleball are small. Tennis shoes, a racquet and the pickle balls themselves is all you need. The 3-inch diameter balls are hard plastic and perforated. The racquets have a rectangular playing area and are roughly 16 inches long and 8 inches wide. They weigh about 8 ounces.
An early proponent of Pickleball in this area was Hamilton resident Suzanne Albanese. Albanese is a primary school, physical education teacher who has taught in both Hamilton and Princeton. More than 10 years ago, she started her students with indoor Pickleball.
"It was a way to bring a tennis inspired activity to the students," she says. "I would set up four courts in the gym and have the kids play in a rotation. They would really begin in earnest in the 4th through 8th grades. I see it as a 'life" sport that you can play up until your later years."
Albanese and her husband played in a league in Mercer County Park until the pandemic hit. They routinely lost to people older than they . "It is as much about experience and ball placement as it is about ability to cover the whole court," she says. "There is a lot to be said for experience in Pickleball. It is also a social, polite sport with a joy of playing dimension to it."
Victoria Velez of the Mercer County Tennis Center in Mercer County Park, West Windsor, echoes the enthusiasm that the players show for the game.
"They have a whole community here at the Mercer Tennis Center, with dedicated older and younger players. We also offer lessons here at the center," she says. "The game is very popular."
Karin Rentschler of Robbinsville is the official United States of America Pickleball Association Ambassador for the Greater Mercer County Area. She shared a rundown of the popularity and availability of courts in the Mercer County area.
In Robbinsville, there is one court at the Robbinsville, at the Municipal Building. West Windsor has 2 courts in Community Park off Princeton-Hightstown Road.
Mercer County Park Tennis Center has 4 new courts. In Princeton, Pickleball is offered at the Princeton Racquet Club. Lawrence has three courts at Colonial Lake Park.
In Bordentown, Team 85 Fitness Center has for courts for members only due to Covid, In Ewing, the PEAC Athletic Center offered 4 courts before the gym closed due to the pandemic.
The Hamilton YMCA at Sawmill offers indoor courts during the winter months. Hamilton Veterans Park, where the New Jersey Open was held, has 12 dedicated courts.
Rentschler is a true evangelist for Pickleball. She teaches Pickleball beginners and advanced players at Mercer County Park and swears newcomers will soon be addicted.
"It's fun to play, easy to learn, keeps you mentally stimulated, and is very social. You can be as energetic as you wish to be," she says.
Rentschler also offers lessons. For lesson information: krentsch93@verizon.net.
With a great surge during the pandemic, venues springing up quickly and a national tour coming through the area yearly, it looks like Pickleball has legs — long ones. As the population ages, engagement and exercise are some of the best tools to stay healthy. See you on the court!
On the web: usaPickleball.org.