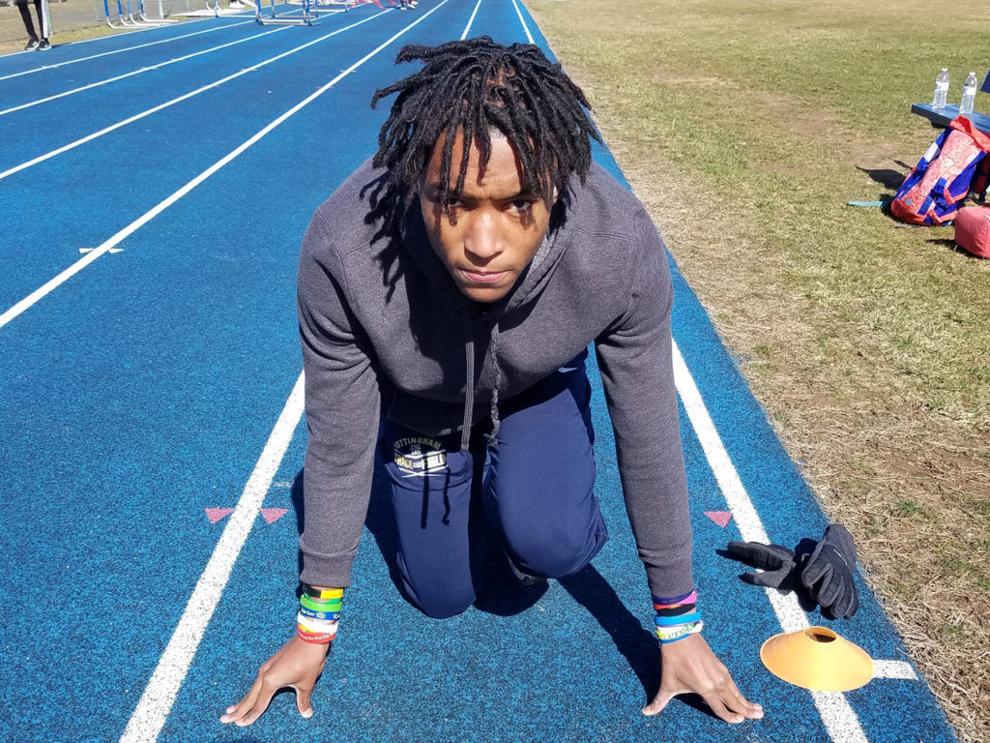 Nottingham junior Shamali Whittle returns to the track this spring as one of New Jersey's top high school hurdlers and sprinters, but he still doesn't look back on his running debut with any kind of nostalgic fondness.
"My first race was the 400 meters at the Armory in Jersey City," said Whittle, who was 9-years-old at the time. "I don't even like running the 400 now. Indoor it's two laps and it was just the worst experience. I cried before the race."
By the way, he won.
And, despite objections to his dad/coach Curtis Whittle, Shamali continued to run the 400 right up until claiming the state championship that year, and the national 400 title at the 11U AAU Youth Track & Field Indoor Championship. Since then there has been a slew of impressive accomplishments, although he has gladly gotten away from the 400, for the most part.
From the Archive: 10-year-old Shamali Whittle gets track career off to fast start
"He'll be a (4×400) relay guy if we really need it," said Curtis, the Northstars sprints and hurdles coach. "His main events will be the 200 meters and the 110 hurdles. But he can do four events, so he might also be running the 100 meters and 400 hurdles."
After having last year's spring season wiped out due to Covid-19, Whittle has his eye on the school record board. His goals, which Curtis calls realistic, are to break Dana Ridley's standards in the 100 (10.5) and 200 (21.3) and Alix Oge's mark in the 100 hurdles (13.93). Whittle's PRs in those events are 10.8, 21.75 and 14.41, all set as a freshman.
"I want to be the greatest Northstar," the Mercerville resident said, not in a bragging tone, but a hopeful one. "When I leave, I kind of want it to be almost like an undisputed kind of thing. The undisputed greatest Northstar to come out of Nottingham. That's what I'm shooting for."
Whether he is every actually tagged with that name, Whittle could very well become the top sprinter in school history should his times keep dropping. He apparently has chosen the right sport after whittling away (pun intended) the others.
A former track man himself, Curtis insisted his son play various sports in order not to burn out on just one. Whittle was point guard for the Central Jersey Hawks national AAU champion in third grade, caught or rushed for 12 touchdowns his first season of Pop Warner football and played HTRBA with members of the current Northstars baseball team.
"I love all sports," he said. "When I'm home I'm watching basketball, baseball, everything."
Whittle planned on going out for football last fall, but with the time he lost training for track, he decided to focus on his main sport. He also envied the Northstars basketball team, saying "I would sit there and wish I was playing. Those guys were ballin'!"
"He was playing basketball at the YMCA, people saw him and said 'He should go play AAU basketball,'" Curtis recalled. "He goes to play AAU and parents see him and say 'He's fast, he should go do track."
At age 10, Whittle began running under the tutelage of Horace Taffe for MySprintClub in Hackensack. In sixth grade, he came back from a torn patellar tendon suffered during Pop Warner to win the 200 meter gold medal at the 2016 AAU Indoor Championships.
The following year he set a national AAU Club National record in the 100 hurdles with Al Jennings' Trenton Track Club. The summer prior to his freshman year at Nottingham, he won the AAU Junior Olympic gold medals in the 100 hurdles and 200 hurdles on his 14th birthday.
"That's when I started to realize this was for real," Whittle said.
During his first winter season at Nottingham, Shamali won gold in the Mercer County 55 hurdles and took second in the Central Jersey Group III meet. That spring he took first in the 200 meters at the county meet and third at sectionals, while finishing second in the 110 hurdles in counties and second in sectionals.
Whittle made his first real splash in New Jersey high school circles during the winter of his sophomore year when he set an Indoor Meet of Champions record of 21.68 in winning the 200.
"That's probably what I'm proudest of," he said. "That's the hardest competition because it was in high school and I was a sophomore at that point. Also, when we came back to practice, we always brag about who's beating who with each other so that was kind of fun as well."
He also won counties and took second in the CJ III meet; won the CJ III gold in the 400 and ran on the state champion 4×400 relay. Not bad for a guy who doesn't like the 400.
Then it all came crashing down with Covid. Nottingham had a legitimate shot at winning the Group III state title behind Whittle and a strong group of standout seniors.
"It was definitely devastating," Whittle said. "We had a once-in-a-lifetime team. I had no doubt in my mind we were going to win states. It just hurt that they took that away from us."
But Shamali could not afford to wallow in pity, and continued to work on his core training and find competition. Last spring he worked out on his own or with several college-bound runners.
This winter he ran the 55 meters for the first time in Virginia and recorded a nationally ranked time of 6.50. He also had top 10 national times of 21.4 and 21.5 in the 200, earning him an invite to a national showcase in Arkansas. It was a professional meet with one high school race, and Whittle was DQ'd running a 21.6, but his dad felt it was a good experience.
"It didn't coincide with his preparation so he didn't have his best race that day," Curtis said. "But that was a great event. The number one kid in the U.S. (Jaylen Slade of IMG Academy) broke the high school national record with a 20.62 in that race."
With Nottingham not competing in winter track this season, Whittle has used the time to experiment, which is why he ran the 55 meters rather than hurdles.
"Because he's been growing he's had some step factor issues in the hurdles," Curtis said. 'We decided on trying to focus on that step pattern for the outdoor season and just have some fun in the 55 meters."
In assessing Whittle's step level, Curtis said "normally he is eight steps to the first hurdle in the 100 hurdles, and now he's trying to go in between and he's shuffling. We're working on getting him seven steps to the first hurdle. That takes time to become muscle memory and is two or three months of work, so we decided to put the indoor season on hold and work on that."
Based on times recorded in 2019, Whittle enters the spring season ranked among the top three in the 100 and 200 meters and 110 and 400 hurdles in New Jersey.
While he is still working on getting out of the blocks quicker, he has a knack for overtaking opponents.
"I never really get fazed," the wiry, 6-foot-1 speedster said. "If someone is ahead of me, I'm not going to break my form. I'm always going to think there's a chance for me to win the race. I know I can finish strong. And my start is getting a little better and my strength is getting real good."
His dad concurred, saying his strength is his top-end speed.
"In the 100, that pretty much occurs around 30 meters," he said. "Once you get there, it's about how you can maintain that maximum speed and for how long. He does that well, and he's developing in power acceleration.
"He's also starting to lift for the first time. You don't want kids to be lifting too much when they're going through their growth spurt, that might impact their development later on. Now he's starting to really lift and get stronger and we're looking for him to drop some really fast times this year to next year."
Big-name colleges have already come calling, including Texas, Princeton, Rutgers, North Carolina A&T and Michigan. The fact some academic powers are in the mix is a credit to Whittle's 3.5 grade-point average.
"A lot of people told me if you don't do the classwork you're not going to college," Whittle said. "They could be talking to you, but they're gonna be asking for your grades and if you don't have the good grades, they won't even respond. If I keep lowering my times, it means more colleges will come. So I just have to calm down, keep working and keep running faster."
Whittle's work ethic in and out of the classroom is a credit to his upbringing. His parents have constantly stressed he be a well-rounded athlete and a strong student.
As for his thoughts on what his dad means to his career, Shamali said "Basically everything. Everything I've ever done up to this point, he basically did for me. The training, the workouts, all the planning, where we're gonna go. Everything that happened to this point is what he did. It makes everything more comfortable that he's here (at Nottingham). I trust all the coaches but I trust him a lot."
In looking at what he has accomplished so far, that trust seems to have been well placed.