Lewis-Clark runners stood on second and third with two outs in the ninth inning as Southeastern University held a six-run lead.
Suddenly, all the angst and despondence he experienced just two years ago seemed so very far away. Ronnie Voacolo released what would be a history-making pitch to Sam Linscott, who lifted a flyball to deep center field.
Voacolo waited. And waited. And waited.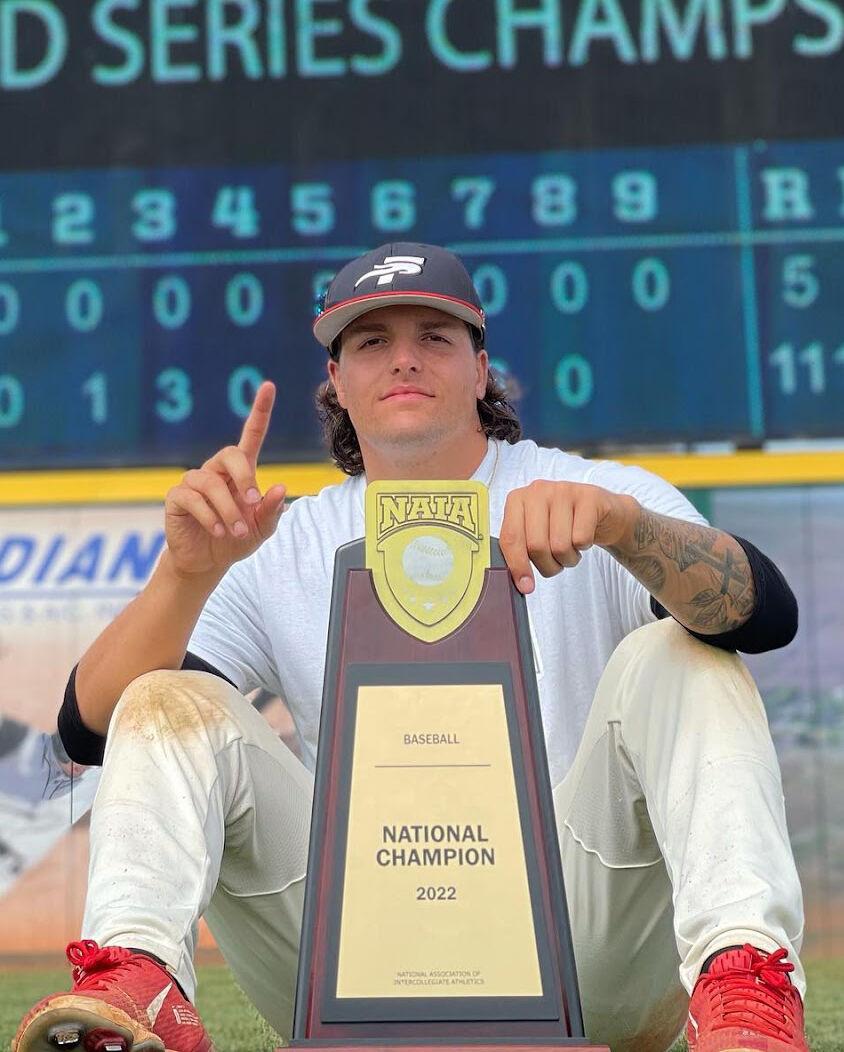 For what seemed like, maybe a million years for it to be caught?
"Absooooluuutely!" Voacolo exclaimed. "I was hoping to get the strikeout. The kid was a good hitter. At that moment I didn't know what to think. Is it gonna be a home run, is it gonna be an out?
"So I turned around real quick, took a little squat and waited the millions of years it took for it to fall. When it came down and went into the glove, oh my God! It was a great feeling."
It's the feeling every college athlete wants: a national championship.
Voacolo got to not only experience it, but be in the middle of it as he closed out Southeastern University's 11-5 victory over Lewis-Clark State College in the NAIA title game on June 3 in Lewiston, Idaho. The former Nottingham pitcher, who inherited the closer's role this season, entered the ninth with no outs and a runner on first.
"I had so much confidence in our pitcher who was out there, that I didn't even throw a pitch in the bullpen," Voacolo said. "He hit the first batter, so my head coach (Adrian Dinkel) started to walk out, he was like 'Are you ready?' I said 'Yeah let's do it.' I wasn't warmed up or anything. But I was like 'Shoot, I'll throw the bullpen out on the field to win this championship."
Voacolo fanned the first batter, hit the second, and struck out the third before getting the eventful third out.
"Since my first years of college I've obviously dreamt about closing out a championship," he said. "To actually do it my senior year was surreal. I got out on the mound, there were thousands of fans, I blocked them all out. I wasn't hearing anything, I went out there, I was pounding the zone."
And then came the doggie pile, which is traditionally on the mound.
"I was braced for it," Voacolo said. "I turned around real quick and took a hit from one of my teammates. They had trouble bringing me down but I was like 'Yeah, we're doing the dog pile.'"
It was quite an ending for a guy whose career appeared headed for the scrap pile just a few years ago. Known as "Ronnie Baseball" when he pitched for the Northstars, Voacolo was always a bulldog on the mound.
After graduating from Nottingham in 2018, he went to Mercer, where he and Steinert grad Sean O'Boyle shared the long relief role his freshman year. The Vikings won their third straight Region 19 tournament, but fell in the Super Regional.
As a sophomore, Voacolo was made a starter and forged a 0.60 earned run average in Garden State Athletic Conference play. But MCCC fell to Lackawanna in the regionals, and Voacolo started preparing for his next stop.
He originally planned on going to Faulkner University, another NAIA school, located in Alabama.
"At that time I never heard what NAIA was," Voacolo said. "I didn't realize how good it was."
Indeed, NAIA has been a steady provider to Major Leage Baseball. Hall of Famers Joe Morgan, Lou Brock and Harmon Killebrew came from such schools. Long-time area fans might recognize the names of Tommy Agee, Cleon Jones and Don Clendendon of the 1969 Miracle Mets, or Tommy John and Lou Piniella of the Yankees or J.C. Romero, Glenn Wilson and Von Hayes from the Phillies. All were NAIA stars, along with All Stars such as Tim McCarver, David Justice and World Series manager Tony LaRussa.
Upon hearing how good NAIA baseball was, Voacolo was excited about Faulkner until the recruiting coordinator and pitching coach both went elsewhere.
"They knew me the best, they knew how I could pitch," Voacolo said. "If the head coach didn't know me, who knows if I would even pitch."
Pitching coach Mike Mendoza landed at Southeastern, located in Lakeland Florida, and convinced Dinkel to give Ronnie Baseball a try. Voacolo was thrilled at the prospect of playing for a program that had won a national title as recently as 2018.
Voacolo's first season was the ill-fated Covid-19 shutdown year of 2020. He had a respectable year, going 2-0 with a 3.54 ERA and 30 strikeouts (to just eight walks) in 28 innings. His final appearance was a complete-game four-hitter with six strikeouts. He allowed one run and no walks and things were looking good.
Then it all came to a halt as the nation shut down. If that wasn't bad enough, Voacolo fell victim to the virus and had some other health issues.
"I had Covid and also had some kind of mouth infection," Voacolo said. "It was something with my gums. I couldn't eat, I had Covid. It was miserable. My weight got down to 198, I'm usually sitting at 220, 225."
He returned to Southeastern still a junior, as all college athletes got an extra year. But he was a shell of his 2020 self due to weakness. His fastball went from the upper 80s to no more than 83 during the fall season. "My stuff wasn't good at all," Voacolo said.
How bad was it?
"I brought him into the office and told him I was going to cut him unless something changed," Dinkel said. "I told him if he wanted guaranteed innings he should look to go somewhere else. He looked at me and told me he was going to stay and prove me wrong. That's exactly what he did."
Voacolo went home during winter break and worked harder than ever before. When he returned for spring workouts, his fastball was up to 91 and he maintained his spot on the team. He went 2-0 that season, but only threw 17.2 innings and his ERA jumped to 4.58. He made the World Series team, but had a rough outing in his 1.2 innings against LSU-Shreveport.
He struck out 19 and walked just six during the season, but nothing ever felt quite right.
"I was pretty much on edge the entire year; because my velo (velocity) went up I kind of lost my accuracy, I was kind of overthrowing it," said Voacolo, who was always known for his control. "Baseball is a mental sport, you really gotta block out some stuff, take it for what it's worth. Just play to win, play for the team. If it comes it comes."
Over the summer he played for a Minnesota team in the Northwoods College League. In the fall, he returned throwing 95 miles per hour and pro scouts started to take interest. So did Dinkel, who made him the closer.
This spring, Voacolo went 4-0 with four saves in 15 appearances. The Fire were 14-1 in games he pitched, as Voacolo struck out 33 and walked just three in 28 innings. He allowed 20 hits, giving him an impressive 0.82 WHIP. In 5.2 World Series innings, he allowed three hits, one run and no walks while striking out eight.
"I knew since my velo jumped that I would be harder to hit. And from changing my mindset of being selfish and just throwing hard, I was like 'OK, let your body be loose, pitch for the team and whatever happens happens,'" Voacolo said.
Dinkel had nothing but accolades for Voacolo's ability to close. "It was new to him and he put the work in to make it happen," he said. "With the velocity jump we feel like it was best for the program and him moving forward professionally wise. He is a big reason why we won a national championship."
High praise indeed, and quite telling that Dinkel spoke of a professional career. Voacolo has joined the Sussex County Miners in the Frontier League, which is an MLB Professional Partner League. He was activated the final week of June, and hopes his stint for the northwest Jersey team leads to bigger things.
"I've had a lot of opportunities," he said. "I really proved myself to Detroit. We played the Tigers spring training team; I faced their number three, number 30 and number 12 prospects and struck them all out, so I showed myself there. I've just been told by my coaches there are teams that are interested in me and like me. The Blue Jays like me, and the Tigers, Dodgers and Arizona all liked my arm."
Dinkel, who knows something about sending guys to the pros, made quite the declaration when he said "He will sign a professional contract. He is good enough, and we're excited to see it."
Almost as excited as Voacolo was when that flyball finally fell in the glove.