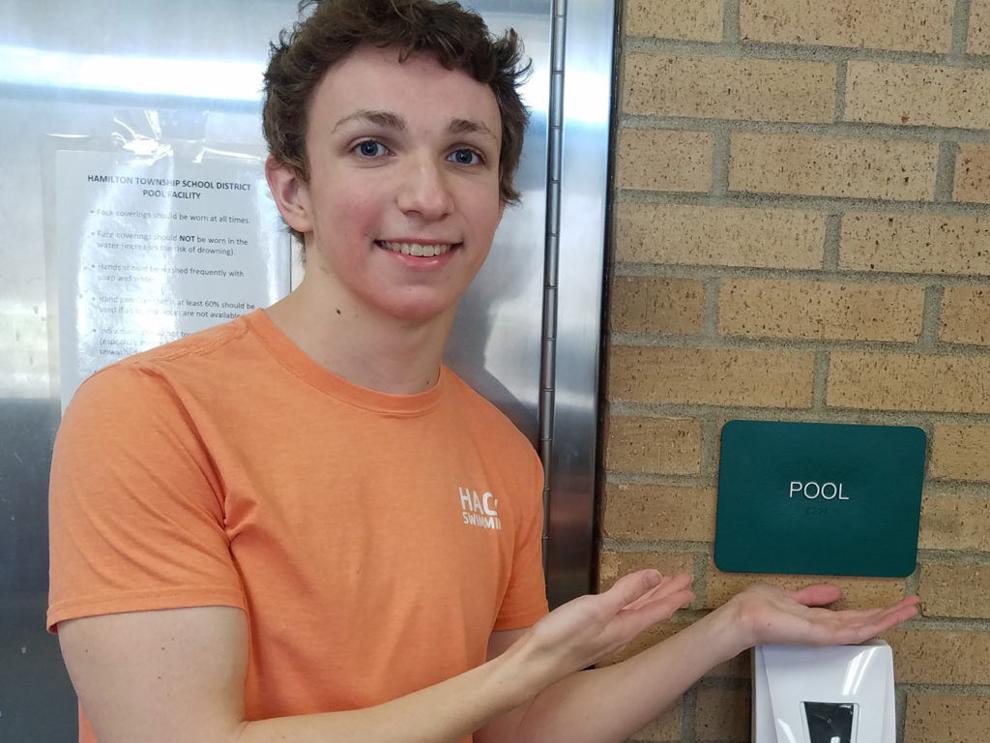 During this season of virtual high school swim meets, it is often difficult for competitors to muster their complete energy without having an opponent in the next lane.
In effect, the foe must become oneself, and a guy like Scott Ackerson seems to have mastered that philosophy with a fire inside.
"Scott seems like he's internally motivated," Steinert coach Gary Ertz said. "Yes, he's pushed by competition, every high school student is pushed by competition. But he's able to muster up the internal motivation, almost like he's constantly competing with himself. The second he gets done, he wants to know right away what his time is."
The Spartan senior admits that it's a very different experience. "I'd be lying if I said it wasn't weird without other people out there. The mindset is that you want to go into a race the same way, but it's harder without an opponent next to you that you really want to catch," he said.
And yet, special swimmers have a way of pushing themselves no matter what the circumstances. As one of the Colonial Valley Conference's top performers in the 200 IM, 500 freestyle and 100 free, Ackerson is special, so he deals with it.
"I think every time I step on the blocks it's the same goal; just to perform as well as I can; just go out there and have a good race," he said. "Whether there's 200 fans in the audience or just my parents, it's just the same mindset. It's about the time in the end. Not having an opponent to try and catch someone is harder, but it's still a good opportunity to be able to get in there and try my hardest."
Scott jokingly says he is trying to knock big sister Chelsea off the Steinert record board. Now a senior captain for Bloomsburg University, Chelsea holds Steinert's girls marks in the 500, 100 back and two relays.
"It would be nice to see both Ackersons up there," Ertz said.
It could happen, as Scott is 2.4 seconds from breaking the boys 100 freestyle mark of 49.2. The problems are, he has a shortened season in which to do it, and his main events are the 200 IM and 500 free — which are usually the ones high school swimmers try to avoid due to the physical challenges.
With Steinert lacking depth in distance swimming, Ackerson frequently puts aside his personal goal for the sake of the Spartans as a whole.
"Sure I'd like to take a run at it, but at a certain point you gotta put yourself in the backseat and say it's about the team itself," he said. "A lot of the team members look up to me because I'm one of our only club swimmers, so I want to go out there and not seem so full of myself — not be like 'I'm doing my thing you guys do yours.' I don't want that kind of attitude. I want to elevate them, see what they're doing, see how I can help them. If that means I'm doing the 500 so they can see how they do in the 100, I'm all for that."
Ertz said he would try and give Ackerson a shot at the 100 every other meet if possible. He admires how Scott doesn't press the issue.
"He has high expectations for himself and high expectations for the team," the coach said. "He's always cheering them on. The other swimmers really take to that. They see he's exceptional and they're drawn to that. He's almost both sides when it comes to attitude. He can be exceptionally calm and just want to relax, then you get explosive energy out of him when it needs to be there."
That energy is apparent in Ackerson's results. After a freshman year in which he had five dual meet wins in five different events, Scott had seven wins as a sophomore, including two in the 500 free. Last year he won nine times in the 200 IM and had three firsts and two seconds in the 500, while finishing ninth in the 500 at the Mercer County Championships.
Through Steinert's first six meets this year he had five first and a second in the IM, a first and a third in the 500 and a first and second in the 100.
His personal bests have shrunk to 2:13.5 in the IM, 51.5 in the 100 and 5:24.3 in the 500.
"He has just shown overall improvement and attitude," Ertz said. "A lot of swimmers start off their freshman year and get very angry about their failures and their times, and it sort of clouds them.
"As he's grown as a swimmer his attitude has improved immensely. He takes failures in stride. If it's a time he's not happy with, he doubles down in practice, he analyzes what he did well, he's coachable. And he attacks it the next time he gets an opportunity. He doesn't seem like he's tripped up by any bad times and he's always looking to improve."
Despite the fact Chelsea was burning up the pool at an early age, Scott tried different sports when he was younger but none stuck. He finally figured if his sister did it, maybe it was worth a shot.
He took 40-minute lessons at age 6, saying "I was probably drowning every single run. It was a risk, it was different. But I enjoyed it, I wanted to see how it could go."
He eventually joined Hamilton Aquatics Club at age 8 and has remained there ever since. Although Chelsea never tried to pressure him into following in her footsteps, she has enjoyed his success.
"I'm so proud of him and how much he's grown in his time at Steinert," she said. "I can't believe he's a senior already. He's a great swimmer and person and the team is definitely going to miss him, but I can't wait to see him swim in college and continue to get better."
Speaking of college, Ackerson has his sights set on Montclair State, although it's a little fuzzy as to whether he will make the team since he has not reached the time standards set by the coaches. He does, however, have a plan.
"I'm kind of hoping one of two things will happen," he said. "One, I'll show up to varsity practice and even though I don't make the exact cuts, they'll see I care about the sport, I've been doing it a long time and they'll give me a go. Or I can just do the club thing; it's done in the same pool, so maybe they'll see me and say 'Oh, maybe this kid could actually do something for us.'"
Whatever happens in the water, he has a clear view of what he wants on dry land. His love of movies has given Ackerson the urge to be a director. He had a class in which he made his first hands-on, short film in which he was both cast a crew.
"It was good to just sort of learn how to edit and do things that go into a video," Ackerson said.
But his goals go beyond short videos.
"I want to make films," he said. "I want to be like the guy in charge. I want to get my idea and then make it come to life. I never really pictured myself in a regular office job. I think I've always just liked going to the movies and seeing that sort of experience.
"I have all these ideas in my head of movies I want to make. I don't want them to stay in my head, I want to actually make them a real thing."
He just has to make sure the internal fire that burns within him for swimming, doesn't torch those ideas in his mind before they come to life.