It took nine games this season to accomplish what it took 17 to do last year for the Steinert High girls lacrosse team.
After defeating Nottingham on April 24 to clinch a second straight Colonial Valley Conference Patriot Division title, the Spartans sported an 8-1 record. Their final record in 2022? Eight wins, nine losses.
What happened?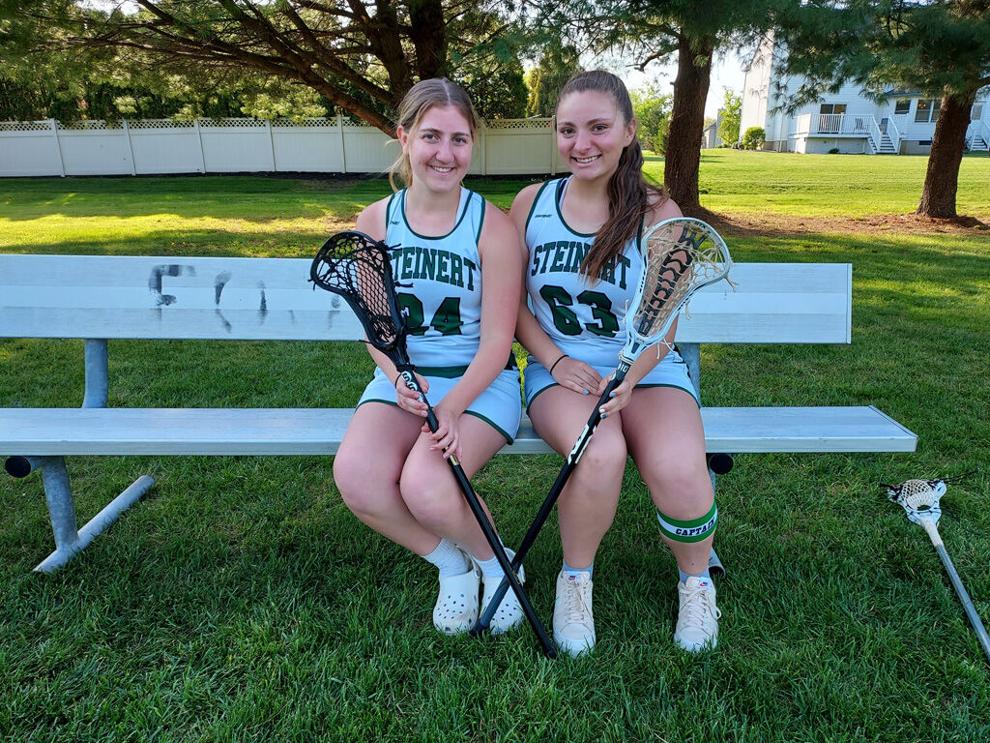 "The difference is the girls want to be here, they want to do well, they want to do well for each other," second-year coach Mike Newton said. "We're a young team, a hungry team. We have a lot of talent from attack to midfield to defense and goalie."
The girls come in and work hard every day. "They want to get better. That's the biggest component right there," he said.
He's not kidding about the team being young, as Caitlin McCarthy and Gracyn Nutt are its only seniors. They are also captains along with junior Brooke Sinay.
McCarthy is in her third varsity season, and Nutt is in her second. Both have a good grasp of how things have gotten better.
"Since we've been playing together for a while we're playing as a team better," McCarthy said. "The young kids are all really talented. They all want to work for it and want to win, which is obviously a good thing."
Nutt added that the team is playing collectively to the best of its abilities.
"We're being pushed harder than we've ever been pushed but we're seeing results because of it. We're being pushed by each other to do our best, pushed by our coaching staff and by other teams because there is a lot of talent all around," she said.
Steinert graduated nine seniors from last year but returned a bevy of girls who already had varsity experience.
"There's a lot of new faces, but luckily there are a lot of familiar faces in the program," Newton said. "It's been nice to see their development from freshmen to sophomores and so forth.
"We are very talented offensively. We have a lot of girls that look for each other. We're also very lucky to have a strong defense and girls who want to do the draw. So we have leaders in every area, which makes everything kind of just click along the way."
Steinert has been an offensive juggernaut. Through the first nine games, the Spartans were averaging 15 goals per contest behind an attack that features all juniors.
Sabrina Beckman is coming off 21 goals last year. This year, she was leading the way with 29 goals and 37 points.
Emily and Laura Hardiman, one of two sets of twins in the starting lineup, have also been dynamic. Emily had 25 goals and nine assists, and Laura had 24 goals and an assist.
Jolea Terman rounds out the attack with three goals and six assists.
The all-important midfield features sophomore Teagan Fairfax and juniors Brenna Riddell and Sinay. Riddell had 17 goals, five assists and a team-high 45 draw controls; Sinay had eight goals, 11 assists, 25 draw controls and a team-high 22 ground ball pickups; and Fairfax had collected 18 goals, six assists and 19 draw controls.
Defenders include McCarthy, junior twins Katie and Ali Longo, and junior Alyssa Hendricksen. Freshman Jada Oczkowski has manned the goal.
It is a close-knit team guided by its captains.
"You can't ask for much better with the leadership I have," Newton said. "They are fantastic. They're really good athletes but really good kids. They come to practice and sometimes I feel they're like the player-coach. They're out there saying 'Hey we gotta pick it up here, we gotta do this better.' Or "Oh we're doing this well, keep it up." They're the on-field coaches."
The soft-spoken McCarthy, who began playing lacrosse in sixth grade in Robbinsville's program, prefers to lead by example. Nutt, who didn't start the sport until her freshman year, is a bit more talkative.
"I do enjoy being a leader," Nutt said. "I think it does, in a sense, come naturally to me. I am an older sister, I have a lot of younger siblings and cousins and stuff like that. So that's something I work well with. I like being someone people can come to with questions and someone people look up to."
Aside from the leadership, the Spartans have the built-in component of strong team cohesion.
"The girls gel well together," Newton said. "They like being around each other, playing with each other and playing for each other. It's a team-first mentality, which is a big thing. They all come ready to go for each other."
Nutt agreed, saying: "A lot of us are friends outside the sport and we play other sports together so we already have that chemistry. But playing this sport is great because there is that communication involved; and because we all are so close, we have a team bond, we work really well together."
Entering the season, Steinert set goals of repeating as Patriot Division champs, surpassing last year's win total, and qualifying for the top-half of the bracket for the Mercer County Tournament.
"Our goals are still in front of us," Newton said after the 8-1 start. "We want to continue to win, play the game the right way, take care of the ball, play good defense. I knew this team was full of potential, it depended on how we wanted to come in, how we wanted to come out and play."
Nutt said she entered the season with an open mind.
"I liked our season last year but wanted to always grow and always be better," she said. "This year I did have big expectations. And with me and Cait as the only two seniors, I wanted us to have a part in it. I think we're all working together really well."
For McCarthy it's a chance to enjoy success after two losing seasons.
"It's a lot more fun," she said. "We're all just really excited to play and see if we can keep going, keep winning."
And while victories are nice, Nutt quickly pointed out they are not everything.
"Wins are always great," she said. "But if my whole team walks away feeling good at how they play and our coach is proud of us, then that's really what matters to me."
With an attitude like that, it's hard to go wrong.