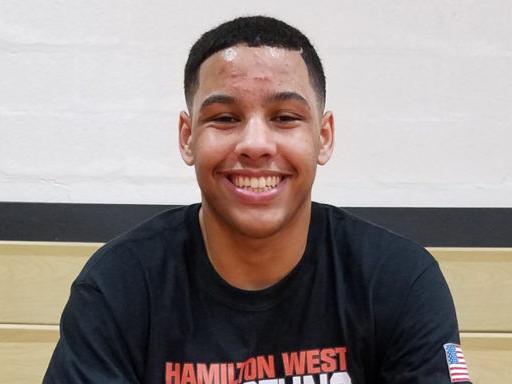 If the Grover Middle School of West Windsor allowed 6th-graders to play basketball, it's hard to say where Matt Watson would be on the athletic map these days.
"I wanted to play basketball but they had a rule where you could only play basketball in seventh and eighth grades," Watson said. "So I gave wrestling a shot."
And he never thought about basketball again.
"I chose to wrestle and I liked it," said Watson, now a senior for Hamilton West. "I liked the one-on-one of wrestling."
Watson's family moved to Hamilton a year later and he began wrestling for the Hamilton PAL. But for the next few years he was only a passive grappler.
"I didn't take it very serious until I got to high school," he said after a season-opening win over Robbinsville's Nick Migliaccio Mar. 16. "Then I started to realize the energy that was around it."
Watson was not one of Mercer County's more well-known wrestlers over his first three years at West, but coach Matt Minder feels he could bust out in this abbreviated season. There is no county tournament, and coaches will be selecting who will compete in the regions so Watson's chances are slim considering he never qualified for them.
But Minder feels he could show off a more finished product this year, and hopefully reach his goal of wrestling in college.
"The kid's been in our program for four years," the coach said. "He started at JV and had a hard time doing a push-up as a freshman and now he's one of our leaders. "
Whoa, back up. A hard time doing a push-up?
"Some kids are different," Minder said. "He just wasn't in the best shape when I met him."
But all that has changed.
"He's progressed throughout the years, now he's in great shape," Minder said. "He goes to club in the off-season and has progressed from somebody who's completely fresh to the sport to somebody who wants to continue in it after high school; whether it's competing or coaching one day."
Watson got a few varsity matches as a freshman, but was mostly used on the JV team in order to get some experience. As a sophomore, he went 3-2 at the JV level and took third place in the JV Mercer County Championships. On varsity he went just 2-10, but won two of his last three matches.
Up to that point, Watson had played football both years. But he stayed off the gridiron as a junior in order to focus on the mat. He joined Elite Wrestling Club in Jackson and began to understand more of the nuances.
"I actually started putting in work," he said. "I started going to club a lot more regularly. I started focusing on my body a lot more overall. I really just put a lot more into the sport.
"I think taking a year off from football helped. It helped show me my love for wrestling. I loved the grind of it, I loved getting ready for the season and I loved getting in the actual wrestling room."
His win total improved markedly last year as Watson went 14-14 wrestling at 170 and 182 and finished sixth in the Pine Barrens Tournament. He also won two Mercer County Tournament tilts before falling in the consolations semifinals.
Did his performance mirror his actual increase in wins?
"It was both," Minder said. "It was performance and opportunity. He didn't really get the chance to wrestle his sophomore year until later on in the season. But he also did get better as well."
Watson was anxious to go full bore into his senior season, until the world got turned upside down.
"Corona happened and everything got crazy," Watson said. "I figured I might as well do football again. I missed it, I had fun doing it so I went back and had a lot of fun. But I also kept putting a lot into wrestling. I think Covid helped me because I realized something could be gone in a heartbeat so I really put a lot more effort into it when Covid hit.
"I'd wake up at 5 a.m. every single day to run. I lifted pretty much every day during the off-season and my club opened again in August and I haven't missed club since then. I've been going to Elite since my sophomore year but this year is the first year I've gone there every single day."
Minder felt playing football again actually helped Watson when he returned to the mat, saying "he came in a little lighter. His focus wasn't on bulking up. So it's not like he's gotten bigger, but he's converted the body mass from fat to muscle. He was in shape when he came in this year, he was ready to go."
Watson showed just how ready in the opener. Migliaccio took an 8-0 major decision over him in a dual meet last year, but Watson took a 3-1 decision over the Raven in the rematch. He followed that up by pinning Princeton's Matt Ellsworth.
One of the biggest improvements Watson made has been in his own mind.
"When I'm comfortable I can really get going," he said. "When I'm not nervous and I'm not in my own head I'm a great wrestler. When I push myself you can see it. Sometimes I get into my head a little. This year I'm just trying to stay calm, collected before my matches. I just want to relax and not read into it too much. It's just another match."
Along with his own self-improvement, Watson has also taken on the leadership mantel for a young Hornets team. It has been a gradual evolution.
"You kind of hope that organically, kids come through the program and take on those roles," Minder said. "You kind of lead him along and he just took to it. There wasn't too much prep I had to give him. I've just seen him grow up as a person, taking on a lot more responsibility. He knows how to get everybody motivated and ready to go."
Watson feels he is wrestling better than he ever has and, even if he doesn't get an opportunity for the post-season, he still entered the campaign with a goal.
"It's gonna be tough with going to states and regions because of the new format," he said. "But my hopes are to go undefeated and give myself the best chance I can."