The Trammell family was rocked in 2012 when Tyreek Trammell, then 9 years old, was diagnosed with a rare brain cancer known as pontine glioma.
Tyreek's mother, Trina, and his father, Markeese, did everything they could to help Tyreek. But pontine glioma is aggressive, and despite the efforts of many doctors and of the Trammell family, he died on Feb. 10, 2013. He was 10.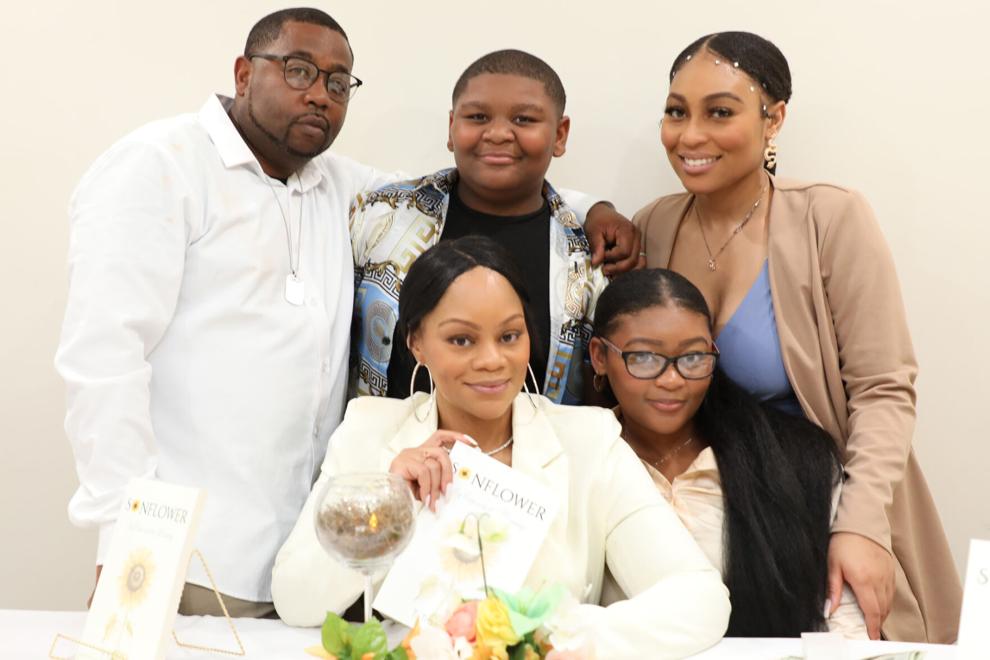 The last eight years have been, understandably, difficult ones for the entire Trammell family: Trina and Markeese, as well as their children Taliah, Trinity and Trent. And Trina says they are all still healing, each in their own way.
But now, she finds that she is finally able to share hers and Tyreek's story, and she has done so in a new self-published book, called Sonflower: Joy Comes in the Morning.
Sonflower starts around the time that Trina and Markeese met, takes readers through the heartbreaking period of Tyreek's illness and death, and then through the stages of grief for the family, which are harrowing in their own right. Although Trammell calls Sonflower a novel, it has in many ways the structure of a memoir.
Trammell always thought that she would one day share her story. The community had been supportive — especially the community at Greenwood Elementary School, where Tyreek had been a fourth grader — during Tyreek's illness. Many had asked over the years how she was doing.
In the months when Tyreek was being diagnosed with cancer and then as he was fighting his illness, she kept a diary of sorts. But she recalls that even four years later, she was too stricken with grief and anger to express her story in the way that she wanted.
Finally in the past year, she felt like she had healed enough to continue her journey through the writing process and finish writing the book. In it, she writes extensively about the journey she has been through since Tyreek died and how she has come to accept the loss.
"Even though the truth may hurt, it's better to face it early on than wait years down the line. That was a mistake I made. Waiting too many years to face what is," she writes. "Now I am here today, eight years later, going through the motions. People around me believe I should be okay by now. The fact of the matter is, I am just now unraveling the layers of my process."
Trammell worked for many years as a phlebotomist. But after Tyreek's death, she decided to go back to school to get a degree in human resources and counseling. In the past year, she has started a new job as a counselor for pharmaceutical company AmerisourceBergen, helping people make sure that their insurance covers the cost of their medications. In this job, she counsels many people with serious illnesses like Alzheimer's and multiple sclerosis.
In publishing Sonflower, she hopes can be helpful to other people who have dealt with loss in their lives.
"I didn't want it to apply only to individuals who have lost a child. I want it to apply to anyone who has lost anyone, or someone who has lost a house, or a job of 20 years, or anyone who has lost themselves," she says.
She says that she also hopes the book can also help people whose losses have threatened to tear their families apart.
"A lot of people have reached out to me who have gone through something similar, they want to know what tools did we use to keep our marriage together," she says. "So I am also creating a dialog for couples, whether you're married or in a long-term relationship, just to speak to those individuals and give them a layout of what we did to get to the next phase."
Trammell says that part of the process of healing involved leaving the place where the hurt had occurred — Hamilton. She now lives in Statesville, North Carolina, outside Charlotte.
However, she still spends time in New Jersey. In May, she held a book-signing event at Veterans Park, and she also makes regular visits to Pitman, where Taliah, her eldest daughter and a recent graduate of Rowan University, lives. Trina, Taliah and Trinity have formed a company called Tru Majestic, making and marketing bath and body products.
Trammell also continues to write. She says that while Sonflower helped her through her own process, she realized while writing it that her husband and children have their own stories to tell. She hopes to publish a second book that tells their stories. "I'm learning so much now, because they stayed bottled up for so long," she says.
Click here to read an excerpt from Sonflower.