During the mid-1970s, Steinert High's soccer program threw an every-other-year party as it won Group IV state titles in 1973, '75 and '77. Much like the middle child in a family, the middle champion is sometimes overlooked due to the sheer star power of the other two teams.
But what the 1975 state co-champions lacked in superstars, it made up for with super cohesion. That band of Spartans finished 18-1-2 and tied Kearny in the state final while playing short handed for most of the game due to an early red card.
In showing just how good the team was, it received a season-ending No. 1 ranking in the New Jersey coaches state poll, edging out Mercer County rival Lawrence for the honor.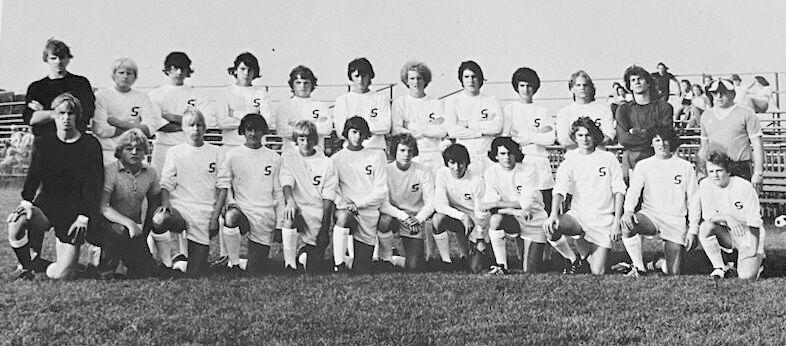 "Our team had just a great camaraderie," said Joe "Ape" Fink, a senior captain along with John McDowell. "We were underdogs going into that season. Nobody thought we were gonna be any good. I think that motivated most, if not all of us. We were a team, we played together, we hung out together. No superstars. Just a lot of good, solid players who got along, played well and were successful."
That success will be recognized on April 15 at the Hibernian Club in Hamilton, when the '75 Spartans are inducted into the Mercer County Soccer Hall of Fame along with three other Mercer teams that won state titles that season.
Lawrence, Ewing and Notre Dame are getting in, along with individuals Gary Hindley, Red Birch, Al Leister, Saskia Webber and Kylee Rossi-Flynn. Cocktail hour is at 5 p.m. and $60 tickets can be purchased by calling 609-731-5906 or emailing bruce@mercercountysoccerhof.com
It's a deserved honor, despite the fact Steinert lacked the record-setting scorers and All-Americans like the Spartan champs right before and after them. Asked if his team felt somewhat overshadowed, Fink quickly responded "I don't think so."
"The '73 team (20-0-1) was an awesome team; they were strong top to bottom," said Joe, who had brothers on both teams. "The '77 team (24-0) was ridiculously loaded. They had better talent than us overall; but as a team we held our own."
Jim Bowen, who along with brother John were sophomore starters in 1975 and one of the many megastars of 1977, saw similarities and differences.
"Both teams had good goalkeeping and dogged defenses," Bowen said. "The midfield/forward formation was a little different and set up based on the players available. As I recall, most of the goals in '75 came from the forwards. In '77 although a lot of goals came from the BFB (Bowen-Tom Fink-Bowen) line, we had another 40 goals from midfielders and other position players."
With five future Mercer County HOF players on the roster, it sounds strange to say there were no superstars in '75 but statistically Steinert's players did not light it up. They just won with precision-like play and powerful chemistry.
"We were a very united team," said Dan Povia, a senior midfielder. "We spent as much time together off the field as we did on the field. We were also a very intelligent team who knew and played the game well. I like to think it was our smarts that led to the championship and number-one team in the state."
Fink laughed when informed of Povia's assessment.
"Of course he'd say that, he was ranked number one in our class," the Ape said.
Actually Povia was No. 3, but the team was loaded with scholars. The Bowen brothers and classmate Jack Blair went to Princeton, junior Kevin Haney attended the Naval Academy and every senior on the team played college soccer. Three went on to be successful high school coaches.
Fink, the stopper, was in the back with seniors Dave Andres at sweeper and Rick Picatagi and the late Brian "Maynard" Welsh at fullbacks. Senior Sam Maira and Haney split time in goal.
The midfield started with Povia and juniors Gary McIlroy and Ruben Rivera, while up front senior Kenan McCoy centered the Bowen twins. When McCoy, one of Mercer County's most talented offensive players, suffered a season-ending broken ankle seven games into the campaign, Rick Wiener took his place up front and McIlroy moved forward to create a 4-2-4 formation.
Reserves featured McDowell, Tom Moffat, Dominick Castaldo, Tom Fink, John Leigh, Dan Downs, Jack Blair, Steve Tondreau, George Jolly and the late Bobby and Mike McVicker.
It was a veteran cast that got a boost from the underclassmen up front. The seniors made sure they were comfortable.
"Moving up from Reynolds to Steinert was a big step," Jim Bowen said. "We're playing with men now, in an elite high school program. Intimidating. The seniors were a strong, cohesive unit and a great bunch of guys. Their experience and leadership were instrumental in making us youngsters feel welcome."
Steinert was coming off an underachieving year (by its standards) after losing to John F. Kennedy in the Central Jersey Group IV finals. The returning players were sparked by that, along with what Fink said were "a few naysayers who said we weren't gonna be any good."
* * *
Steinert opened 5-0 before tying prep power Lawrenceville. After four more wins, the Spartans lost a rematch to arch-rival Hamilton, 4-2.
"They were a great team," Fink said. "On paper they were probably, if not the best, the second best team behind Lawrence. Hamilton was loaded that year. You talk about great players. Rich Alito, John Carmignani, Bobby Lloyd, (the late) Glenn Chorba, Bobby Sanguinetti, Jimmy Hudik, Chris Barlow. Those guys were good."
After finishing the regular season 14-1-1 Steinert topped Colonia 2-0 and Neptune 3-2, setting up a Central Jersey Group IV title game with Hamilton before an overflow crowd at Mercer Park. The Hornets took a 2-1 lead before McIlroy, who was on fire in the states, scored twice for a 3-2 Spartan win.
"The number gets bigger every year of how many people were there," Fink said. "That was absolutely the most memorable game of my high school career."
Jim Bowen scored the game's lone goal in a 1-0 win over Shawnee in the state semis at Glassboro State (now Rowan) where, ironically, Fink's future wife Luddy was attending at the time.
That left only North Jersey power Kearny standing in the way.
Fink scored the last of his three career goals early in the game to put Steinert on top. Shortly afterward, Steinert was red carded for running into the goalie; leaving the Spartans one man short the rest of the way. Kearny tied it in the first half; Steinert regrouped after intermission and the game ended 1-1 as the teams were declared co-champions.
"At the time, it didn't really feel like we won a championship," Fink said. "We were very disappointed. We still should have won. We dominated the game."
Steinert got vindication at the All-State banquet. As the state's top 20 teams were counted down, they started with No. 20. Steinert and Lawrence players were seated at the same table, and as the list shrank to two teams, the friendly trash talk was flying.
"And then they said 'Runner-up, Lawrence High School,'" Fink recalled. "Then we knew it was us, so that was cool."
Fink would be named All-State that night and, aside from his playing ability, was also lauded by Maira several years ago as the best captain he ever played with. Povia agreed, saying "Joe led by example, no one worked harder. He pushed us when we needed pushing and he picked us up when we fell. Cliches, but true. "
Fink praised his fellow captain, saying of McDowell, "he was a great captain and a great leader."
The big leader, of course, was coach Paul Tessein, who won the first of his four state titles that year after taking over the program in 1974. Bowen felt that was another similarity his two teams had
"In the end, both teams were great in their own right with a collection of talented soccer players," he said. "And not to forget Paul Tessein. Both teams had a great coach."
Povia concurred, noting that "he stressed the fundamentals, preached ball control and a short passing game. He spent much time sharing how he wanted us to play and what our roles were. He was positive even when we were not at our best."
Fink played two years for Tessein at Reynolds and two more at Steinert, giving him true insight to the coach who would become a legend.
"I enjoyed my time playing for him," Fink said. "He was a student of the game, he was very into it. He was a very good trainer, our practices were very organized and he was motivating."
He motivated a group of solid players into what would be considered the best team in New Jersey in 1975.
"I don't like the word over-achieved, but maybe we did," Fink said. "I think in a lot of people's minds we did, but I don't think in our minds we did. We didn't under-achieve but we definitely should have won the state championship outright. So being named the number one team was nice. We just had good, steady players that showed up every day to training, worked hard and played together.
"Individually we weren't that strong, but together, we definitely were."
And they now enter the realm of Mercer soccer royalty.
Together. . .as it should be.