Friendship, Unity and Christian Charity is the motto and are the pillars that the Ancient Order of Hibernians is built on. As we check in on the Ancient Order of the Hibernians chapter based in Hamilton it appears that the club is a strong and vibrant as it has ever been.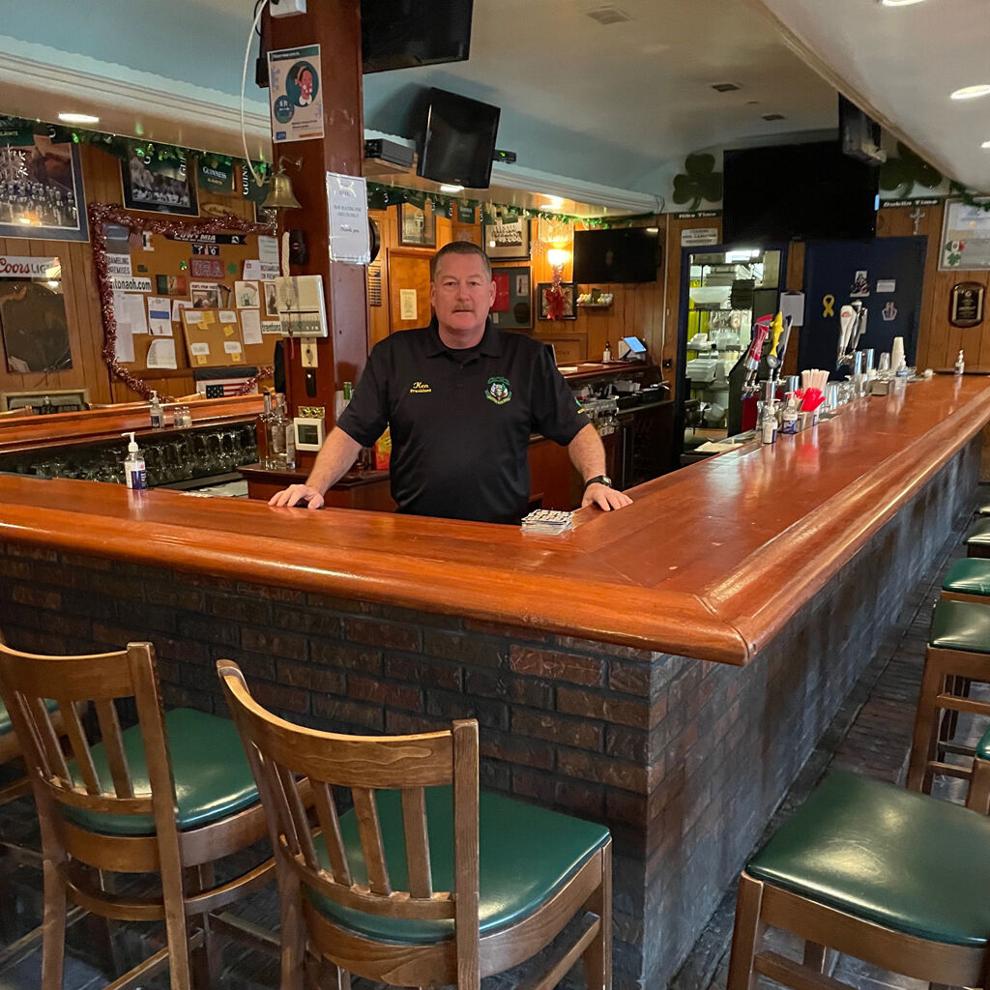 Maybe it is stronger than it has ever been. While interviewing people for this story, there were more than a hundred people in the hall on Kuser Road in Hamilton on a Tuesday night, and the club is full of life.
Ken Adam, the current president of the AOH chapter, says the future is bright and the club is building, not rebuilding. With 1,400 members, the Hibernians are one of the last ethnic clubs in the area, and surely one of the largest.
The Ancient Order of Hibernians is America's oldest Irish Catholic Fraternal Organization founded on the East Coast of the U.S. in 1836. The Order follows tradition of similar societies that existed in Ireland for more than 300 years. While there are AOH organizations in Canada, England, Ireland and Wales, the U.S. national organization is the largest.
These organizations were founded to help protect Irish clergy and recent immigrants from attacks by established "native" Americans, who resented the huge influx of Irish driven to America by the Potato Famine in the 1840s. More than 1.5 million Irish came to America during this Great Hunger, as 2 million Irish died in Ireland, from starvation and disease.
The strength of the Hibernians in Hamilton appears to be its leadership and its volunteers. There is a lot going on at the Hibernians club and there appears to be something for everyone. There is now yoga class, the perennial sports division featuring soccer, a quoits league, a cornhole league, an Irish music festival and now, a full-service kitchen for lunches and dinners.
Adam shares about the tough time during the pandemic shutdown and the opportunities it also brought. "It was a dark time. We have a large building and we still have bills to pay. It was scary, but we also saw opportunities," he says. "During the pandemic, when things started coming back online, we saw the need for an outdoor patio. We added a large paver patio and now we can have music and entertainment when weather permits. One of our members owns a landscaping firm, and that was a great help."
The Kuser Road building that houses the Hibernians was finished in the early 1980's, primarily with labor from the club members themselves. "I was a kid out of high school," Adam recalls. "But my father (Jim) was instrumental along with many others in getting this building made. We had and have members of many trades who are the best volunteers you could ask for. I say again and again, our members, trustees and board make this organization strong. We now have 1,400 members, and it may be the most we have ever had."
Adam is in his third year as president after taking the reins from former president Vince McKelvey. McKelvey was president for 13 years, and Adam says he guided the organization with a steady hand. "I rely on Vince and bounce ideas off him all of the time. He knows everyone in town and also all about how to run this organization properly. He is still on the board and a very valuable resource," he says.
The vision from the previous leader is added to by Adam. "We need to evolve and continue our vision as a family organization. As with my father and brother, we have generations of members now and we must engage them all. We want to offer something for everyone. We have the soccer leagues, where the Hibernian Athletic Association hosts nine travel type teams. We have girls and boys soccer from 9 years old through high school. It is a great program, with many participants."
A valuable attribute of the athletic program is the lighted soccer field located behind the AOH building on the almost 2 acres of club property. It hosts practices and games seemingly year round, and also hosts the Irish Festival that happens on the grounds each fall.
The Irish Festival each October features Irish dance ensembles and Irish music all day. One highlight is the AOH Pipe and Drum band. It is the area's longest running Irish Festival.
One way the AOH kept liquid during the pandemic was to replace their usual fundraising Lenten Friday Fish fry with a drive-through/take-out version. The event had past vice president Sean Pender as one of the organizers, and the fundraising portion worked out very well.
"We were trying many ideas to keep funds flowing for the organization. We did not know if the take-out fish fry would work, but it went so well, that it really helped keep us on a good footing. The sharing on social media got the event message out there and people came by the carload and supported. It was terrific." Adam says.
Pender a longtime officer, is now the vice president of the national AOH and Adam says he brings much experience and organizational skill to the local team. He will be national president in two years, which Adams says makes it clear that the Trenton AOH is a strong chapter in the organization.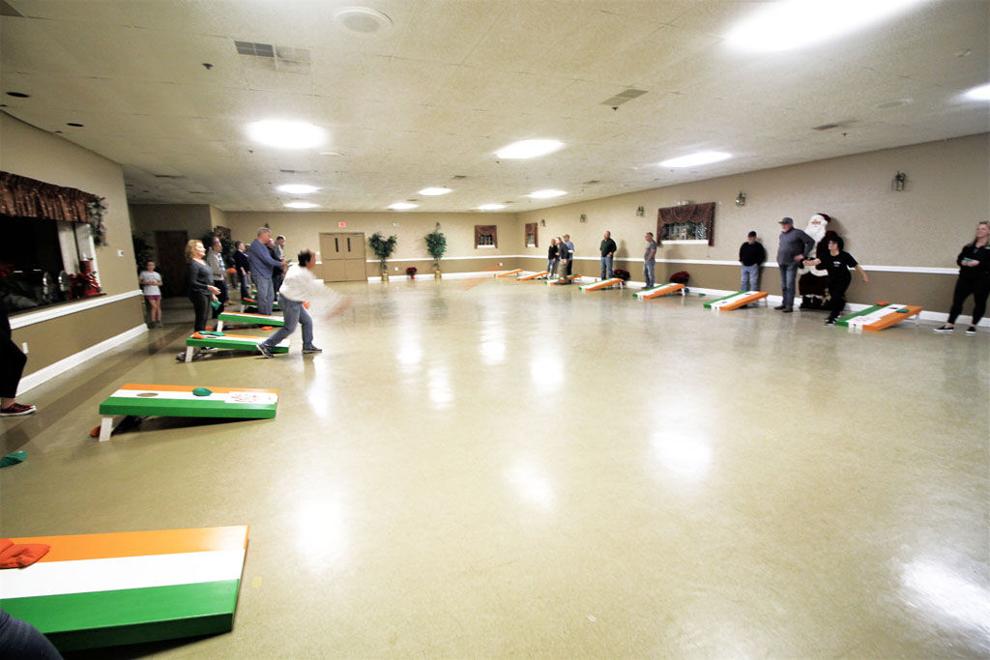 Another aspect of the Catholic organization is charity. The AOH organizes a Blood Drive each summer named after longtime organizer Bill Hogan, who was instrumental in its formation. There are also coat drives, food drives and donations to Catholic Charities, the Jeremy Fund, Joey's Little Angels, Trenton and Hamilton Police Athletic Leagues.
"Charity is what we are all about. It is why we keep the club going, to give back. We want to give back to the charities of our members, to what they are passionate about. It is the good Christian and Catholic thing to do." says Adam.
The AOH is trying to have the right mix,
Adam says. Part of the right mix is to have a great food service. That came about this past fall with the addition of Gigi's Kitchen and catering. The kitchen is run by Luigi and Joey Immordino, and has proven to be an early success.
Daily emails announce the menu each day and what used to be a detriment is now a strong suit. Members and their guests can dine in and enjoy a hearty meal where before they could not. The mix of Irish, Italian, Continental and American favorites is bringing favorable reviews from the membership.
Mike Barry, who is a long time member recently ate dinner at the AOH with his wife Jasmin and friends. "The food was tasty and well prepared. The service was attentive and friendly. We will definitely be back," Barry says.
Looking to offer something for everyone, there is in addition to Gigi's Kitchen Tuesday cornhole, Wednesday darts and once a month, karaoke. Live music events are in the offing to return also.
With the help of their many volunteers, the AOH also runs (among other things) an annual trunk or treat for kids, a Halloween party, a toy drive for Christmas, and Kentucky Derby day.
"We have the best committees and a large facility to take care of. We could not do this without the commitment of our leadership and our volunteers. That is why some of the other clubs folded, and we do not want that to happen here," Adam says. "We need to stay vibrant, excited and be here for the next generation. We want to be here for my grandkids, so they can learn Irish heritage, teamwork, charity and Catholic values. This is why we do what we do."
When asked how to join the organization, Adam replied, "The best way is to talk to a member who enjoys the club. They can talk to you about the requirements and expectations. They can sponsor you.
Author Thomas Kelly is a member of the Ancient Order of Hibernians.