The subject line on an incoming email from Eyecare Professionals simply read: "Introducing our newest staff member." Opening the email, readers met staff member No. 24, Lionel, a quasi-employee who brings a whole new dimension to the practice of optometry.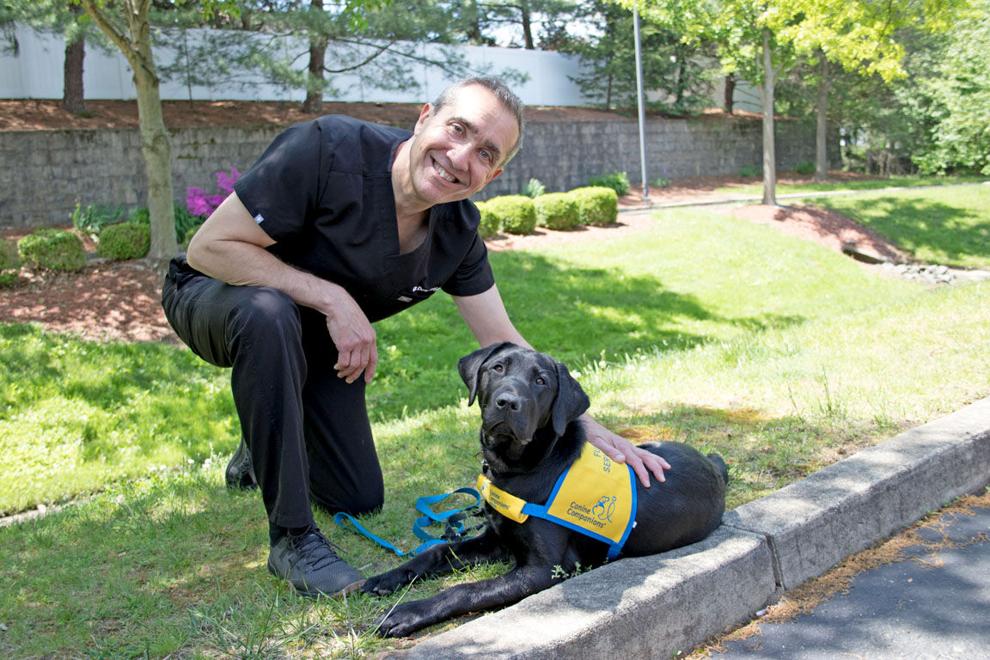 Eyecare Professionals, located on Kuser Road in Hamilton, has been in existence for 30 years and has 23 employees, including four optometrists. Lionel is six months old, has lovely dark eyes, four very large paws, and a face that could melt even the hearts of cat lovers.
He is one of nearly a thousand dogs nationwide being raised for Canine Companions, an organization dedicated to providing free service dogs for those who live with physical disabilities.
The concept of using dogs for assistance has a long history, likely dating back to 1 C.E., according to the International Guide Dog Foundation. A mural found in the ruins of Herculaneum, an Italian town buried by Mount Vesuvius in 79 C.E., shows a picture of a man holding a cane being led by a dog.
But likely the formal introduction of using dogs for assistance came after World War I, according to the foundation. Many soldiers had gone blind due to exposure to poisonous gas. Dr. Gerhard Stalling is credited with developing the idea to help these former soldiers navigate with the help of a dog. In 1929, Dorothy Eustis learned about dogs for the blind while in France and eventually established the Seeing Eye School in Morristown, which exists today as The Seeing Eye.
Canine Companions began in Santa Rosa, California in 1975, and thanks to a network of volunteers and professionals, the organization prepares dogs for six different potential roles.
Service dogs assist adults with mobility issues with physical tasks. Hearing dogs alert their deaf or hard-of-hearing companions to sounds around them, like a doorbell. Skilled Companion dogs work with children or adults with physical disabilities alongside a facilitator, like a parent or other caregiver.
Facility dogs, along with trainers, visit facilities in an effort to provide comfort or motivation. Service dogs for Veterans is an initiative designed to help veterans with PTSD readjust to life after leaving the military. And finally, there are therapy dogs, which are used for therapeutic interventions.
Before dogs can train for one of those jobs, they have to be socialized as puppies, and taught 30 different commands. Nick Despotidis (AKA Dr. D.), an optometrist with Eyecare Professionals, is raising Lionel for the program.
Raising a puppy for Canine Companions requires commitment. As a volunteer, Despotidis is not only responsible for teaching Lionel commands like sit and stay. He also has to teach the dog manners, such as not jumping on people.
He pays for veterinary care, including vaccinations. He has to provide Lionel a special puppy diet. Despotidis takes Lionel to North Jersey twice a month for required training sessions.
And when Lionel turns 18 months old, Despotidis will try to say good bye, knowing Lionel will be evaluated and provided further training with professionals—that's the hard part, Despotidis noted.
"Just like children," Despotidis said, "we bring the puppies up to be good citizens. We cry a river when we give them up."
When asked what motivated him to take on this challenge, Despotidis jokingly said: "Empty nesting."
He and his wife, Teresa raised two sons, now grown. But the empty-nester syndrome only played a cameo role.
"We had a family friend, Matt, who benefited from the Canine Companions program," Despotidis said. Matt is on his second dog; service dogs work for about 11 years. "So, when our kids went away," Despotidis said, "we decided to raise puppies for the program."
The ultimate goal of raising a puppy for Canine Companions is to have a well-trained dog to place with a human companion. But as we all know, life doesn't always go in a desired direction.
The first dog Despotidis and his wife raised, Brubeck, now lives in Oregon and works as a hearing dog for his companion, Tracy. Dog number 2, a male named Fers, was diagnosed with hip dysplasia–a common problem with some large dogs.
And so Fers changed careers, the term Canine Companions uses, and can now work as a facility dog. He lives with Despotidis and his wife.
Their third dog, Whidbey, also a male, didn't have the temperament to enter any of the programs when evaluated. "He was just too nervous," Despotidis said. So Whidbey keeps Fers company in the no-longer-empty Despotidis household.
Lionel is dog no. 4. Despotidis is training him at Eyecare Professionals with the assistance of office manager Amy Colarocco and business manager Lisa MacArthur. The first three dogs Despotidis reared would visit the office, but Lionel, Despotidis said, has been at the office since he arrived.
Colarocco said Lionel spent his first week on staff lying in her lap while she worked at her desk.
"Patients have been remarkably understanding," Despotidis said. "Whenever we have a pediatric patient, or a child with special needs, we ask if they want to meet a puppy. They look at us and think we are going to bring in a stuffed animal."
But then they meet Lionel, a dog who is learning to know his place in the room. Despotidis said one of the lessons he has to teach Lionel is "not to be the center of attention."
To that end, for example, one of the commands Lionel must learn is "under." In response to the command, Lionel will learn how to get under a chair, or under a table, and remain quiet. If a companion animal goes to a restaurant, Despotidis said, "he has to be almost invisible and not pick up food."
Another command Lionel must learn is "hurry." And hurry means to go to the bathroom on demand. Male dogs are taught not to lift their legs. The training is done using what Despotidis called "the bag of power," known to humans as the treat pouch. The treats also come with words of praise.
Despotidis speaks passionately about what companion dogs can do for the world. "The dogs break barriers," Despotidis said. When people see a companion animal they don't see the disability of the human companion, he noted. People enjoy meeting service dogs and talking to their human companions. Despotidis mused: "What if we were always as kind to one another as we are to dogs?"
Lionel will be on staff at Eyecare Professionals for another 12 months. Despotidis noted that while Lionel is not yet fully trained for his ultimate job, he is still working. Covid precautions remain in place at the office. The door is locked and opened only to people with appointments.
Despotidis said having Lionel around has reduced the stress level of the staff, stress that has been around for more than two years.
And Despotidis knows he, and now his staff, have benefited from his volunteer service with Canine Companions. Every staff member has invested some time and energy into Lionel's training so he can one day help someone who will need him. And that investment pays interest in quiet ways.
"You think you're doing something beneficial for someone in need," Despotidis said. "But in reality, you're really doing something good for yourself too."
To volunteer with Canine Companions, go to the organization's website: canine.org.