Audrey Ford did just enough swimming as a youngster to make her want to try it at Nottingham. She didn't go into hard-core club swimming, which is often the best preparation for high school, but chose the more laid-back Hamilton Hurricanes program in the Princeton Area Swimming and Diving Association.
As it turns out, that not only encouraged the sophomore to swim for the Northstars, but made her versatile enough to where she is thriving.
Along with the team's top swimmer, fellow 10th-grader Vanessa Bryk, the talented tandem helped Nottingham to a 1-2-1 start after the Stars went 0-8 last year.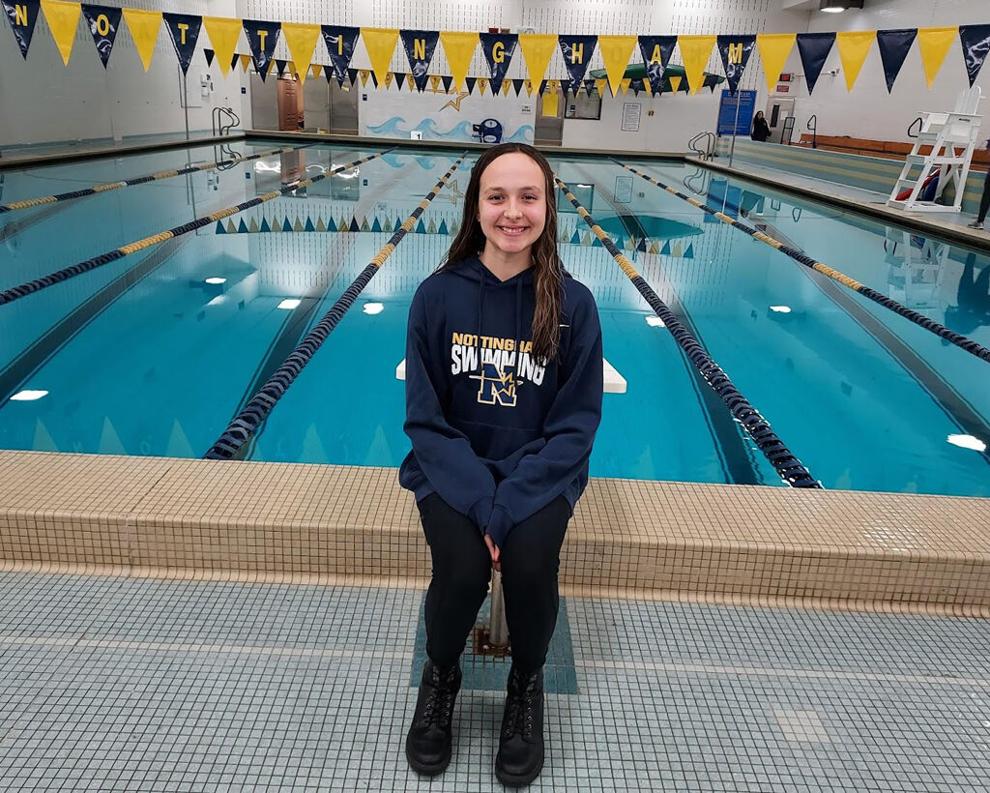 "Audrey is an all- around swimmer," coach Andrew Parsons said. "She'll do whatever I ask. She's universal across the board. She can do backstroke, she can do breaststroke, she can do IM, she's a flyer."
It all came about in PASDA, which basically has rec meets on Tuesdays and Thursdays.
"I give a lot of credit to that summer program because while it didn't necessarily teach me to go fast it taught me the proper technique for all different strokes; so I was able to come into high school and, for the most part, know how to do all of the strokes. We had to tweak a few minor things but for the most part I knew every stroke so it was a lot easier to build off of than having to learn everything."
Her versatility shined through in the Northstars first four meets this year. Ford had three second-place finishes in the 100 breast, a first, two seconds and a third in the 100 fly, a fourth in the individual medley, a third and a first in the 200 free relay, a second while swimming the 50 free in the medley relay, and two firsts and a third in the 400 free relay. Her four first-place finishes were second on the team to Bryk (nine).
"Last year we had her doing breaststroke," Parsons said. "This year she's moving into the IM and taking over that fly role for me. As a sophomore doing the fly as a non-club swimmer is amazing and she's dropping her time."
Audrey was one of those girls that could not get enough of the water as a child. Her mom enrolled her in YMCA classes at a young age, and she didn't mind showing off in someone else's backyard.
"We would go to pool parties and I would never want to get out of the pool," Ford said. "I loved splashing around, doing handstands and flips. My brothers are involved in many different sports. My mother was looking for me to have a sport to be involved in, it just so happened that swimming was the sport that we chose because I loved the water."
She decided to swim with the Hurricanes as a summer activity but was never overly-tempted to join a club program.
"It was definitely something to do just to fill my time," she said. "But it did motivate me to want to go out for the high school team. And one of the girls on the team (former standout Hazel Cox) wanted me to come out and join the team. I figured it was a good way to make friends and a good way to stay fit, so here I am."
She left PASDA after 2018 to join Parsons summer program prior to her freshman year. Then came the high school season and a very strange year for all involved. Due to Covid 19, virtual meets were held, in which each team swam events in its own pool, against one another, and the times were compared with the opponent they were swimming against; who practiced the same exercise in their own pool.
This year has been a return for normalcy, and Ford wondered if she was ready.
"She was worried at the beginning of this year because last year they had that virtual nonsense," Parsons said. "But then she came back and said 'This is 100 percent better.' And it is, because we have that competition. We had her in the water racing, the team's bonding. She's a leader too. She's getting the girls going in the right direction. She's awesome."
Since Audrey never swam in high level meets, she had no idea what she was missing out on last year, until she started to experience it this season.
"Last year wasn't super unusual because I didn't know anything different," Ford said. "But now looking back on it this year after having some meets, it just seems really weird how we did it last year.
"Having people there really helps. Also, the fact that last year we knew who was going to win every race in the pool we were in, because we were used to swimming agianst our teammates in practice. This year, not really knowing how fast the people are next to you, it gives you that extra push to try to do your best."
What has really helped Ford is the presence of Bryk, who is a club swimmer and has helped motivate Audrey.
"It's nice to have someone who is of similar age to me," Ford said. "We do push each other a little bit. She and I are entered in most of the same events, we like to feed off each other that way. Not necessarily racing off each other so much; but giving each other encouragement and pushing each other to do our best."
Ford needs no pushing to do well in the classroom. A proud owner of a 4.606 weighted GPA and 4.0 unweighted, she has been hitting the books since walking through the doors of Mercerville Elementary School.
"Academics are definitely important," she said. "Ever since kindergarten, school has been one of my priorities. Parsons always says we are student-athletes, so school comes first."
But swimming seems to be a close second.
"She's dedicated," Parsons said. "Yes you can have strength and muscle, but if you don't have the mindset, you're not gonna make it in this sport. You're doing lap after lap after lap after lap; and you gotta have that mindset to go to that level."
Ford has it. In the pool, and out.