When Nottingham track star Shamali Whittle heads to the University of Georgia in late summer, he will have at least a one-man greeting committee from Hamilton Township.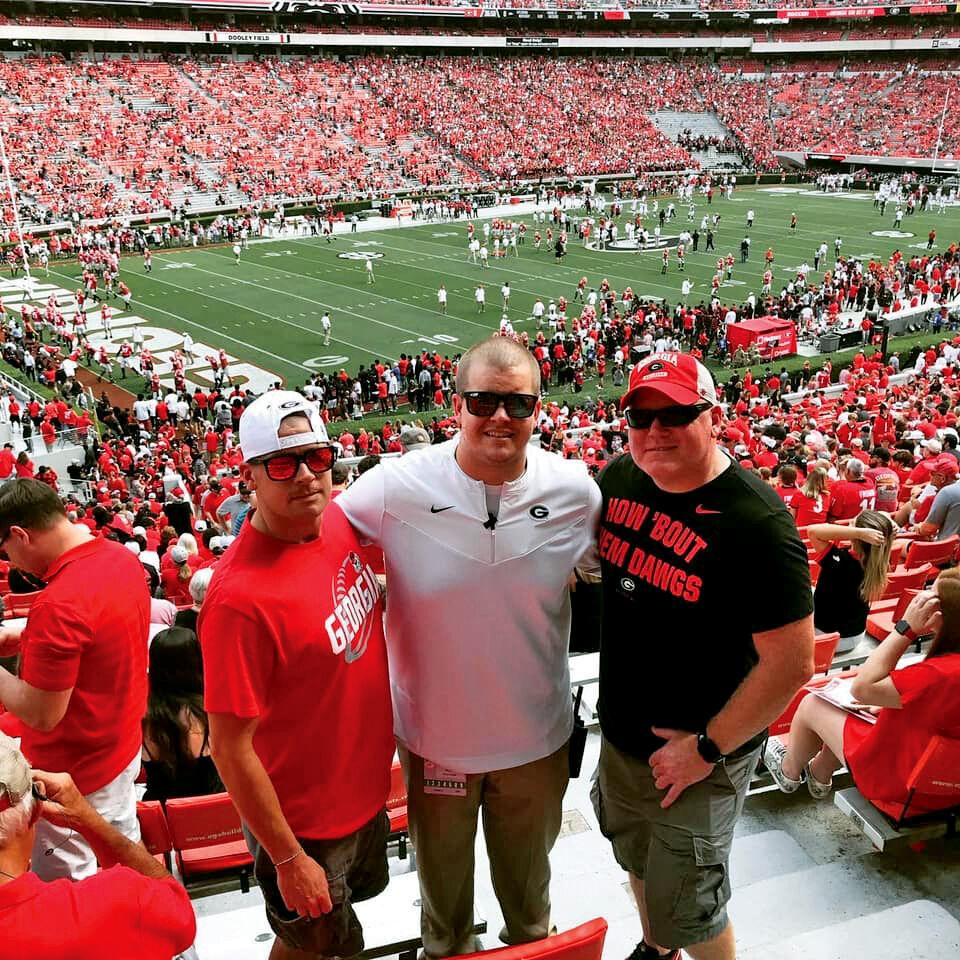 His name is Kyle Lane and, unbeknownst to most people, he is one of many important cogs in a Bulldogs football program that was ranked No. 1 in the Associated Press poll heading into its Nov. 20 game with Charleston Southern.
The 2009 Hamilton West graduate is in his first year as Georgia's football video coordinator. It is a somewhat invisible position that caters to much of what the Bulldogs coaches do to prepare for games and target recruits.
"It's pretty crazy," Lane said. "It's not the on-the-sideline video camera type deal that a lot of people think. It's way more behind the scenes. You're not seen, but you're just expected to do your job the best you can every day. You're not gonna be seen until something goes wrong, which is why we work hard to make sure it doesn't."
In a nutshell, Lane takes the vast amounts of film shot by videographers and breaks it down by each position and each game situation, then ships it off to each position coach. In working between 80 and 85 hours each week, it's a big nutshell.
"It's kind of a three-part deal," said Lane, who feels prioritizing each responsibility is the job's most important detail. "You have the obvious film stuff. We put in every college football game every weekend. We have it in our system called XOS (recently bought out by Catapult Thunder).
"We've got the film side of stuff, where we do some cool things with that. We have a way they can see every third-and-7 or third-and-12 from the right hash mark with the click of a button. You have an easy way to sort all formations. We also act like an in-house IT department.
"And the third part is, we're here for the coaches, anything they need. Technical stuff, basic computer questions, stuff like that. We have a big board at the indoor facility. We manage that, put diagrams up during practice, that kind of stuff."
There is a five-man staff to handle those duties. Lane works under Jeremy Klawsky, the Director of Football Technology, and they have three graduate-assistant interns.
In breaking down Lane's duties even more specifically, he handles the in-house signage, which goes on monitors throughout the football program's new $80 million indoor facility. The videos are of that week's upcoming opponent, or perhaps the day's schedule.
"The guys see them throughout the building," Lane said. "It kind of helps turn the page from the last game."
Lane also handles the practice film, which is a fascinating process. The videographers film every drill from four or five different angles and give Kyle the footage.
"There's a way to put them together so they're in 'one play,' so to speak," he said. "In XOS system you can see all the different angles. One's focused on o-line, one's focused on the d-line, and there's one called the outer shell where you get everybody in. That's called the All-22 angle, I put that together, so it's easy for coaches to watch."
And then, of course, there is game day. Long gone are the days where coaches had to wait until they returned to their office to break down tape. They want to watch it on the bus or plane immediately following the game.
"I get everything ready at the end of each quarter," Lane said. "Post-game it's a race against time to get the film, finalize it and get it on to the coaches' Microsoft surface so on the trip back they can watch the game and grade it for their position group. We do it for (head coach Kirby Smart), all 10 position coaches and two analysts.
"There's not a lot of room for error. These guys obviously spend a lot of time in their office, so any time we can save them time by getting it on their surface post-game helps. They don't have to come in super early in the morning or stay super late when they get back."
How the heck did a kid from Hamilton end up in such a crazy world?
With a lot of hard work.
Lane was interested in sports from the time he learned they existed. He played for the Hamilton Pop Warner football program when it first started, with his father Ken serving as a coach. Kyle also played CYO and Hamilton Little Lads basketball, and played for the Hamilton West JV baseball team.
En route to getting a sports management degree at Temple, Lane got internships with the Trenton Titans ice hockey team and Philadelphia Soul Arena Football team. It was with the Soul that Kyle was introduced to videotaping duties, and he quickly gained an interest.
Upon graduating from Temple, Lane got a part-time job at Columbia University from Al Bagnoli, the Ivy League's all-time winningest coach.
It wasn't lucrative, but it laid a strong foundation for his future. Columbia offered Lane just $60 per day, which just about covered his commuting and lunch expenses. That included a train ride from Hamilton to Penn Station, followed by a subway ride to the school.
"He would spend six or seven hours there, then reverse all that for $60 a day," Ken Lane said. At the end of the day he walked away with about two dollars. He did that for a whole year."
"I knew if I wanted to do this, I had to get experience," Kyle said. "That's something I kind of hang my hat on. I don't know how many people would have done that. But all the sacrifices kind of circle back to where I'm at now.'
Indeed they do, as that grueling year paid off when he applied for a job at the University of Kansas.
"When they heard that story about Columbia, they were so impressed he was an immediate hire out there," Ken said. "They gave him 12 dollars an hour, up to 1,000 dollars a month to keep him under health benefits. So he went out there for the 2016 season and learned about the business and computer stuff under (former video coordinator/quarterbacks coach) Jeff Love."
In January, 2017, Lane got his first full-time gig at his alma mater, serving as Temple's Football Video Coordinator for two years. It was invaluable hands-on training, as Kyle working alone did the work that five do at Georgia.
"I was a one man show at Temple," Lane said. "I think that kind of helped me learn the prioritizing aspect. Dealing with a whole staff as one person can be a little overwhelming. Obviously this is a bigger program, we do more stuff. One of the reasons I wanted to take this job is because I felt like I was ready for it from Temple. That was a lot for one man to do all that."
Lane's experience paid off big, as his next move was to the Southeast Conference. At age 28 he became the youngest director of football technology in the SEC when he took that position at Mississippi State in January, 2019. He oversaw the entire video operation there until moving to Georgia this past April.
Technically it was a step down, as he went from the man in charge to working under Klawsky. But Lane's goal is to work for an NFL team. He not only got a pay increase at Georgia, but the last two guys to have his job now work for the Tampa Bay Buccaneers and Atlanta Falcons.
The fact that Georgia has been ranked No. 1 for most of the season doesn't hurt, but Lane won't get too caught up in that.
"I don't really think it matters, honestly," he said. "Everybody here wants to just uphold that standard that Coach Smart has put in place and the players really do a great job of holding themselves accountable to trying to help each other uphold that standard. I think that's really what it's all about."
Because of the culture within the program, Lane feels as much a part of the team as the players and coaches. He knows his services are key in each week's game plan; along with recruiting.
"We're not on the field," he said, "but my mindset is, 'Everybody's a key part in the program.' Everyone has our role. We try to preach that down to our interns. We don't want to be the blinking light on the Christmas tree so it's a team thing. Everyone is just really expected to do their job and do it well, so that's what we try to do."
And while Lane's ultimate goal is to make it to the NFL, he won't mind staying at Georgia for a while. In college football, there is no better place than the SEC. "I'd say we run a lot of things like an NFL program," Lane said. "I'm getting a unique experience here and just trying to grow and all that stuff. And everyone lives and breathes college football down here, it's definitely an experience I'd recommend to anybody. It's definitely unmatched. I think this is a great spot to be."
It will be even greater when the sprinter from Nottingham soon arrives to provide another Hamilton presence in Athens. Lane will be glad to have him, but won't give up the township rivalry.
"I went to West, so I'll have to mess around with him a little bit," Lane said with a laugh. "But it will be good. That's a nice gig for him. I know Georgia has a great track program. So it's cool, another kid from Hamilton coming down here. I gotta meet him for sure."
Until then, he'll continue to break down the film for a potential national champion.