As coach and owner of the highly respected Immortals Wrestling Club in Burlington, and as coach and vice president for Rancocas Valley Youth Wrestling, Russ Latkovich has a keen eye for talent.
So, in listening to his assessment of the future for Hamilton Township 10-year-old wrestler Sofia Torres, it's hard not to get excited.
"The possibilities are endless," said Latkovich, who has trained Torres the past two years. "If her mind is made up to be the greatest wrestler, she can be at the highest level there is; that is what is going to happen."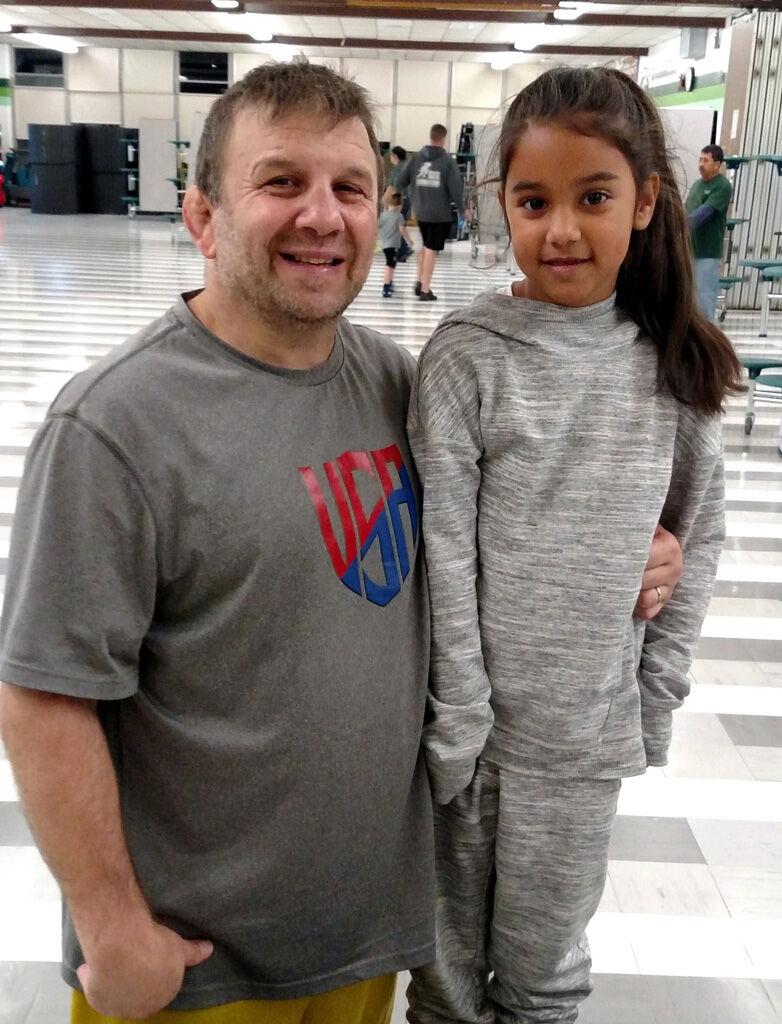 Torres took a large step toward greatness on March 11 when she won the 10U 70-pound gold medal in the New Jersey Youth Wrestling Folkstyle Tournament at Trenton's Cure Arena. While representing the Hamilton PAL and Immortals, Torres defeated three girls to claim the state crown in Folkstyle, which is comparable to high school wrestling style.
"I was very excited, happy, shocked, thrilled and jumping for joy and saying I'm a state champ! I'm a state champ!'" the Yardville School 4th-grader exclaimed. "I was happy to see coach Russ Latkovich with a big smile, because he worked hard with me to prepare me. It was a lot of work going to practice with Hamilton PAl from 5:30 to 7 p.m., and then driving to another practice at Rancocas Valley Wrestling from 7:20 to 8:30 every Tuesday and Thursday."
That hard work paid off in a big way as Torres dominated her state foes. She pinned her first opponent in the first period and planted her second in the second period.
"I was a little mad at the wrestler in that one because she kept pinching and scratching me," she said.
Sofia had to face last year's runner-up in the finals and won a major decision, 10-0, prompting her to note "I felt in control and felt confident to wrestle."
While winning states was a thrill, it was never something Latkovich pressured his wrestler about during the season. He merely wanted her to wrestle in the way she felt comfortable; without dealing with the duress of setting a goal for states.
"In the wrestling room she works hard but I want her to have fun at the same time," the coach said. "I always tell her 'When you walk through the door and lace up your shoes it's time to clock in,' but I never spoke about having to be a state champ."
On the day of the tournament, Latkovich took a relaxed approach and during weigh-ins, he told her "this is what we have worked for, it's time to go to work. Have fun, score points. Don't dwell on having to win, just take chances and keep scoring, the rest will take care of itself."
Latkovich stuck to that same script prior to each match as she walked to the mat. He would then give Sofia a high five and turn her loose.
It was a beautiful sight.
"She performed just as I expected her to," Latkovich said. "She was dialed in that day. No distractions, no pressure, she was clear headed. She wrestled just the way we drew it up. Every match was the same. Setups, swing singles, wrists and halfs."
Latkovich was splitting time between Sofia and another match, but was assisted by Rancocas Valley High School head coach Tommy Callahan, who guided her in the first period of the finals.
"He is very technical and I could hear him walking her through her sequences of moves just like me and Sofia drew it up," Latkovich said. "When I got there she was firing on all cylinders like she held her best match for her last. Relentless with her attacks, firing off three swing singles like it was programmed into a hard drive. Her opponent would defend and she would go right through her list of options of how to keep running through her moves."
It was the latest highlight in a career that started when Sofia was 5-years-old. Her mother, Vanessa, and father, Tommy, a former New Brunswick High grappler, decided to enroll her in the sport to teach her self defense.
She became Hamilton PAL's first female wrestler and one day Olympic U.S. champion Ken Chertow came in to speak. He decided to pit Torres against another boy with the winner getting a Chertow water bottle. After Sofia won the prize, Chertow told her dad she had talent.
"I told him, 'That's what the other coaches are telling me,'" Tom said. "They said she's a natural on the mat, she moves in certain ways where she knows what she's doing."
First, however, Sofia had to overcome some nerves
"When I first went to practice for Hamilton PAL I was really scared because I did not know anything about wrestling," she said. "But my father told me I needed to know how to defend myself against anyone and to develop confidence. I was also scared because there were no girls in PAL. But I was learning more and more and I started having fun in all my practices."
Torres progressed so quickly that by the end of the 2019 season she won her weight class in Pemberton's Grapevine League Tournament. The following year she continued to improve and won a second straight Grapevine championship. Those titles were notable because Sofia was wrestling higher level club wrestlers, as opposed to rec wrestlers.
"She did great in all her matches, she was winning and we were noticing she had a talent for the sport," Tom said. "I think what made her different from the other kids at her age level is that she can listen and is very disciplined and nothing distracts her. The other boys just wanted to play and roll around. Sofia was listening; she was coachable."
At age 7 Torres joined the Revolution Wrestling Club and was coached by Tony Arroyo, who had three daughters in the club (although there were mainly boys participating). Tom liked the idea of her competing against some girls, and Arroyo drilled with her going over many of the basic skills. In a 2021 season shortened by Covid, she took a silver medal and was named All-America in a tournament at Harrah's, Atlantic City.
In February 2022, she won a New Jersey State freestyle qualifier against all boys in Bordentown and, although she did not place in the boys state finals, she did take third place in the New Jersey Girls State Folkstyle event. She also won the NJ freestyle event at Sportika in Manalapan after taking second there a year ago while wrestling for the Revolution.
At the start of this season Sofia moved to the Immortals and in February she warmed up for her state title by winning two different weight-class titles against boys in the President's Day Tournament in Haddon Heights.
After her third-place finish in states a year earlier, along with winning her boys qualifier, Torres felt confident for this year's states, and so did her inner circle.
"What felt different this year was the support I got from my parents and coaches," said Sofia, who also does well in the classroom. "My father insisted that I believe in myself and that this year would be the year to be state champion because I was putting in the hard work and it was paying off. I was confident because he would say to me things like 'You have 28 wins and eight losses against the boys (in PAL competition) this season, there is a very good reason this is your year to win big."
Latkovich had that confidence in his wrestler from the start.
"From the first day I worked with her I knew she was going to be something special," he said. "There is far more than talent that makes someone great. I always say talent is 10 percent of the ingredient. Sofia has more than just talent. She works hard but her best attribute is she is coachable. She listens very well and responds great to criticism."
Not to mention, she has strong convictions in her ability.
"My main strength is being confident and showing no fear when I step on the mat," said Torres, who feels she is at her best while wrestling on top.
Sofia is determined to continue her improvement in the sport and hopes by the time she reaches Steinert, the Spartans may have an all-girls team.
If not, Latkovich knows she will succeed at whatever is offered. He hopes she will get picked up by the Olympic Training Center and "becomes a world class athlete on the world stage." For now he wants her to just enjoy being a kid and have fun but says "the possibilities of her being the greatest are not far fetched. The support is there. The choice is hers."
"Sofia can do anything she wants to," the coach continued. As long as she has her mind's set on doing it, it's possible. Her mom and dad are a great support group and put so much of their time into their daughter's success. This sport is so hard and a lot of parents put pressure on their kids to be so much more than the child might actually want to be. But Tommy and Vanessa put a lot of trust and faith into me and let me do my job and they just be the parents."
The result has been a well-rounded, personable wrestler whose state championship title may only be the beginning of great things on the mat.
Correction: the caption originally misidentified Olympic wrestler Ken Chertow.