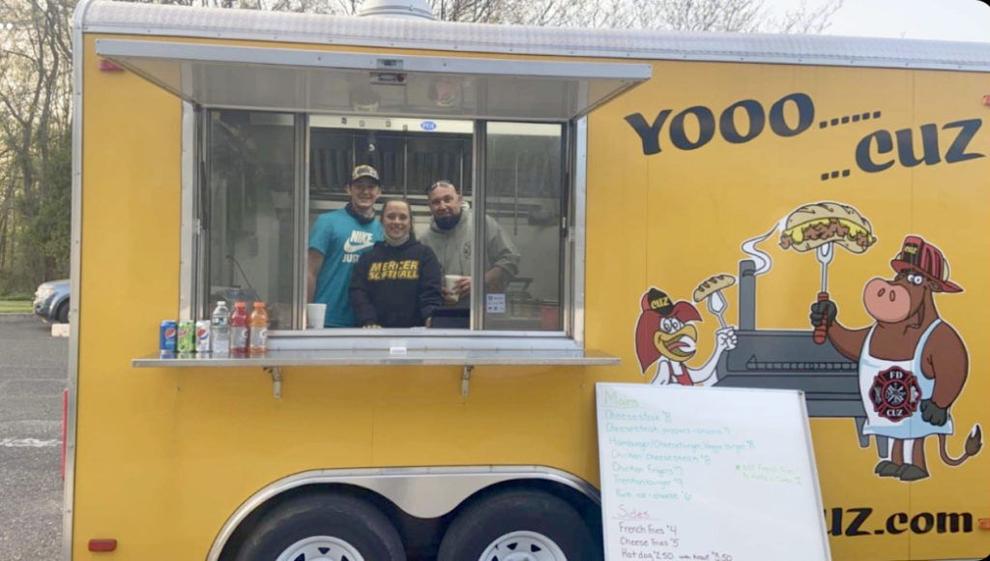 For years, the Sharpley family ran the concession stand at Hamilton Little Lads. There was Tim Sr., and Helen, and even the boys helped out — Ray, Nick and Tim Jr.
It was an experience that Tim Sr. enjoyed, to the point that he dreamed of opening up his own cheesesteak place after he retired.
Sharpley isn't retired yet — in January, the long-time firefighter at Rusling Hose Company was promoted to Battalion Chief, and relocated over to Mercerville Fire Company.
But the 1991 Trenton High graduate does have a cheesesteak place of a sort. That's because in October of last year, he bought a food trailer (think food truck, only it does not have an engine of its own and must be towed).
In March, he got the YoooCuz food trailer on the road. And like old times, it's often a family affair. That's why the three O's in the name: one for each of Tim Sr. and Helen's three boys.
"I love cheesesteaks, and so I was looking for a storefront property. But you know, the real estate market right now, prices are extremely high, so my youngest son said, 'Why don't we look into food trucks?' I thought it was a great idea. We can travel all over the State of New Jersey and sell our product."
Sharpley says his sons (Tim Jr., the youngest, is 20 and an emergency services dispatcher in Mercer County) help out with the truck, whether that be shopping for supplies or working in the truck's full-service kitchen.
YoooCuz has been busy already this spring, catering several events at Ewing High School including fundraising events for the Ewing senior prom.
YoooCuz has also been set up regularly at Bacon Field in Hopewell, the home of the Hopewell Valley Baseball Softball Association. The trailer is there Tuesday through Sunday.
The YoooCuz menu has a lot of traditional concession stand fare: cheesesteaks, chicken fingers, hot dogs, cheeseburgers, french fries and mozzarella sticks. Sometimes Sharpley adds other specialties to the menu, like sausage peppers and onions or meatball sandwiches, and he says when they have pierogies they have always been a big hit.
"Every day, we try to keep it simple," Sharpley says.
YoooCuz usually has a variety of candy, gum and ice cream on hand for kids. The trailer also has a breakfast menu for morning events, featuring egg and cheese sandwiches with pork roll, bacon or sausage.
"It's been going well, I'm not complaining," Sharpley says. "I have a lot of support from the emergency services in Mercer County. They've been getting me a lot of business as well as Burlington County. I have a lot of friends, and they've been taking care of me."
In addition to its regular gigs, YoooCuz is available for catering jobs. "We did a couple of office parties, where management wants to give back to their employees after the year of coronavirus they've been through. So how it works is, they contact me, we go there, set up for lunch for three hours and they get three or four choices for a menu and we cook for them," he says.
Another way Sharpley looks to give back to the community is by offering special deals to emergency services personnel or to members of military organizations.
He says he gives back 15 percent to those groups when they hire YoooCuz for a job.
Sharpley, a Hamilton resident since 2000, lives near Independence Plaza. He says he is grateful to Colonial Fire Company, to whom he pays rent so he can park his trailer off the street.
Things are going well enough that Sharpley says he foresees buying a second truck in the future.
Sharpley is looking forward to doing a number of carnivals and festivals this year. But his bread and butter remains gigs that remind him of his days at Little Lads.
"We're a baseball family, so I always want to give back to the Little Leagues any type of sporting event we like to do," he says. "We did fundraiser for the HTRSA (Hamilton Township Recreation Soccer Association). We're allways looking to give back to the community."
YoooCuz food trailer. Phone: (609) 422-6777. Email: yooocuz13@gmail.com. Web: yooocuz.com.