The Hamilton West girls basketball team graduated its top two leading scorers from last year's team, and yet a 6-7 record as of Jan. 23 equaled the Hornets 2021-22 win total when they finished 6-15.
How the heck does that happen?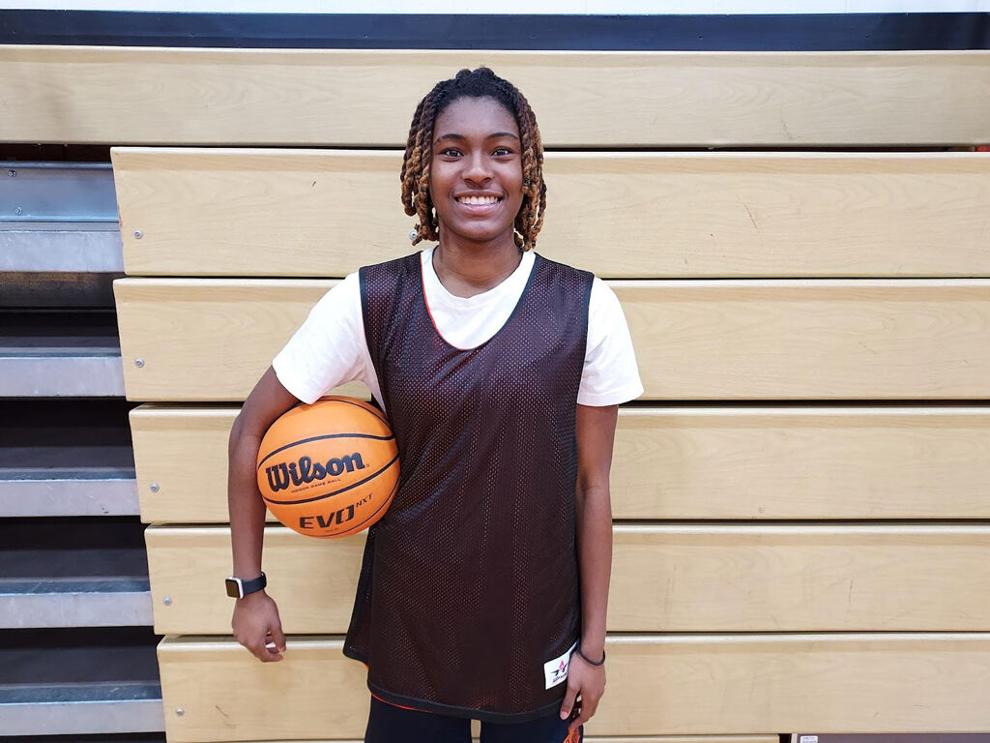 Well, four-year varsity players like Brielle Maigue and Arianna Acevedo have stepped up their game while some other role players have also chipped in. But the biggest difference may be the addition of a defensive menace from New York City.
Through 13 games, sophomore center Zairra Galloway led the team (and was among the Colonial Valley Conference leaders) with 114 rebounds (8.8 per game), 55 blocked shots and 43 steals. She was also tied with Maigue for the team lead in scoring with a 7.7 average. Galloway transferred from famed basketball school Christ the King in Queens near the end of summer and she has instilled a harder edge to the Hornets.
"She's really been an amazing player this year," coach Rob Farina said. "It's hard to imagine we'd be 6-7 without her. It's pretty incredible."
The 10th-grader is filled with raw talent that is still being cultivated. On the offensive end, she is still learning. Defensively, her skills and instinct have made her one of the CVC's biggest intimidators.
"I think it has to do with my court vision and the way I read the court," Galloway said. "I've watched a lot of basketball. Sometimes when we're doing presses I can see a pass coming and I'll go for it; or if someone's coming up for a shot, I'll challenge. Sometimes I just (react) and get the block; but other times I know it's coming."
Farina added that "We've been playing a lot of two-three zone with her in the middle. It's crazy, there are kids who are a little taller than her, but her athleticism and her timing is just. . . you really just can't teach it. She just loves it. She loves throwing shots back at them."
Galloway was born in New Jersey but her family moved to upper Manhattan when she was young. It was on the New York playgrounds that she began to discover her talents, receiving an education that only the city can provide.
"Playing in the park with kids in my neighborhood or going to local random tournaments to play with my friends, it was tough," Galloway said. "We ended up in a local tournament with boys, that helped a lot. We were playing with my friend's brothers in the park and every day we would be crying because we could never win. One day we're like 'We gotta do something different' and we beat them. New York is just the best."
Galloway began playing AAU ball with the New York Rens at age 13, which is when she blocked her first shot in competitive ball. "I just never forgot the feeling after that," she said. "I was like 'I want to continue to have this feeling.' So I was pushing myself. I was in the gym every day, working out with my dad. I had private training, training with my team. It all just came together.
"I had a hole in my defense. I was always taught that to create a better offense we have to have a solid defense. I committed myself to get better. The offense would come as we went; defense I had to work hard at."
Galloway played JV for Christ the King last year, and showed up in Hamilton last summer after her mom got a new job. She immediately showed her defensive skills, but the coaching staff of Farina, Gaby Bennett, Brielle Martinez and Cindy Astore went to work on her offense.
"We have great coaches, I have to give them credit," Farina said. "We have a lot of people in this gym who know basketball. Her improvement from the start of the season to now has been amazing. She was struggling scoring, but she's starting to get it. She's starting to attack the rim more, she's starting to turn and go. She was doing a lot of fadeaways, a lot of long jump shots to start the season. But now she's starting to get it. She's a great kid, and she's working at it."
This season, Galloway shares the scoring load with her teammates, but Farina thinks as she progresses, she will become a dynamic player at both ends of the court. Galloway said that at one time she was a scorer until breaking her wrist at age 11.
"It was a big switch for me," she said. "I was scared to play for a while. I would play but I wasn't playing at my full potential. Then when Covid hit my stamina went down. Everything wasn't where I wanted it to be, so I was pushing myself harder to do better not only for myself but for my team. Regardless if I'm on a team that's bad or good, I don't want to weigh them down. I want to be someone who boosts them up, and say 'Hey it's OK, we've all been there,' because that's the truth."
Galloway is surrounded by a roster that does not consist of basketball-first players, but there are solid all around athletes on the team such as Acevedo, Morgan Bressler and Rachel Nixon. Senior center Arianna Davis "is a tough kid" who also helps spark the Hornets solid team defense. West struggled at first, losing its first three before everyone finally blended together.
Hamilton's success is predicated on its defense. The Hornets had allowed under 30 points in five of their six victories (and seven times total), and yielded just 31 in their other win. Taking out the 80 points scored by Ewing — which is on a fast track to the state title — West allowed an average of 30.9 points in the other 12 games.
"We are playing great team defense," Farina said. "Teams aren't scoring against us. So it's keeping us in games."
Galloway is obviously a big piece of that puzzle, and she feels that there are times when she blocks a shot that it can get her teammates fired up.
"Yeah, especially when they start feeling discouraged," she said. "Sometimes if their shots don't land, they get back and the other team scores on them. They're thinking 'Dang, if I would have made that.' Me being here to block the shot or just to alter the other team's offense in any way, it keeps them up."
The leadership of Maigue and Acevedo also helps keep the team up, and allows Galloway to do her thing.
"She has been very fortunate," Farina said. "She's been able to develop without having to be a leader. On the defensive end and on the boards she's our most dominant player, and that's huge.
"She's about 5-9, but the athleticism and her timing, you really can't teach it. She's also long, she's got those long arms. She's built like a basketball player. She's tough. She's a fighter. Her only weakness is just offensively and I think that's gonna come, depending on how she works over the summer."
For now, she is enjoying the fact that Hamilton has become a much better team in just one year, and her arrival is one of the reasons.