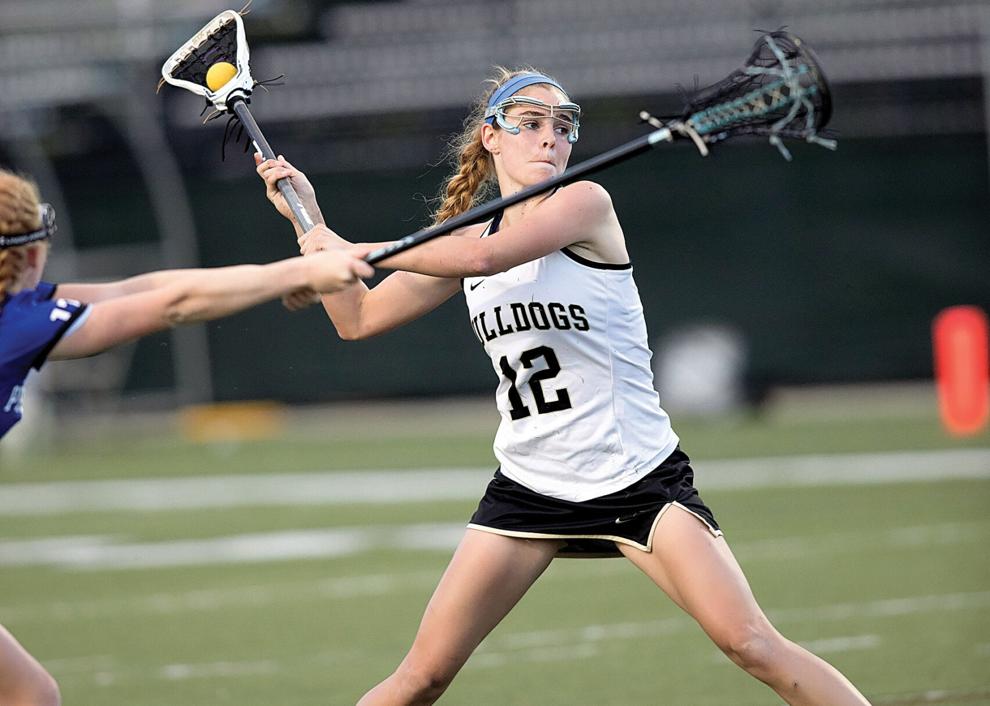 Sabrina Schrader's career was pretty much mapped out by the time she was just a little bean. Er, kid.
Referred to as "Bean" by friends, family and coaches, Schrader has produced a lacrosse career at Hopewell Valley Central High that has amounted to much more than the proverbial "hill of beans."
With the Bulldogs entering the NJSIAA North Jersey, Section 2 Group III tournament quarterfinals in mid May, and ranked ninth in the state for Group III by nj.com, the senior had 238 goals and a HoVal career record 152 assists. She has pretty much fallen in line with the rest of the family.
Her father, Matt, played lacrosse at Ohio Wesleyan University and passed that passion on to his children. Big brother Bailey, now 21, played throughout middle school and high school. Big sister Ryan is a sophomore at Salisbury State and played two years with Bean at HVCHS, and little sister Maddie is a freshman on the Bulldogs varsity who Sabrina feels has Division I college potential.
"I initially started playing because it was a family sport, and I definitely loved it right away," Schrader said. "When you're super young, you can't check at all and there aren't even goalies. So, I remember always wanting to play like the older girls did. As the fundamentals got easier and easier, it was so fun to be able to expand my skill set and try new things. I loved how the rules got progressively less restrictive as we got older. I always loved the game and wanted to learn as much about it as I possibly could."
She put those lessons to good use coming up through the ranks. Schrader played in the Hopewell Valley rec program for five years before moving to Ultimate Goal Lacrosse the summer after seventh grade. She remained there until her junior year.
When Schrader showed up at summer camp as a freshman, coach Pam Edwards knew she had a good one.
"She just had so much potential, and she's grown by leaps and bounds," Edwards said. "She's always had the speed. She'll weave in and out of defenders; it's amazing."
With Ryan already on varsity, Schrader enjoyed a smooth transition into high school. She was immediately embraced by the upperclassmen and, after fighting off some nerves, quickly got into the flow of things.
She also played soccer and basketball. "So being a part of those programs earlier in the year helped the nerves as well," she said.
Bean sprouted quickly, collecting 32 goals and 11 assists in ninth grade. She increased to 43 goals and 29 assists as a sophomore, tallied 85 and 71 as a junior and had 78 and 41 through a 12-8 start this year.
"She's been an impact player right from the beginning," Edwards said. "She's awesome. She goes to goal with authority; she's always a positive, hard-working athlete. She gives her all at practice and in games."
Edwards added that Schrader's numbers are the least of the player's concern. They are just a by-product of her playing the game the right way.
"She'll probably wind up being in the school's top three all-time in goals," the coach said. "But she's such a team player that's not her main focus. Her main focus is to do whatever she can to help her team. Whether it's a good check, being positive out on the field, making an amazing pass or a great shot."
Which is why Schrader's proudest moment this year came when HoVal beat then-unbeaten Allentown in the Mercer County Tournament semifinals, before falling to Lawrenceville in the title game.
Nonetheless, Schrader takes pride in being atop the school's all-time assist chart.
"It's a huge accomplishment for me, and it makes me very proud," she said. "It means that I've made a name for myself here in the actual record books, which is very special to me."
Being a great scorer and distributor, Schrader says her decision to shoot or pass depends on the situation. Her choice is often made at the last second as, much like a guard in basketball, she will penetrate and dish at the last moment.
When it comes to setting up a teammate, the HoVal assist queen feels that it takes a lot of thought, noting that a strong sense of the game and knowing her teammates various strengths is key.
"Some players like to have a pass out in front of them and some like a short quick pass," Schrader said. "Depending on where you are on the field and where the person receiving the pass is in relation to the goal, you need to give the pass to the right hand so the defense doesn't intercept it. A lot of times, you need to pass the ball a second or two before your teammate is actually open."
To that point, Schrader not only explained her strategy, but the reasoning behind it.
"It sounds weird I know, but there are many times when they're only open for a second and the pass needs to be getting to their stick in that exact second," she said. "When you play with girls long enough and start to form chemistry within the team, you can take it a step further by learning their tendencies and anticipating where they're going to cut. This extra step takes good instincts and an even better sense of the game."
Schrader will be taking her instincts to Division I High Point University. Aside from loving the campus, the logistics and the team itself, Schrader was enamored with coach Lyndsey Boswell.
"She talked about looking for players who hustle and always give 110 percent," Schrader said. "Those are things I pride myself on."
It's what gives her the ability to take her talents to the next level, rather than just graduate high school as a lacrosse "has bean."