Dylan Eng considers himself a baseball player first and foremost, and is hoping to play that sport in college. But he still can't do without football.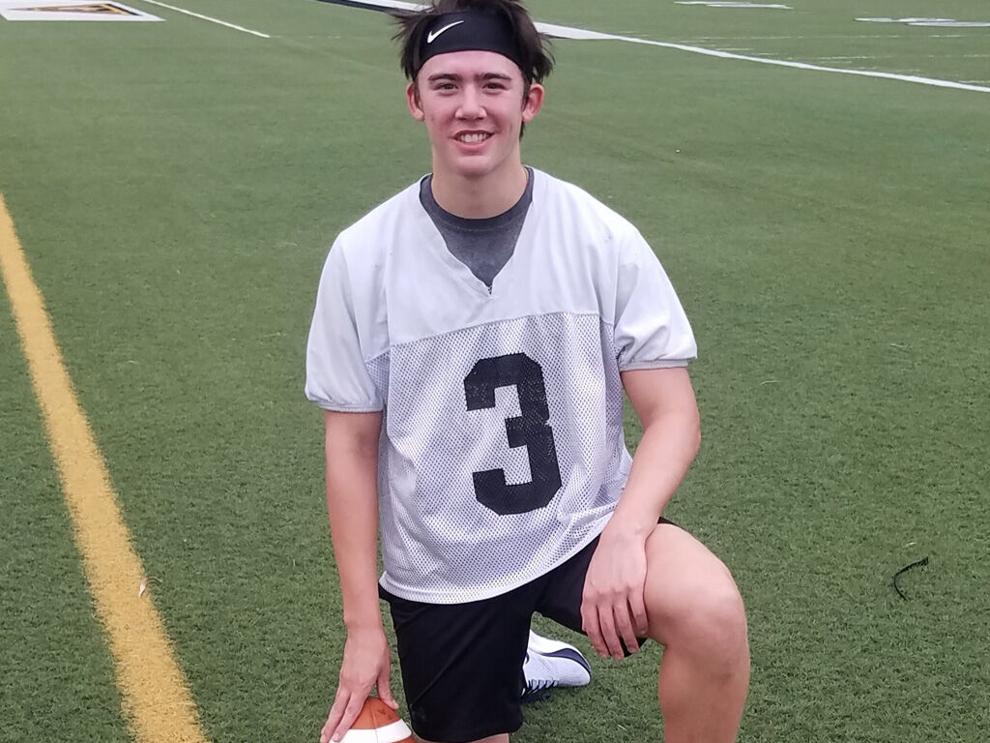 "It's really just irreplaceable," the Hopewell Valley Central High School senior said. "Nothing gives you that action packed adrenaline rush like getting on the field. I love it. Every minute on the field is a gift."
That attitude is gift for Bulldogs coach Dave Caldwell, who has Eng on the field quite a bit.
In last year's Covid-shortened season, Eng rushed 39 times for 279 yards and a touchdown; caught five passes for 97 yards and a TD, tallied one 2-point conversion, made 31 tackles at defensive back and led the Bulldogs with four interceptions in seven games.
"Offense, defense, special teams, whatever I can do to play, I'm happy to do it," Eng said.
Caldwell feels Dylan's baseball involvement, along with playing rec basketball in the winter, helps make him such a diverse weapon.
"He's pretty versatile," the veteran coach said. "I like when my kids play multiple sports. I do not want them to focus on one sport. That's exactly what he doesn't do. So he's an athlete and it makes him a little more versatile on the football field when he's able to catch the ball out of the backfield, he's able to run the ball. He's got good vision, he runs pretty well behind his pads.
"In the secondary, he's good at communication and understanding the game. He's got a knack for interceptions too. He's just an athlete."
And he combines brains with his athletic skills. Eng has a 4.1 weighted grade point average while taking Advanced Placement courses, and is also a student on the football field. His ability to show up where the ball is thrown while playing safety is not just coincidence.
"Sometimes you can read small things, like how a wide receiver looks," Eng said. "Sometimes they get real happy when they know they're getting a deep ball. A guy usually jogs out (to line up for the play). When you see him sprinting out he's probably getting the ball."
That ability for Eng to read a situation is not lost on his coach.
"He's a really intelligent kid," Caldwell said. "He's the epitome of a student athlete so when you have that kind of kid who comes with a great work ethic it doesn't only help him in the classroom but on the playing field as well."
Eng's older brother Rickey also had that intelligence, having played four years at Pennington before suiting up for Wesleyan University as a freshman this year. Due to a two-year age difference, the two never met on the field when the rival schools finally met last year. Dylan would have liked that opportunity to show his mentor what he learned.
"He definitely got me into football," Eng said. "He started playing a year or two before me, he really loved it. I finally talked my mom into letting me play and in sixth grade I started."
Much like his high school career, Eng did everything while playing Pop Warner for the Hopewell Bulldogs . . . except play quarterback.
"I can't throw," he said with a shrug.
When it came to high school, he considered following Rickey to Pennington but opted to attend HVCHS.
"I always thought Hopewell was the right fit," he said. "I know I made the right choice."
Eng made the Bulldogs varsity as a sophomore. He saw little time on offense, having just one rush and catching one pass. But he was a regular in the secondary, collecting 21 tackles, a sack and two interceptions. Last year he emerged as a key player while learning to adapt to the uncertainty of games being canceled due to Covid.
"You just took it one week to the next," he said. "You prepare for that week, but you never know until you show up so we always just put in all the work. You hoped you played, and if you didn't it was just more practice for the next game."
Eng is one of a handful of seniors on the squad this year as the Bulldogs were hit hard by graduation. He looks forward to stepping into a leadership role.
" I think it's important," he said. "We have a small senior class (of 11) with a lot of juniors (25). They'll be real good next year. So if I can contribute to a good team for next year that will be good for me."
As for this year, Eng will be part of what Caldwell hopes is a balanced offense. Junior Tim McKeown returns at quarterback after completing 42 of 82 passes for 680 yards and eight touchdowns with eight interceptions.
"Timmy is a solid quarterback," the coach said. "He can make all the throws, he commands the offense. With his ability to throw the ball and get rid of the ball quickly, and be versatile back there -- whether it's sprinting out or a play action pass or in the quick game -- I think we're gonna be a little more balanced offensively with him.
"Timmy can open up our running game, or vice versa. We haven't had a thousand-yard back in years. We've had a few kids approach it but not quite. I think this year it would be great to have a thousand-yard back but if we don't it means we're more balanced on offense. At the end of the game I want to see that we ran the ball as much as we passed the ball. I think they will complement each other."
The good news for Eng is he will be part of the running and passing game thanks to his receiving ability. When it comes to running it, the 5-foot-9, 160 pounder will be more finesse than physical.
"I mainly try to get good reads," Eng said. "I try to be elusive. I don't take that big hit. I make sure I hit the hole and make sure I stay away from the defensive guy."
When Eng is the defensive guy, he will play both cornerback and safety. Although "he's not afraid to put his nose in there," Caldwell doesn't want to see him making many tackles.
"If your corners or safeties are making a lot of tackles it's too many yards gained," he said. "Dylan's obviously a pass-first defender but if he has to come down and fill the alley or he's asked to contain as a corner, he'll do that. He's intelligent enough to do that."
When he's not hitting other players, Eng is hitting the books or doing volunteer work for his church. St. Matthew's Episcopal of Pennington.
"I try to volunteer as much as I can," he said. "I keep the grounds clean, wipe stuff down, especially with Covid."
Sounds like Dylan is as much a gift to his church, as every minute on the football field is a gift to Eng.