It was one of the most eventful car rides in Hailey Rowe's life.
Her father, Don, was driving the second-grader and her twin sister, Katie, to a gym for tryouts. Hailey was going for cheerleading, which she had done in first grade, while Katie was going for basketball. Somewhere along the way, the two of them changed Hailey's mind.
"My sister said, 'Oh you should just come to basketball,' and my dad was like 'Yeah, why don't you try it,'" Rowe recalled. "So we got there, and I did it and I loved it. I'm totally happy I did it."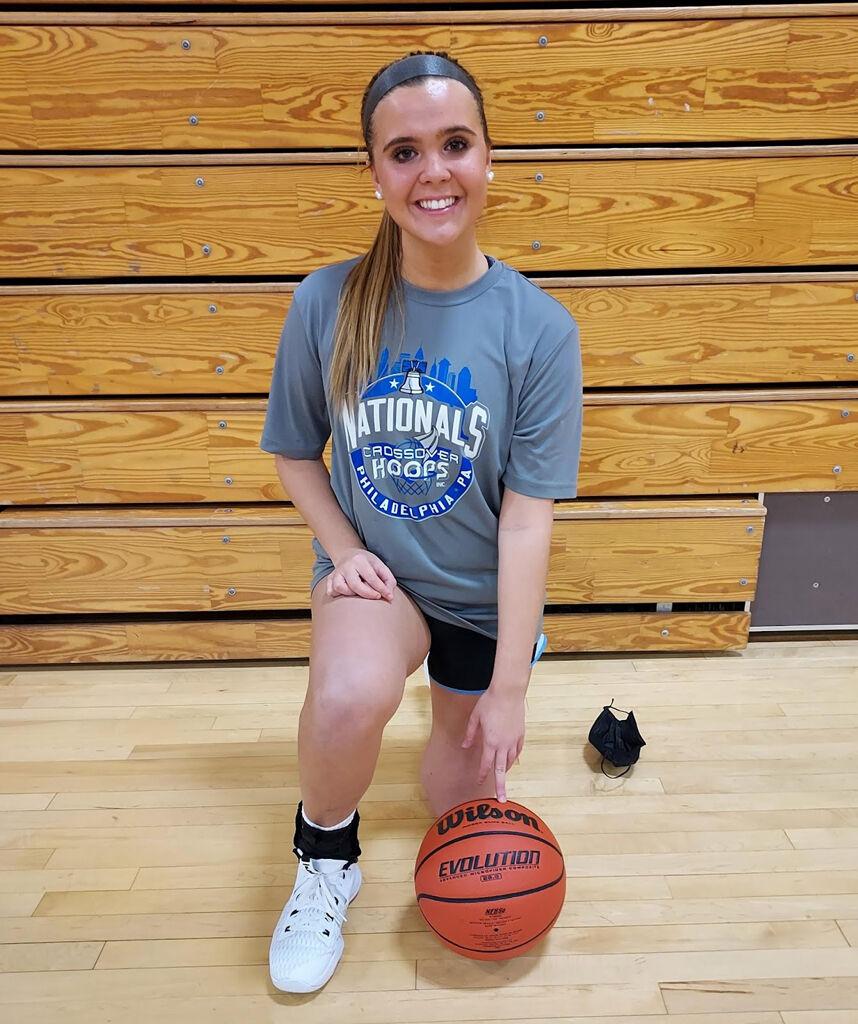 So is Hopewell Valley Central High girls basketball coach Coleen Ross, who is counting on Rowe to be one of her top scorers this year. During last year's Covid 19-shortened season, she was the team's second leading scorer, with an 8.2 points-per-game average, and led the Bulldogs in 3-pointers, with 22.
With leading scorer Franki Gomez having graduated, the Bulldogs need someone to step up as a scorer.
"She's gonna be big for us," Ross said. "She came back off an ankle injury and had nine or 10 points in a scrimmage the next day and kind of sparked us. Just having that senior leadership out there will be important. We'll have her at the three guard. She can shoot the three. She's definitely dangerous from beyond the arc."
What makes Rowe a true gem is that, at 5-6-½, she's still versatile enough to play in the low post if necessary.
It was all part of her upbringing, when she was always the biggest kid on the team.
"I was really tall for my age so I mostly played center and forward," Rowe said. "But I stopped growing so everybody caught up to me. In middle school, I was always the center. Now, I'm just stuck here (at 5-6), so I'm mostly a shooting guard. Sometimes I'll play down low, depending on who's on the court with me and who she puts in."
Rowe is looking forward to this season as much as any player in the Colonial Valley Conference, as it will be the first campaign she can actually show her full capabilities.
In short order, she missed all of her freshman year with a broken ankle. As a sophomore, she was trying to get back into playing shape on a team dominated by seniors. Last year, she began to feel more comfortable, but the season was cut in half due to Covid.
"I'm so excited for this season," Rowe said. "We lost Franki so we're trying to make up for that, but we have a bunch of other confident girls. I'm really excited."
Ross saw it in her on the first day of school.
"From the beginning of the year she's been active in what we're doing and how we're doing it, and everything else," the coach said. "It's nice to see. She's always been quiet, kind of laid back, but she's definitely taking on that leadership role this year. She's definitely determined. She worked in the off-season and she's leading drills here at practice."
After her 9th-grade year, Rowe is just happy to be on the floor. During one of her first gym classes at HVCHS, Hailey was playing a game of Capture the Flag. The good news is, she captured it.
But the bad news outweighed it.
"I was running and my ankle just rolled," she said. "It was very unlucky. It was broken and I missed my whole season. I play volleyball and I missed all of that too. I was really upset about that because coming from middle school I was really excited to get to high school and make some friends on the team and I just lost touch because of a gym class game. I really spent that whole year recovering from it, going to physical therapy and trying to get better for next season."
And while she was happy to be back, her sophomore year was disappointing in some ways.
"(The injury) really set me back a lot," she said. "We had a lot of seniors and that was the best team I played with since I came to high school. I didn't get that much playing time because of it, and because of my ankle. I wasn't at my best. After that season, I really tried to work to get a lot better."
As a junior, Rowe showed improvement in the brief time she and her teammates got to play.
Then came an early-season practice this year, and a horrid feeling of déjà vu struck.
"I was going up for a rebound and I came down and landed on my ankle and it twisted the wrong way," Ross said. "I was so upset. The season literally just started and I thought it would be something more serious."
She had broken her right ankle, and this injury was to her left. Fortunately, the bad vibes did not last.
"It only lasted a couple days," Rowe said. "The pain was a lot less than when I broke it. But it still hurt pretty bad, and I couldn't really walk that well when I got up so I started to panic a little bit. But I really spent that whole weekend after I rolled it making sure I was taking care of it. It's still a little sore, after our scrimmages and practices I ice it, but I'm OK."
Which is good news for Ross, considering how much flexibility Rowe gives her.
"You can find her anywhere on the floor," the coach said. "She can handle it at the point position, she can post up down low. She'll find a spot that's needed and that's where she'll go."
Rowe did not play AAU this past summer due to Covid, but still worked hard on her shooting and her ball handling, figuring the latter "is not my biggest strength." She is excited and optimistic about the season and feels sophomore Gillian Magner is more than capable of filling Gomez's sneakers.
"Gillian kind of reminds me of Franki on the floor," Rowe said. "She's that quick guard who can shoot. I love playing with her. I think we have really good bonding."
She also bonds well with another senior — her sister Katie. Ironically, even though Katie talked Hailey into hoops, her biggest sport now is track.
"She's more of a runner, she's a top runner," Hailey said. "Basketball isn't her favorite thing to do, but she still loves it and I love playing with her. We have that special bond on the court."
The bond will be broken next year when Rowe heads for Penn State to major in hospitality management.
"My sister went to Penn State for it, I've been talking to her a lot," Rowe said. "I love planning events and things like that. After seeing what she does, she's so successful, I thought I'd be good at it."
At the moment, she's good at helping others. When not playing basketball, Rowe is a member of Hopewell's Food Allergy Awareness Club, which helps families who have children with food allergies figure out other options. She speaks from experience.
"I used to have shellfish allergies," she said. "I got that fixed. I love shellfish."
She is also a member of HV Care Club, which raises awareness concerning racial issues.
"I love being in that club because it really brings awareness to everything going on in the world," she said.
For the next several months, however, Rowe will try to be aware of what opposing defenses are doing, and how to beat them.
All because of a simple ride in the car.