Jon Edwards boasts a home library of more than 5,000 books. Chess books, that is.
It's the sort of collection one might have if one aspires to attain the most elusive status in the world of chess: that of grandmaster, a title bestowed upon only the very most accomplished players. The only title grander than grandmaster is world champion — and, since finishing first in the 32nd World Correspondence Chess Championship last October, Edwards can claim that honor as well.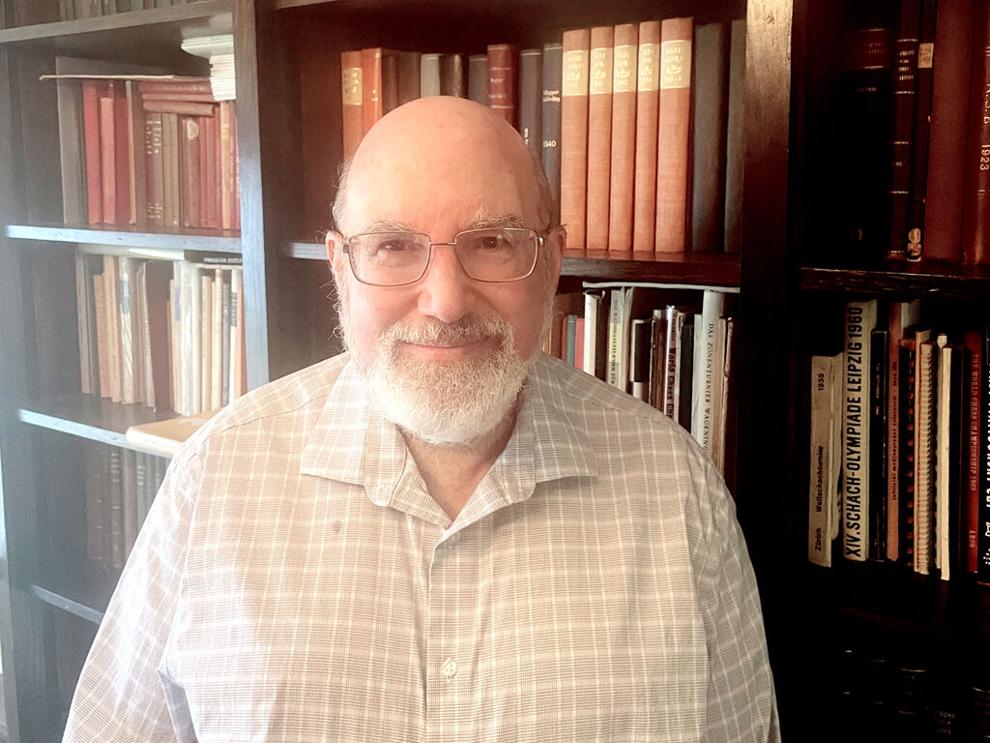 The Hopewell Township resident may not be as well known as the world over-the-board champion, Magnus Carlsen, but Edwards can say that he is one of very few recognized world champions in chess today.
Carlsen's status as world champion is ratified by the World Chess Federation, also known by its French acronym, FIDE. Edwards, on the other hand, is recognized as a world champion and grandmaster by the International Correspondence Chess Federation, or ICCF, the body that oversees the worldwide community of correspondence chess players. He is the 14th American to gain grandmaster status, which he reached upon winning the tournament, and the 3rd to win the world championship.
Edwards is also part of the U.S. team taking part in the ICCF's 21st Correspondence Chess Olympiad, with the Americans locked in for a medal in the event. "I think that I'm the first Olympic champion in the history of Hopewell Valley. That's not bad for a 69-year-old fat and bald guy," he jokes. "I'm proud of that."
* * *
Once played via letters, and later, telegrams and postcards, correspondence chess today is carried out mostly via email. Competitors play games out with unseen opponents over vast distances and, often, over vast periods of time. The 32nd World Correspondence Chess Championship commenced in June 2020, and did not end until Oct. 8, 2022.
Edwards played 17 matches in that time, against competitors from Germany, Russia, Tunisia, Portugal and elsewhere. He won just two of the games, but that is not unusual today in top-level correspondence chess; no player in the tournament won more. He played to a draw in the other 15 matches, and was named champion on tiebreaker rules over the other two-game winners: Michel Lecroq of France, Sergey Adolfovich Osipov of Russia, and Horácio Neto of Portugal.
Games end in draws so often these days because for the last two decades, the ICCF has permitted players to use almost any resource available to them to determine their next move, including powerful computer chess engines capable of analyzing millions of potential moves and sequences. Really the only resource competitors may not draw on is other people.
"Correspondence chess combines not only extreme knowledge of chess, but also mastery of technology," Edwards says. "You were not allowed to use chess engines back in the day. Then they started being allowed around 2000, 2001. At the time, they didn't feel they had a way to police (computer consultation). They do have a way to do it today, but they don't. You're not allowed to consult with a human. You are allowed to use books, computers and computer databases, and since it's legal, it's what happens."
Edwards said that in winning the championship, he sometimes spent as many as 10 days deciding on a move. "It's a very patient process. For example, in the final, I had a game that went 119 moves, against Osipov. I had a stretch with the sole objective of making him move one pawn forward one square. I succeeded, but it took 38 moves to get him to do that," he says. "The key was that if I could get him to move it forward one more square, I had a winning plan."
* * *
Edwards grew up on Long Island until the age of 12. He remembers getting the first of his 5,000 chess books, Reuben Fine's Great Moments in Modern Chess, when he was laid low by mono in 4th grade. His first teacher was his uncle, Joseph Platz, himself a master and a one-time student of world champion Emanuel Lasker.
When he was 12, Edwards moved with his family to Acton, Massachusetts, outside of Boston. He went on to attend Princeton University from 1971 to 1975, earning a bachelor's degree, before going onto Michigan State University, where he earned masters and doctorate degrees in Ethiopian Economic History. Later, he and wife Cheryl settled in Hopewell, and he served two terms on the township committee in the late 90's–early 2000's, including one year as mayor.
He worked for 24 years for Princeton University, first as an assistant vice president in computing and information technology, and later as coordinator of institutional communication. He started playing correspondence chess in 1986, because he was married and had a family and that made it easier to fit it all in. He still has all of the postcards he received from fellow players announcing their moves.
After retiring in 2010, he made the commitment to himself to try to become world champion. It was not a commitment he made lightly. "Twelve years of 14-hour days," he says. "I have not had a drop of alcohol in a decade. It would make my decision making unreliable."
He believes that his background in computers gives him an advantage over other competitors, especially when it comes to consulting resources like ChessBase to find historical games that are similar to whatever game he is playing at the time. His huge library of chess books is another resource he can rely on.
"Using the tools that I have, I'm able to search for every single game that reaches a position that is similar to the one I have on the board," he says. "In most instances, I'm able to find two, three, four hundred games. There's no point in running away from the data. So, I play through all of them. After I've done that, I know what to do."
At the outset of the championship finals, he decided to take an approach that was in the style of Armenian chess legend and former world champion Tigran Petrosian. Petrosian is often described as a defense-minded player, but Edwards doesn't like that. He describes the playing style as pythonlike — working to get his pieces into positions that could squeeze opponents into submission.
"This was an astounding challenge. The games are very, very clean. I went through the entire tournament (after it was over), and I'm not being immodest when I say that I did not make a mistake. I drew every game with black — that was part of the plan. And I settled on an approach with the white pieces that worked."
As the 32nd edition's champion, Edwards is entitled to take part in the 33rd or the 34th world finals. But the 33rd edition began just two days after he won the 32nd — and Edwards will not be defending his title. "I will tell you that I needed a break," he says. "One look at my wife's face convinced me to take a few years off."
He can still opt to take part in the 34th edition, or enter any future championship as a candidate and earn his way to the finals. In the meantime, he looks forward to doing some of the things he has missed out on in recent times, including traveling. He and Cheryl have plans to go to Amsterdam to receive the engraved silver platter he won as world champion, as well as a gold medal he is due to receive as a new grandmaster. If the Olympiad is completed by then, he may pick up his Team U.S.A. medal as well.
Edwards has written 44 books on chess, including The Chess Analyst, and is also a contributor to American Chess Magazine, where he has written about chess technology. He says his publisher has asked him to write a book detailing his world championship victory, for which his working title is World Champion on the First Attempt.
He is also an teacher of chess, having worked with many people over the years, in person and online. Edwards offers private lessons for kids and adults, whether they are just getting started or have taken part in some tournaments and want to get to the next level. He also teaches chess each week as part of the programming at West Windsor-based Hub For Learning, whose motto is "evolve beyond normal abilities."
One thing that Edwards has not done, but says he would love to cross off of his bucket list, is to serve as the chess coach of the New York Giants. Chess is booming in popularity right now, whether because of the recent pandemic, because of the popular TV show The Queen's Gambit, or because of the magnetic personality of world champ Carlsen, and many professional athletes have been bitten by the bug.
"It turns out (linebacker Kayvon) Thibodeaux is an avid chess player," Edwards says. "All of the relievers on the Boston Red Sox are avid chess players. Becoming a chess coach to these guys would be a dream come true."
Edwards may not know whether that dream will ever be realized, but one thing he does know is that from now on, he will always be known as a grandmaster and world champion.
"They can't take the titles away," he says. "I'm a world champion forever. And that's pretty neat. They say that over-the-board champions tend to peak in their late 20s or early 30s, but correspondence chess players usually peak in their late 60s. So I'm just peaking now."
To learn more about chess lessons with Jon Edwards, email hubforlearning@gmail.com.