The sign in the parking lot of Woolsey Park is clear: hunting may be in progress.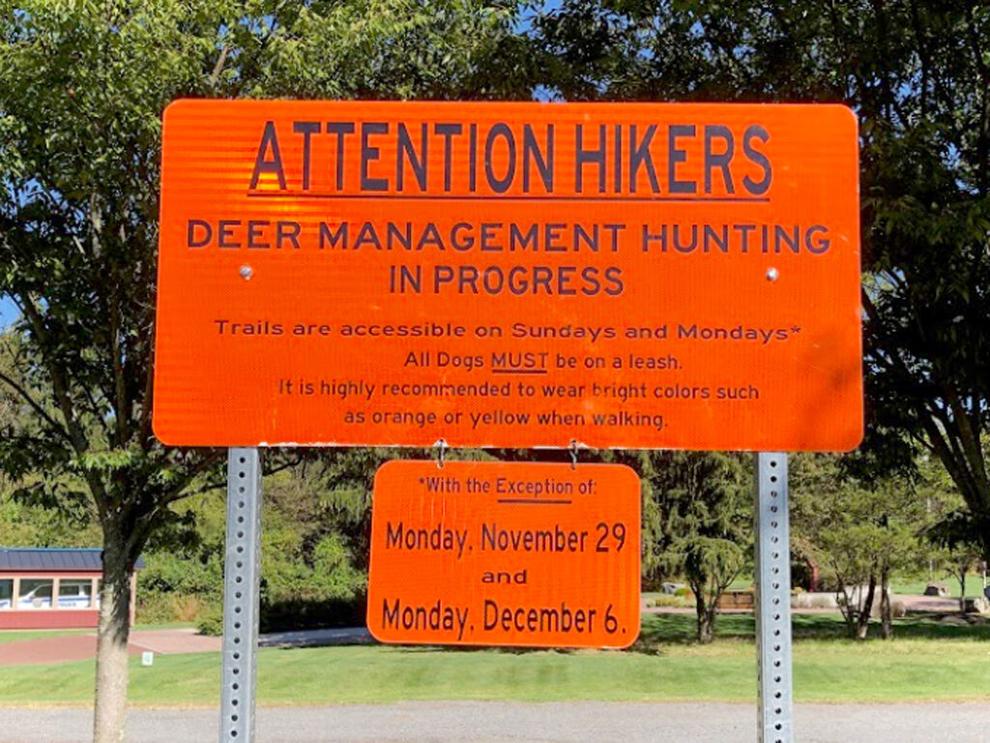 On Sundays and Mondays, the park's trails are open for passive recreation. The rest of the week, hikers should stay away so as not to interfere with the hunters who are participating in Hopewell Township's deer management program.
But whether they don't understand it, or they just don't like it, some hikers in recent years have ignored the sign at Woolsey, and others like it throughout the Hopewell Valley, and walked with their dogs or by themselves despite the bright orange warning.
And while it's true that many people consider hunting to be recreation, area hunters aren't breaking out their shotguns and crossbows merely for fun. They have a job to do: to reduce the population of white-tailed deer in the area, which has grown substantially and unsustainably in the past few years.
For members of the Hopewell Township Deer Management Advisory Committee, a reduction of the deer population is vital to the overall ecological, not to mention economic, health of the region. Deer cause serious, often costly damage to the regions forests and to the farms that often sit at the woods' edge.
But safety for the community is what has members of the committee most concerned at the moment. They don't want to see anyone get hurt, and they don't want to see any hunters in their program causing any accidental harm.
Chris Pazdan is a Hopewell farmer who co-chairs the Deer Management Advisory Committee with William Cane. Pazdan says that area parks saw a major increase in hikers last year because of Covid.
"People had nothing to do, so we had a major population of hikers. That's what the parks are for — Mount Rose Preserve, Woolsey Park — but the problem is, we have signs up saying hiking is only on Sundays and Mondays because the deer management program is in process," Pazdan says.
He cites an incident from the first day of shotgun season last year as one reason that the committee wants to raise public awareness in the Valley.
"One of our hunters was in Woolsey Park, and a gentleman was walking in the woods with a black jacket on at four in the afternoon. He was walking a dog," Pazdan says. "If the hunter did not see the dog, he would have never seen the person in the black, because the sun was down and it was getting dark. I think the biggest issue we have is people don't understand all the consequences of what could happen if they aren't careful."
Pazdan says the township committee has received complaints from citizens that there is not enough time to hike. With five days a week set aside for hunting, hikers get just the two days — one of which is a weekday.
But over the course of a year, hikers get more time in the park than hunters do, Pazdan says. "From mid-February to the second week of September, hikers can walk out there any time they want," he says.
The advisory committee was formed more than a decade ago because of the deer population issue, Pazdan says.
"I wanted to be involved in it because, yes I'm a hunter, I enjoy hunting and everything, but on the other hand, as a farmer I see the damage the deer are doing," Pazdan says. "Most of us farmers have stopped growing soybeans because the deer eat them all."
There are 14 properties in Hopewell Township's deer management program where deer can be hunted, but only Woolsey Park and Mount Rose Preserve are frequented by hikers. Pazdan says he understands that people want to be able to enjoy the outdoors whenever they want, but he says the problems with deer — which go beyond their sheer numbers — must be considered.
Michael Van Clef is the stewardship director for Friends of Hopewell Valley Open Space, and a member of the Deer Management Advisory Committee. He also manages FoHVOS' deer management program, which is separate from the township's.
He says reducing the deer population is vital to the ecological health of the regions forests.
"Most of our forest can't grow a tree right now," Van Clef says. "The trees drop seeds, but you don't get replacement trees because the deer eat them all. When your forest can't grow trees, you know you have a serious problem."
Deer have been particularly bad for the wildflower population, Van Clef says, eating everything within reach. In areas known as exclosures, where deer are prevented from going, one can see hundreds of blooms of wildflowers like the white wood aster.
In woods where the deer can roam, there are hardly any. "And the pollinators don't exist there either, because there are only a couple of flowers here and there to pollinate," Van Clef says.
A 2020 drone survey commission ed by FoHVOS and conducted by researchers from Raritan Valley Community College found that parks in Hopewell Valley had anywhere from 68 to 150 deer per square mile — many times the number recommended by experts for the ideal health of both the deer and their environment.
The target for Hopewell is 10 to 20 deer per square mile, which research has shown was the approximate white-tailed deer count in the area in pre-Colonial days.
Deer management programs like Hopewell's engage hunters to strategically reduce the deer population each hunting season. Hunters are asked to reach a quota, which includes taking a certain number of does as well as bucks.
Recreational hunters tend not to hunt does, because they think they that without does, there would be fewer deer to hunt. But without a reduction in the doe population, overall populations will never drop to the level that ecologists are looking for.
There are a few reasons that deer have thrived. One is that other than humans, deer have no natural predators left in the wild.
A second reason is agriculture. Deer love farms even more than they love tree seedlings and wildflowers.
"Three hundred years ago, the natural cover was mostly forest, and deer don't really do well inside of a big forest area — they need edges and fields to feed on," Van Clef says. "They especially love farm fields because farm fields are filled with highly digestable, nutritious plants."
If you eat plants for a living, Van Clef says, eating an oak leaf is kind a tough, but you can do it.
"But eating a soybean is way easier to digest, way higher in nutrient content," he says. "Basically we've created a salad bar for them."
It's not all good news for area deer though: seven years ago, the herds were thinned by an outbreak of epizootic hemorrhagic disease, or EHD, and bluetongue disease, both caused by viruses. There is evidence that the viruses are again wreaking havoc with the local deer population.
Hunters are on the lookout for deer suffering from these diseases. "It's actually a very slow death. They go near waterways — brooks, streams, ponds, and they suffer. Any good hunter would try to put the deer down," Pazdan says. "Why would anyone let an animal suffer?"
If hunters reach their quotas, or if EHD and bluetongue disease are particularly bad this winter, there could be a decline in the deer population by next year. Van Clef says FoHVOS will do a count next March, as they do every year, to see how the situation has changed.
In the meantime, the township hopes to reach more people in the community and help them understand the importance of deer management.
"I would implore hikers to pay attention to the signs which notify us where and when hunting is taking place," says Kristin McLaughlin, the member of the township committee who is the liaison to the Deer Management Advisory Committee. "In addition to creating the remote but terrifying possibility of an accident, hikers spook the deer and the program is unable to fulfill its purpose. There are posted days when hunting is not taking place and those trails can be used by hikers. Please, please respect the information on the signs and plan your outings accordingly."