After a couple of rough years that have included both a plague and a flood, the creative team at Hopewell Valley Children's Theatre will be hoping for a little bit of milk and honey in 2022.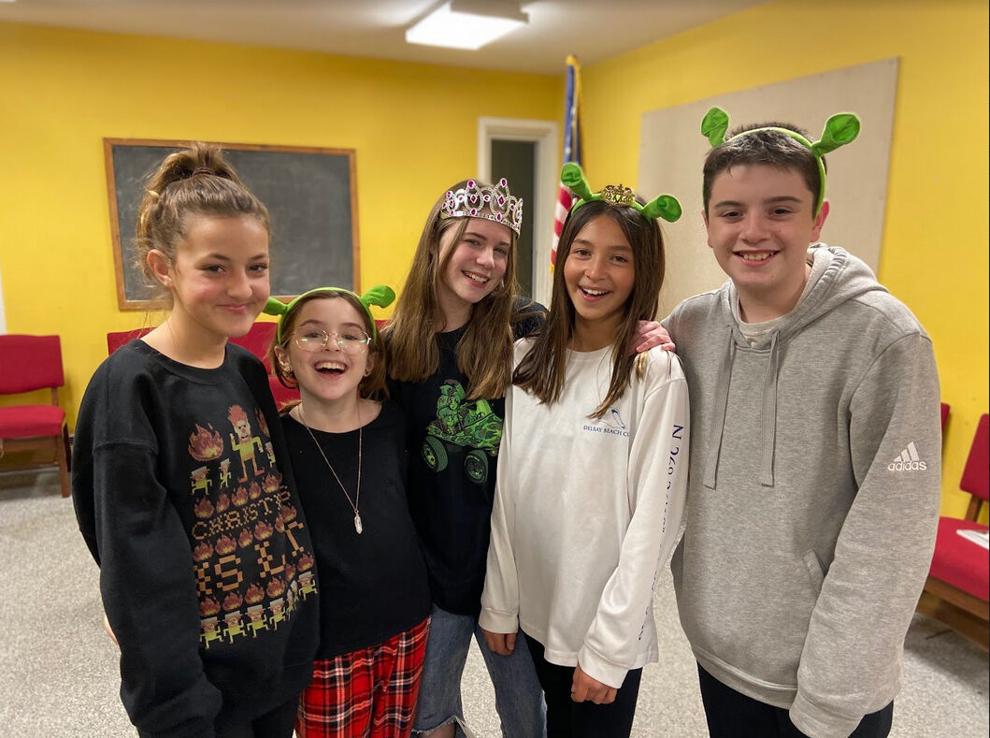 Since 1998, Hopewell Valley Children's Theatre has offered summer and winter programs that look to provide children grades 1 through 12 with pre-professional theater experience. In typical summers, the organization runs a five-week summer camp culminating in a full-scale musical production, and each winter HVCT produces another musical. The productions star between 50 and 100 area youth.
The past two years have not been typical, of course, and while 2020 saw the entire season's programming washed out by the Covid pandemic, 2021 somehow managed to produce a washout of a far more literal sort.
The year started out all right: HVCT was able to hold a four-week summer camp, with students performing a musical revue in front of a crowd at the end. Then on Sept. 1, Hurricane Ida blew through Hopewell Borough with devastating floods. HVCT's space on Hamilton Avenue ended up under six feet of water, its 23-year-old collection of set pieces and props almost entirely destroyed and the space no longer able to be used.
Despite these setbacks, HVCT directors Bernadette Furlong, Vicki Krampf and Ryan Smith say they are thrilled to be set for a return to live musical theater this month, when their students do four shows of Shrek Jr. at the Hopewell Valley Performing Arts Center. Other recent shows have included Aladdin, The Little Mermain, Grease and High School Musical.
A cast of 55 children has been rehearsing for Shrek Jr. since October at Hopewell Presbyterian Church, which offered HVCT the use of its Fellowship Hall and choir room. Starting in January, they will rehearse evenings at the PAC.
Fifty-five is a low number of cast members for a HVCT production. Musical director Bernadette Furlong says they usually have between 70 and 80, and sometimes more than 100 in the summer. But she says she knows some parents and their kids are still concerned about the risks of Covid.
While reported cases have been on the rise in recent weeks, Furlong says that as of now, the plan is for the students to perform the show live and without masks. She hopes that the public health situation does not worsen to a point where they will have to change their plans.
"We are keeping our fingers crossed that nothing horrible happens between now and Jan. 28," she says. "I would say about 80% of our kids are vaccinated. We ask parents to give their kids permission to perform without wearing a mask on stage. We did that in the summer and we didn't have anyone whose parents wanted them to wear (a mask). I don't know what's going to happen now that things are changing. We're hoping nothing changes, because it certainly makes a big difference if you're up there performing in a mask."
After the year that the HVCT has had, attracting a paying crowd to watch these four performances is important. "We have to take care of our finances," Furlong says. "We lost a lot because of the flood. It's going to take us a little time up and running again which is why we were hopeful we'd get some good audiences for the shows." Tickets are $15 and available on the Hopewell Valley Children's Theatre website, hvct.org.
While HVCT was able to host kids in the summer, the program was modified from a normal year's activities. Instead of separate camps for older and younger kids, all students attended from 10 to 3, for four weeks instead of five. And instead of using the session to build up toward a major end-of-season musical, the directors decided to set things up in more of a cabaret format.
Students auditioned for roles in five or six different numbers, then there were a few all-cast numbers to cap things off.
"Covid was still here, but it wasn't like it is now so we were able to have an audience, which was great," Furlong says. "We didn't get anywhere like the crowd we normally do — in the winter we usually sell out — but it was nice for the kids to be able to do something. It was very low key, we didn't do elaborate costumes or anything. The kids all wore HVCT T-shirts, and we used hats and props to enhance the different numbers."
HVCT has used the old Kooltronic building on Hamilton Avenue across from the Tomato Factory for more than a decade. The organization had a floor of suites in the front part of the building for its studio and office, and used a garage in the lower back portion of the building to store the set pieces and props accumulated over the 23 years the organization has been around.
Hurricane Ida did tremendous damage to the building. "I'm not exactly sure what happened," Furlong says. "I think it was either that one of the pipes burst, or something happened and it was just the amount of rain that we got, but it got to where we had six feet of water in the garage area. It was awful. We threw out so much. I don't think we saved much of anything from the downstairs part."
If there was a silver lining in those storm clouds, it's that the organization's costumes, which were stored upstairs, survived intact. Just about everything else was a total loss, including the building, which was no longer habitable after Ida.
HVCT is on the lookout for a new space to call home, but in the meantime Hopewell Presbyterian Church has provided rehearsal space at no cost, and HVCT has also reached out to several other theater groups in the area to help provide sets and props for Shrek Jr.
"The mold and the mud and everything else that was in there — we had to get out of there. It was a shame because we were kind of forced out," Furlong says. "We couldn't stay. That's made it tough for Shrek because we have to build back up from scratch."
The Hopewell Valley Children's Theatre has long been a labor of love for Furlong, a Pennington resident who co-founded the organization in 1998 with Claudia Burbage. Burbage is no longer involved, but Furlong is not alone in dedicating her time to nurturing young aspiring performers in Hopewell Valley.
Both Vicki Krampf and Ryan Smith have been with the organization for 15 years. Krampf is the costume designer and Smith is the director for the winter show. All three work as educators in addition to their work with HVCT: Smith teachers 3rd grade in at Millstone River School in the West Windsor-Plainsboro school district, while Krampf (Bear Tavern Elementary) and Furlong (Toll Gate Grammar) are kindergarten paraprofessionals in the Hopewell Valley Regional School District.
Joining the HVCT team for this season's production is Kendall Storcella, who is choreographing Shrek Jr.'s dance numbers. Storcella is also an educator, teaching physical education at Hillsborough High School.