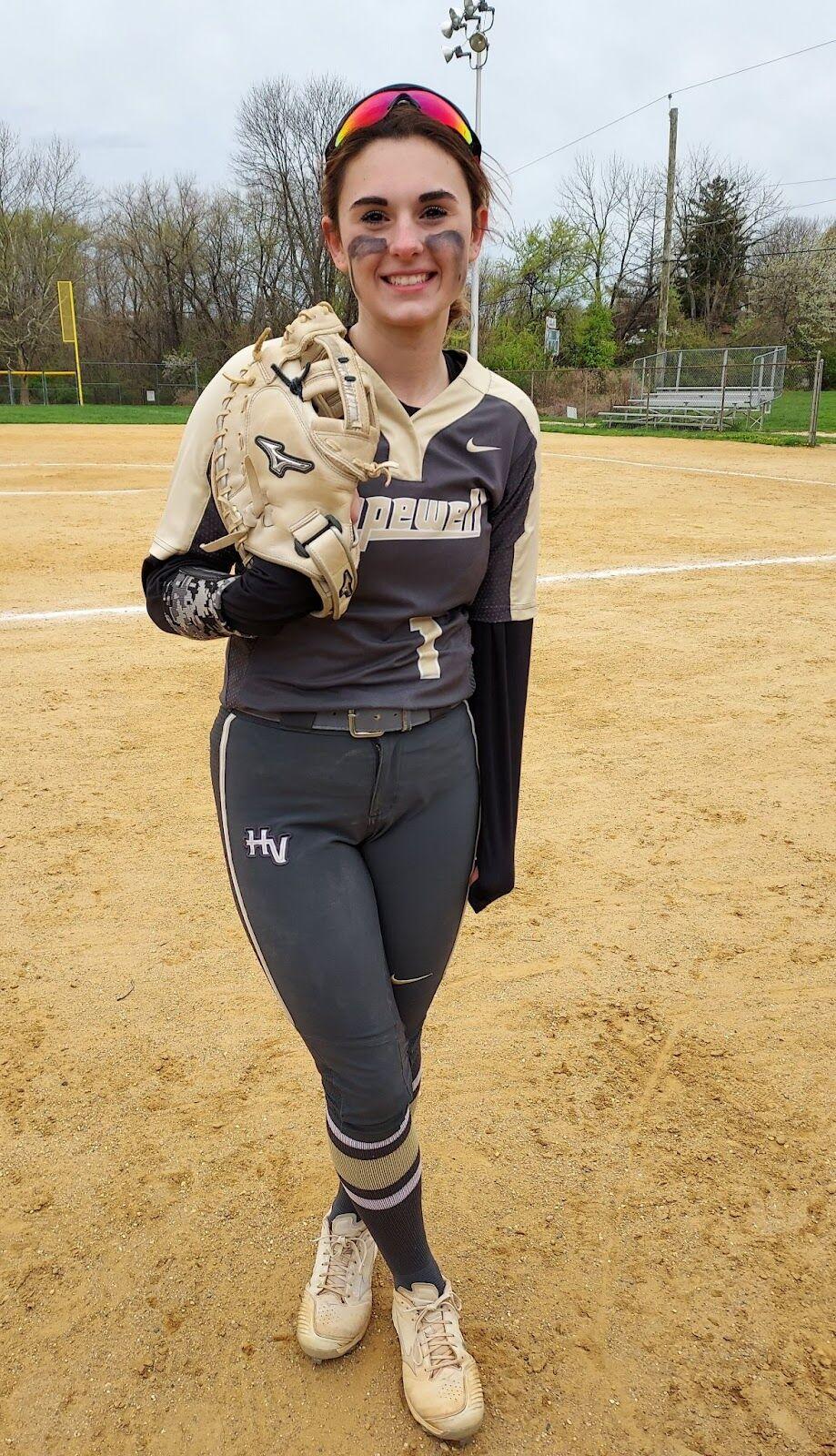 When Izabelle Cornish-DiDonato's father took her out to the softball field for the first time, her future in the game was mapped out before she even picked up a bat.
"There was no conversation about it," she said with a grin. "He really just brought me there and told me to throw the catcher's equipment on, and that was it."
Jeremiah Cornish-DiDonato was a high school catcher in Florida, so he figured what better spot for his daughter than the one he mastered. Since that first day on the field he has taught her the nuances of the sport's toughest position, and Isabelle has never played anywhere else.
Now she is a sophomore for the Hopewell Valley Central High team, and it is evident that the work has paid off.
"She's probably one of the best catchers I've ever had behind the plate in terms of blocking pitches and mentality," veteran coach Gary Nucera said. "She can take a licking and keep on ticking too. She'll try and tell me she wants to go play first base or pitch. I said 'Let's just stick to what you know best.' But I know she could play those other spots."
One of her best spots is standing at the plate, as the left-handed swinger has been one of Hopewell's top hitters her first two seasons. As a freshman she led the Bulldogs in average (.405), hits (17) and runs (15). She tied pitcher Samantha Shaw for most doubles (4) and was second in walks (8) and third in RBI (7).
Asked if she expected such success as a freshman, Cornish-DiDonato said "I had no clue. I just hit the ball. I just hope I hit the ball."
Nucera feels she is a little more serious about it than that.
"Sometimes I think she just wants to hit too much," he said. "She's gotta tone it down a little bit and hit just enough. And she does. She's a hitter that stays within her realm and does a great job for us."
Through the Bulldogs 3-2 start, Isabelle hit safely in all five games and was hitting .368 with two doubles, a triple, home run and team-high 11 RBI.
"I'm kind of all over the place this year," she said after a five-RBI game in an Apr. 18 win at Ewing. "I finally got a new bat, I'm trying to get used to it, but aside from that I think I'm doing pretty well, I'm feeling it."
Like most young players, Cornish-DiDonato will chase some bad pitches due to over-anxiousness. But she doesn't make a habit of it.
"I just attribute that to her wanting to please," Nucera said. "Sometimes I say 'You gotta stop trying to please everybody; and it'll come.' There's so many chances in softball. You gotta play the field, you gotta catch, you gotta run, you gotta hit. So if you make one mistake you gotta keep a short memory, get up there and get your next chance. She's able to do that."
Cornish-DiDonato began the game at age 10, which was a bit later than some high-level players. Her reason for doing so is that she was dealing with some family problems and was just looking for a distraction.
"I figured I would play a sport, and it helped," she said. "It just made me think about all the good things I have in life besides those problems."
She began playing for her dad on the Pennsbury Gems travel team before switching to The Aces. There were also three years at Timberlane, which is where Nucera first spotted her.
"I went and saw her two or three times in middle school so I knew we had a talented player coming up," the coach said. "I was intrigued about having a left-handed catcher as well. But she was still kind of young. I didn't see what she could really do with the bat. The second she came to us on day one, I could see her athleticism, and just her true grit. I knew it was special."
True grit is something that can't be coached. It has to come from within. And the moment Isabelle donned the shin guards, mask and chest protector, it was obvious she had it.
"I just had the passion for it," she said. "I loved squatting down and catching the ball; getting dirty and blocking everything. To be a catcher you have to know what you're getting yourself into and you want to have the passion for it. If you don't have the passion for it, then you're not fit to be a catcher."
At times that passion can go into overdrive and Nucera must reel it in.
"She's a gamer," he said. "She's solid all around. I almost have to keep her calm because she's so excitable in the box and behind the plate. If I can get that right balance for her she's quite a threat for us. She's an extremely talented player, devoted to the game, devoted to the program. Probably one of the best team players I've ever had."
As a catcher, leadership becomes part of the job since it's just the nature of the position. But if a freshman comes in and starts trying to tell seniors what to do, that won't go over too well. Cornish-DiDonato goes about it in a more subtle way, as she tries to make an impression with her play and her personality.
"A lot of kids look up to her and her talent and basically her game factor," Nucera said. "Just by her enthusiasm for the game, they have a tremendous amount of respect for her. She came in as a freshman like a veteran player."
She sounds like a veteran when discussing how she fits in with the team. For Cornish-DiDonato, it's a case of fitting in and forming cohesion.
"It's not about trying to be a leader for me," she said. "It's about making friends on the team. If you don't make friends and you're just bossing everyone around, they won't listen to you. You really just want to bond with the girls as much as you can and you'll have a friendship forever."
She is good friends with senior pitcher Samantha Shaw, which is pretty important considering how closely they must work together. The two met at Timberlane when Cornish-DiDonato was in sixth grade and Shaw was in eighth. They reunited last year and have clicked on the varsity level.
"I met her in middle school," Cornish-DiDonato said. "And now we're like best friends."
"In terms of framing our (strike) zone, if Sammy's game is on and Isabelle's game is on, they're lights out," Nucera said. "And if Sammy is having a hard day she does a great job of backing her up every single play."
As for the team itself, Hopewell is hoping to have its best season in several years behind the senior leadership of Shaw, Mea Allex, Sarah Yancey and Sofia Zangrilli.
"I think the team is a lot better than last year," Cornish-DiDonato said. "We've got all our crap together. We were struggling last year, we lost almost every game. We came together as a team and decided this was enough and we just started winning."
Added Nucera, "I really like this team. I have a senior-heavy experienced team and a solid pitcher."
And a darn good sophomore catcher.