The New Jersey State Button Society will lift its pandemic-induced pause button and celebrate its 80th anniversary tri-state button show at the Union Fire Company and Rescue Square Hall in Titusville on Sept. 11.
"It's a very large banquet hall with good lights and ventilation. We'll feel safe there," says NJSBS president Barbara Fox about the gathering that will employ COVID-related protocols: masks, reduced capacity, open doors, and outdoor tables.
Fox doesn't expect a huge crowd for the free event, just between 25 or 50, attendees, including member Helene Plank from Lawrence.
But she says they will all be big on the small objects bringing them together.
The reasons are multi-layered and more than market value, which Fox says can range from 25 cents to $250.
One point of collector engagement is the reality that "each button has a story. Its own little history," says Fox. "Stories come from those who collect buttons – and those who wore the buttons."
Fox puts today's now common object into a historic perspective when the object now connected with women and sewing was a manly symbol of power and wealth.
That was especially true in eras before the Industrial Revolution when, says Fox, "in Europe, men wore painted and gold buttons. It was the men who were the peacocks. Louis XIV had 1,300 buttons on his tunics. It was said (French King) Francis I wore 30,000 gold buttons on his waistcoat and supposedly other royalty tried to match or exceed that number. If a man had a gambling debt, he could snip a button off his waistcoat to pay the debt."
With such royal interest, it isn't a surprise that "France was known for beautiful enamel buttons and carved shell," says Fox, adding that it was Birmingham, England, that later became "the button center of the world in the 19th century."
Fox says soon button production increased with "48 different types of materials, ranging from horns and hooves to coconuts."
So did their ability to hold stories, including buttons with pictures. For example, Fox says, when women started wearing buttons they wore some that showed images of place traveled or showing their hobbies.
Others sported bright images from fairytales, religious and mythical figures, children misbehaving, and the inevitable naughty scene, such as the intoxicated nudes in a brewery metal button Fox shows during NJSBS presentations.
Then there are the dark stories about manufacturing and practices that had children working 12 hour days alongside their mothers and fathers.
"By dividing the labor, using 50 to 80 steps to make one button, (manufacturers) could employ children barely out of the cradle' for simple tasks, like stacking disks," notes Fox.
Some aspects of button making eventually became associated with women who during the 1920s were employed to cover and card cloth buttons and solder shanks, the metal loop attached to the button's back.
Then there are personal stories connected to family members who may have accumulated buttons for home use or just because they were attractive.
As Fox says, "Many (collectors) begin their button hobby because of their emotional attachment to a relative's button box."
To make her point, Fox says, "Working with my grandmother's buttons connects me to her. As a preschooler I loved to 'help' her by polishing the metal buttons that pictured everything from fables to insects."
Incidentally, although her grandmother was based in Millbourne, Pennsylvania, Fox grew up in Baltimore, where her parents did cancer research.
Years before becoming a button club president, she majored in English but spent most of her time choreographing dance at Duke University (Class of 1961). She merged the two disciplines when she became a dance reporter.
When she, her late IBM employee husband, and three children moved to Princeton in 1981, she freelanced for the Trenton Times and worked part-time in Mercer County Community College's community relations office. In the mid-1980s, she started writing for U.S. 1 and eventually became its longtime senior editor.
Fox says she got the button bug 15 years ago when her mother died and Fox inherited her grandmother's collection.
"I didn't begin to investigate or love buttons until about 10 years ago, and now I'm president of the New Jersey State Buttons Society," she says.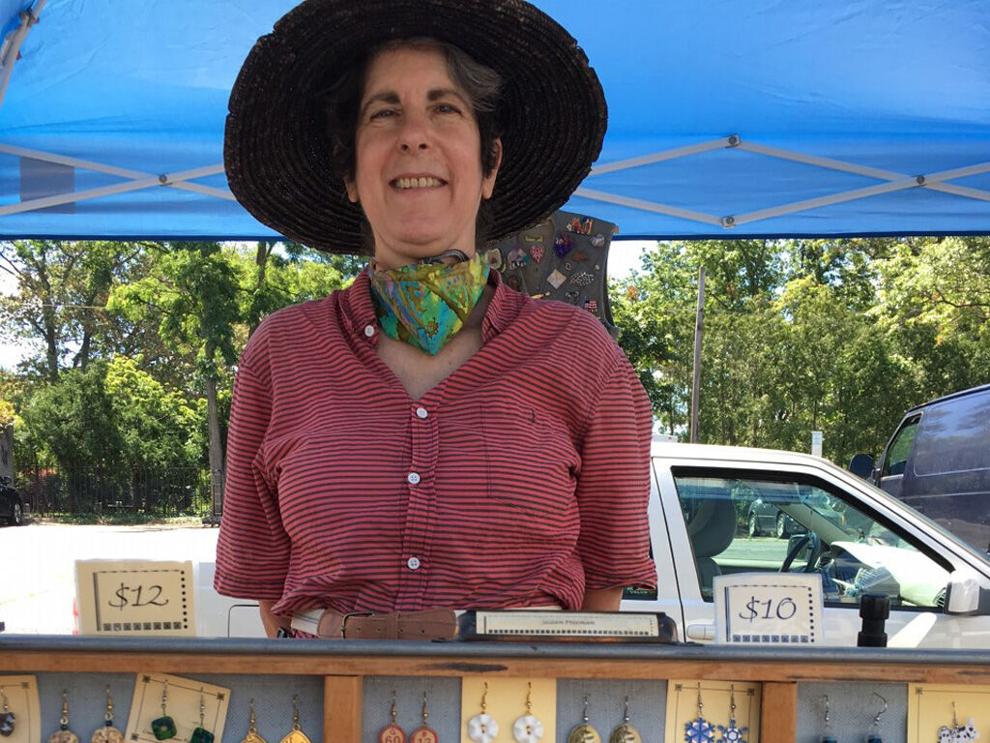 Fox's grandmother, Myrtle Harris Yerkes, began to collect in the 1940s when button collection was new hobby. The college educated wife of a justice of the peace had attended a presentation on the topic, saw other women with collections, and thought of the comparable stash of buttons she had accumulated at home.
"She had a strong sense of competition that was unfulfilled, so she entered her buttons in competitions," says Fox. "My take is that she was a club woman, had a college education, and wore a corset every day of her life. She was constrained by her upper class expectations. She did not need to work. Yet she had a desire to excel. I still have her blue ribbons."
Fox notes that fellow or sister members of NJSBS have their own personal paths and involvement with buttons.
For example, she says Lawrenceville resident Herbert Klei encountered his first collectible button when he was sifting dirt for his garden. It was yellow metal and looked very old and struck him as from the colonial era.
"Wanting to know more," says Fox, "he found the website of the New Jersey State Button Society (NJSBS), and had his questions answered by one of the nation's leading experts on military and uniform buttons, Johnson Frazier" (who will be participating in the September event).
The Newport, New Jersey, expert told Kei he found a one-piece gilt button used extensively from the 1820s until around 1850, called a "golden age" button because of the probably London made object's bright gilt finish.
Fox also points to Lawrence Township-based "button artist" and collector Helene Plank, who will display a new work made of buttons at the Titusville show.
In a statement, Planks says, "I've been a long-time admirer of buttons since I was a child. I played with those little treasures from my mom's button tin, and later used buttons when I knitted garments. I've always considered buttons to be miniature works of art —- a wonderful variety of shapes, colors and sizes. Times change, but my love of buttons has not."
According to Fox, Planks uses recycled materials and "has created more than 20 prize-winning button mosaics, each using from 1,700 to 1,900 buttons bought at yard sales or that were donated. Rather than damage the buttons with glue, she sews each button to the canvas, using same color thread. Plank also has a collection of vintage buttons and is the president of Mercer County Buttoniers, which meets at the Lawrence Library."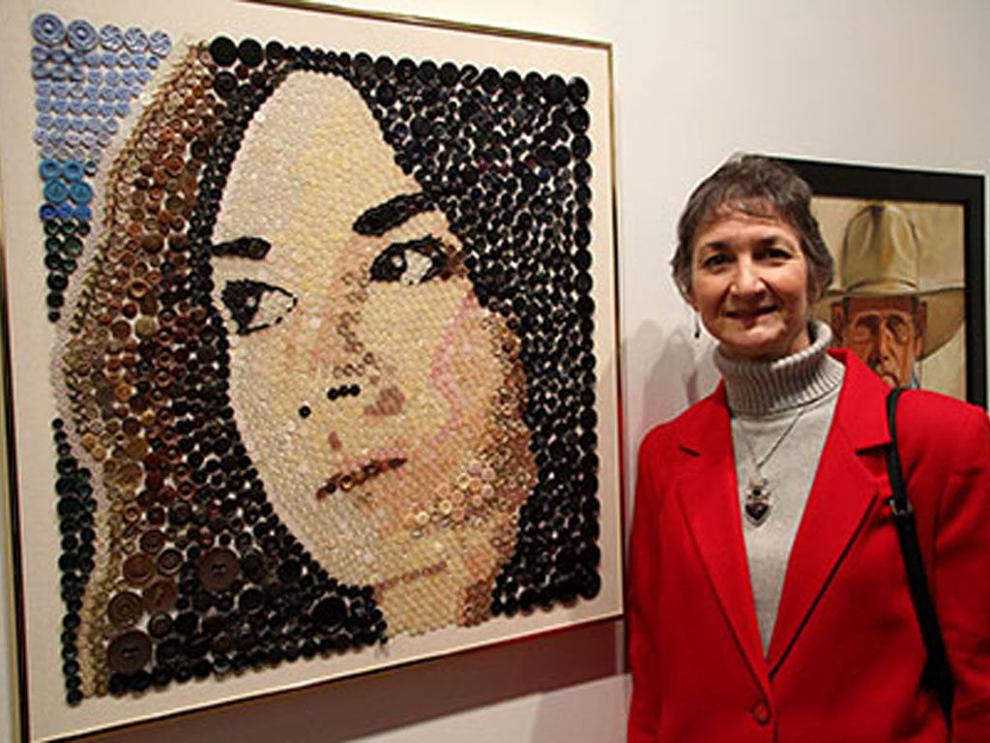 She also recently reaped some recognition. As announced on her Facebook page, "All Buttoned Up," she recently won an award from the Mercer County Senior Art Exhibition and was the topic of a two page article in July's National Button Society Newsletter.
Fox also mentions several others. Plainsboro resident, NJSBS member, and jewelry maker Susan Freeman "began designing with buttons when she discovered a bag of red abalone buttons at the Columbus flea market," says Fox. And Princeton NJSBS Nancy Beatty calls herself a "button fancier" who got hooked after attending a Fox presentation and went to one of the Titusville shows.
The above NJSBS members show an enthusiasm for buttons and collecting that has a history in the region.
"The NJSBS was one of the first formed in 1941," says Fox. "Collecting wasn't a formal hobby until 1939. There was an article in hobby magazine and general button collecting ballooned from there."
Fox believes the effort was helped because "women had loads of buttons. When they got married they had charm buttons" and "as soon as WWII was over, dealers were able to siphon off valuable buttons form European and sell them to Americans."
Putting the focus on the state, Fox says, "New Jersey was the home of several famous collectors who wrote the seminal books on collecting. That includes Lillian Smith Albert and her husband, Dewey Albert. They lived in Hightstown."
A 1964 New York Times article calls Lillian Albert "a national authority," "one of the principal researchers among the 2,000 persons in this country who collect, categorize, and treasure buttons with loop shanks, and "the author of four books on button collecting and editor of the bimonthly bulletin of the National Button Society." Her husband was described as "a retired high school teacher, (who) also collects buttons, specializing in military uniform buttons."
The Alberts wee friends with another regional power button couple, Vivian and George Ertell of Flemington. The former is the late author of 1973 book "The Colorful World of buttons" and once maintained a "Viviane Beck Ertell button Museum" that boasted objects from the collection of important French historian Henri-Rene d'Allemagne.
A 1977 newspaper article reports that the now out of view museum collection contained "18th-century men's buttons of brass, steel, enamel and precious stones, which proclaimed to other gentlemen of the period the wealth and status of their owners. Other prizes include Victorian calicoes, buttons worn by Captain Bligh, infinitely delicate landscape miniatures done in mosaics, and the oldest button is a Chinese stamp dating from 500-600 B.C."
Not surprisingly the Ertells and Alberts were early members of the NJSBS and meetings were held at the museum.
Fox, a self-defined "button evangelist" says she is looking forward to the upcoming show and the resumption of other button society events so she can "introduce people the fascinating world that buttons offer."
She says, "Before Covid I gave programs at libraries and quilting groups. And after each talk we would distribute free buttons to the participants and let them chose buttons to put on a tray.
"The act of choosing buttons and fastening them on a card or tray is the first step turning someone into a button collector. At the show we're going to give everyone a card with punch holes and wires and let them chose the buttons to put on the card."
And why not? As Fox says, "We need more people to collect buttons to keep this 80 year old organization alive. And I know the collectors are out there."
New Jersey State Button Society's 80th Birthday Show, "Together Again," Union Fire Company and Rescue Squad hall, 1396 River Road, Titusville, September 11, 9 a.m. to 4 p.m. Free admission and parking. CDC protocols followed. 609-759-4804 or NewJerseyStateButtonSociety.com.