My email box was completely filled with forwards of the New York Times Dec. 14 article entitled, "They Fought the Lawn. And the Lawn's Done." What made the story so compelling was that it had all the elements of a blockbuster film: a simple scenario with a relatable protagonist who overcame significant challenges in her desire to do good.
The Times documented a multi-year struggle that eventually resulted in a happy ending. The feature related the story of Janet Crouch, a Maryland homeowner who planted climate-friendly native wildflowers that attracted beautiful migratory butterflies, birds and bees. As her garden thrived, she repeatedly received threats and lawsuits from an overzealous homeowners association that demanded that she convert her yard back to an ecologically unfriendly turf lawn.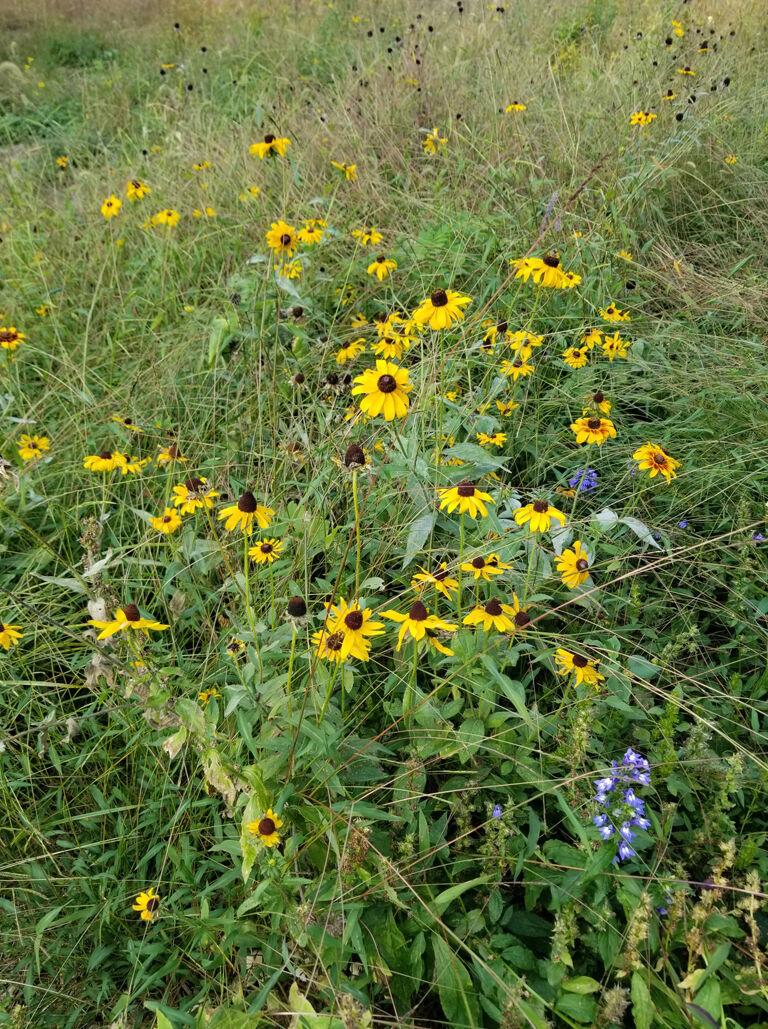 The tenacious Ms. Crouch not only won the contentious lawsuit, but also inspired legislators to change state law. The Maryland General Assembly recently passed low-impact landscaping legislation that codifies rights to maintain an environmentally conscious landscape.
While New Jersey should most definitely consider similar legislation, there's a good reason why Columbia, Maryland wound up in the news and Hopewell Valley did not.
The Maryland story began in Fall of 2017, when Ms. Crouch received the first letter from the HOA lawyer demanding her wildflower meadow be converted to lawn. Coincidentally, at the very same time, Friends of Hopewell Valley Open Space approached the largest homeowners association in Hopewell Valley —- Brandon Farms Property Owners Association — to ask if they would consider implementing a pilot project to convert their detention basins from lawn to naturalized wildflower meadows.
While both tales include a series of obstacles threatening the success of healthy, ecologically helpful landscape, the sensational Maryland plotline plays far better to the masses than an account of a smart New Jersey POA researching landscape alternatives to help both the environment and its residents.
Not surprisingly, the Maryland HOA and the NJ POA shared common concerns of promoting an attractive community while bolstering property values. However, to address those concerns, Maryland enforced strict rules documented in HOA bylaws. Conversely, BFPOA leadership planted a wildflower meadow as a proof of concept, that a meadow could look beautiful while gleaning positive environmental benefits and lower upkeep costs due to reduced mowing and watering needs.
Mike Shevlin and Pete Sandford, President and Trustee of BFPOA respectively, worked closely with the FoHVOS team. Their first decision would be to choose a location in the vast Brandon Farms community to host a 10,000-square-foot meadow. They reached out to Steve Wilfing, principal of Stony Brook Elementary School, and suggested placing the meadow on BFPOA land that abuts the school so it would be an easy walk to teach students about biodiverse ecosystems and local wildlife.
Principal Wilfing enthusiastically encouraged the transition and brought together the STEM staff, the PTO, and the local community to plan and implement the new meadow/outdoor classroom. As the project progressed, FoHVOS solicited funding from local leaders Vanessa Sandom and Carl Seiden, and the 5th grade class purchased bird feeders.
Weatherwood Design, a landscape architect, planned the design. Nectars Landscape & Design did a "sod cut" to remove the existing lawn. Community members and HVRSD administration came out and planted 3,000 native plant plugs. FoHVOS augmented the planting with seeds for ground cover and some shrubs to add dimension.
In Spring 2019, the Stony Brook Elementary student body came out to celebrate the meadow and held a ceremony with BFPOA, FoHVOS, and financial sponsors to install a sign that shares details about the benefits of a native wildflower meadow versus lawn. Mike Shevlin said: "The Brandon Farms POA board was excited about the opportunity to be involved in a pilot program to convert an area of unused yet heavily maintained grass into a natural meadow that benefits the entire community and serves as an educational experience for the Stony Brook students."
The meadow met with some unexpected challenges, and became a learning experience for more than just the students. The original plan was to use "deer resistant" native plants. And it turned out that the Brandon Farms deer had voracious appetites and grazed on many plants thought to be resistant.
In addition, the native Indian grass grew very aggressively. In 2020, a neighborhood master gardener helped remove some Indian grass and in 2021 the Xerces Society provided a grant of 600 native wildflower plugs to fill that space.
Although the meadow is a work in progress with continual learning opportunities for all, it has succeeded in attracting hundreds of pollinators. In spring, watch for colorful flowers and beautiful butterflies, birds and bees. In addition, the planted area has not needed supplemental waterings and stayed green while the surrounding lawn turned brown in the drought.
The overarching positive results have been encouraging. Under its Community Conservation program, FoHVOS has continued to help Hopewell Valley add life-giving native plants to thousands of acres of local landscape.
Unlike the Maryland HOA that battled for years, Brandon Farms POA has taken the journey to an ecologically friendly landscape and enthusiastically continues on the path. This positive attitude towards environmentally friendly landscape will hopefully encourage others to consider their relationship to the land on which they live.
Shevlin noted: "We are now considering possibly expanding our naturalization efforts to some detention basins in the community which could result in less mowing and provide a more sustainable environment for our residents."