Melissa Burgos chose a hot air balloon as a logo for her achievement center Club DREAMS, highlighting the value of letting those with Down syndrome chase their aspirations into the skies and beyond.
"She holds multiple titles like president of the Down Syndrome Association of Central New Jersey, as well as executive director and founder of Club DREAMS."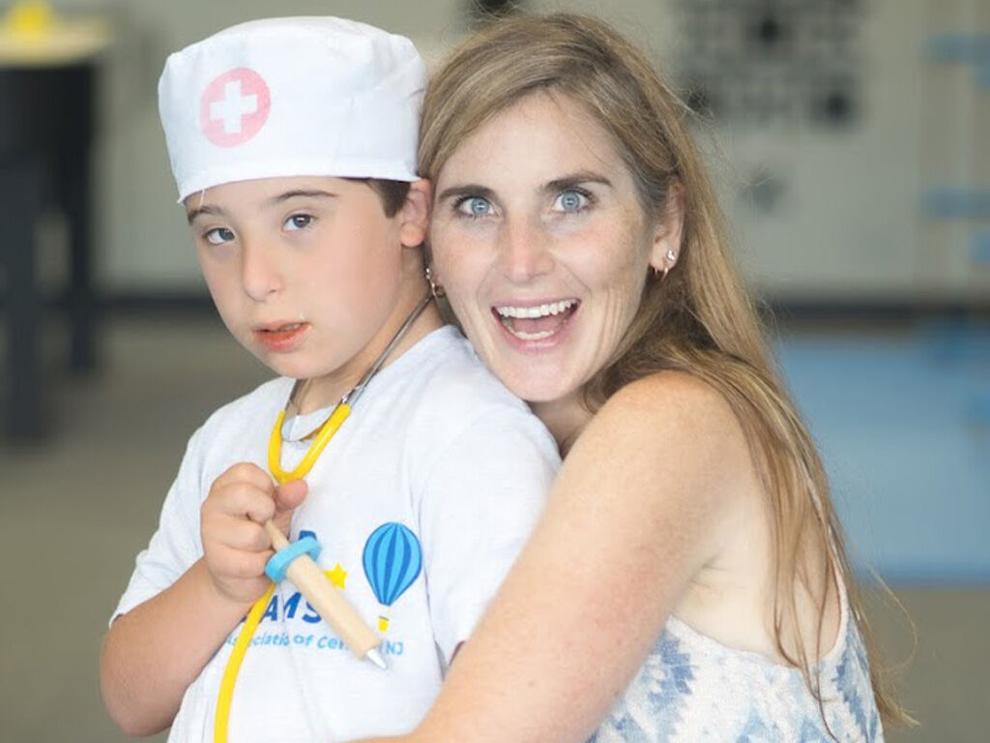 The acronym DREAMS stands for Down Syndrome Recreation Enrichment Academic Meeting Space, highlighting the nonprofit organization's desires to expand access for those with the developmental condition. Operated by The Down Syndrome Association of Central New Jersey, they originally wanted to unveil their location at 25 Scotch Road in Ewing in spring 2020.
At the start of the pandemic, Club DREAMS began virtual programming, making their live grand opening on Aug. 21 a special step forward. Prominently featured at the picnic and festival-style celebration was a truly symbolic hot air balloon ride.
"It was a great success," Burgos said. Joyce Lembo, an artist, brought a collaborative canvas painting to involve the participants, some who were parents, volunteers or those with Down syndrome.
"Everybody who attended the event grabbed a brush and participated in making this painting, and for me, it's representative of what Club DREAMS is trying to achieve and the belief that with support and guidance, we are all capable of extraordinary things," she said.
The center is geographically central to where people who participated in previous DSACNJ services lived, as well as being in the middle of the state of New Jersey and easily accessible by public transportation.
Burgos lives in Pennington with her four children, three daughters and son Lee, 7, who has Down syndrome. She is a family physician for over 15 years, practicing in Lambertville with Hunterdon Family Medicine at Phillips-Barber. Her passion on the side, though, is volunteer work, starting when she learned of Lee's diagnosis before his birth.
"I had reached out to [DSACNJ] before I gave birth, when I knew my son had Down syndrome during my pregnancy, and they had provided me some support and outreach," she said. "I was happy to have an organization locally to connect with other families who had a shared experience, and could share with me what things have been like for them as they raised a child with Down syndrome."
She later joined DSACNJ in 2014. The group is over 40 years old and started as a small family support group before becoming a nonprofit organization in 1996.
"I knew that there was a lot of additional work that was needed," Burgos said. "This was kind of an opportunity for me to take on a role that would help kind of expand resources and access to families in Central New Jersey."
Burgos had personal experience with Down syndrome prior to her son's birth, having been a Special Olympics coach in high school and taking care of patients with it in her professional career. Still, the way other medical staff delivered the news to her was appalling.
"I was shocked by the misinformation that I received from doctors and the experience that I had during my pregnancy with regards to the sort of support I received, or lack of support I received," she said. "So I knew very well that it was important to make sure that there was some place where families could get accurate information about what it's like to have a child with Down syndrome, and the joys that can come with that, not just the challenges."
"In the past six years of substantial growth with DSACNJ, Burgos continued that vision by expanding medical outreach as well."
DSACNJ's First Call program is a resource for both families and physicians that provides support when delivering, then receiving, a diagnosis of Down's syndrome. Rather than recommending an outside support group with a monetary cost, the release form provides them the chance to engage Club DREAMS directly for assistance.
"We'll reach out to them and provide them the support that they need, and it reduces, it takes away, it eliminates a barrier. It's hard enough when you're receiving this news to even process, and then to be finding a phone number for a support group, and picking up a phone to make that call—it's just such a burden when you're already struggling with processing this news."
If people are not quite ready for the process, they can check off an option to receive an email or a parent package, which is a basket that contains accurate information pertaining to raising a child with Down's syndrome.
"While I don't think I had to be a doctor for this, I think it gave me an upper hand," Burgos said. Years used to pass by without a single patient referral from a doctor, yet now, the prospects have greatly improved.
"Now, we get the majority from either pre- or post-partum care through physician referrals, which is amazing. That's been a big part of my efforts with taking on this role as the president of the DSACNJ," she said.
Burgos said she felt that outside of school, resources for individuals with Down syndrome were limited. While students can be supported by the environment, finding academic support and extracurricular activities is a challenge. Programs outside of sports or Special Olympics might have limited access to help children who need assistance with acclimating to a class in areas like art, dance, or gymnastics.
"Our kids aren't always ready to be in the class with their same-age peers, and even if the class accepts them, it can be frustrating for the other kids in the class, or for your child, because they may need a little bit of extra support and attention. They still deserve the opportunity to be able to pursue those interests," she said, noting the need for a safe space.
Burgos said she founded Club DREAMS because she felt there was a need for a place for people with Down syndrome and other special needs to have the opportunity to develop skills and also work on academics.
"I think it's kind of ironic that there's Kumon and Mathnasium and all these other learning academic support programs for the typical developing child, but then for your child with special needs to get after school support in academics is also very challenging," she said. "You have to hire pretty much a private tutor, which is very expensive and for many families, unaffordable, and they probably need it more than anybody," she explained.
The options vary from academic offerings like homework help to interests like American Sign Language, beginner's Spanish, guided drawing, and more. They have weekly programs for life and job skills, teaching those with Down syndrome interviewing, resume building, cooking, as well as other professional fundamentals. For the online classes, every week had a theme.
Three times a week, 'Buddy to Buddy' lets teenagers and adults have a discussion group about world events and life updates. Whether it's politics or weekend plans, the "popular" program garnered social interaction. Many of the live events will be streamed live for those who live faraway or do not feel comfortable with attending in-person.
"Ultimately, we intend to transition our students that participate through the life skills and job skills program into some job experience at our center to start out, and then transition them by providing them a job coach to assist with them transitioning into the community workforce," she said. "I think a lot of places may be willing to hire people with Down syndrome, but either don't have the staffing, time, resources, to kind of support a person with Down syndrome with the extra assistance they may need initially taking on a position, and helping them be successful."
They developed a following to their virtual programming—mostly teenagers and adults. For families with young children, getting to the computer posed some difficulties, but Club DREAMS is happy to begin the live version of what attendees always deserved—events in their originally conceived glory, bringing together those with Down syndrome in the physical center.
About four or five years ago, DSACNJ received an endowment from a deceased woman, Margaret Crownen. They still have no idea who she was, her connection to Down syndrome, or even any surviving family members.
With the money, Burgos considered opening another location of GiGi's Playhouse, a similar nonprofit organization. But, alongside her board, DSACNJ decided to use the funds they "were very lucky to receive" to make their own space.
"It was a once in a lifetime opportunity for a small nonprofit to get this amount of funds all at once. I said, 'I don't want these to just trickle down and be used through the years, we should set this aside and do something big with it, and really have something to see for this.' It was the opportunity to be able to move forward with an achievement center," something Burgos had always hoped to pursue.
They welcome new volunteers typically within the ages of high school to college students, the latter encouraged to help run and develop programs. Burgos has put effort into the academic material, using research on the science of how people with Down syndrome learn best.
"We need volunteers to run our programs and lead our programs, or co-lead our programs with some of the younger volunteers," she said. "Volunteers with any sort of passion in any specific extracurricular, whether it be art, or painting, or yoga, or fitness, or some sort of sport, we would love for them to be able to use their passion to offer classes to our membership."
She especially recommends it as an "amazing opportunity" for students looking for degrees in special education, nonprofit administration, and other related majors. Any special education teachers, physical therapists, or particularly those with motor development expertise are greatly appreciated.
For upcoming schedules, attendees can look forward to the continuation of their favorite programs in a limited capacity at the center. There is the Twenty One for T21 Club DREAM Gala & Casino Night on November 12, a roaring 20s themed event and their big fundraiser for the year.
The finished collaborative painting "DREAMS Taking Flight " that was created at August's live opening will now be displayed at the center, alongside a donor wall, where the "dream builders" who contributed to the construction of the center are properly honored by name.
Burgos wants to ensure that everyone can find something beneficial from Club DREAMS, whether it's socialization among peers or important life skills. Harmful misconceptions may make some of the general public unaware of the potential gifts those with Down syndrome share with the world.
"I think people miss the opportunity to get to know a person's true abilities because there's already preconceived notions...for many of us who really have had the opportunity to work with people with Down syndrome and see what they may be capable of, we find ourselves inspired by them every day. I know that certainly is the case with my son. He never ceases to amaze me with what he's capable of when he gets that support and guidance."
Lee constantly inspires Burgos, and she knows that the future is bright with possibilities.
"We're all capable of, people with Down syndrome alike, are capable of anything that they hope to pursue, and I think that they may need a lot more support and guidance, but they are capable of pursuing dreams, and deserve that opportunity," she said. "I'm hoping that through the center, we can help people reach their dreams and allow their dreams to take flight."
For more information on Club Dreams, go to dsacnj.org.