Since the 1970's, a little organization has been doing big things for Hopewell Township. Based on its acronym, you might even call it a big fish in a small pond.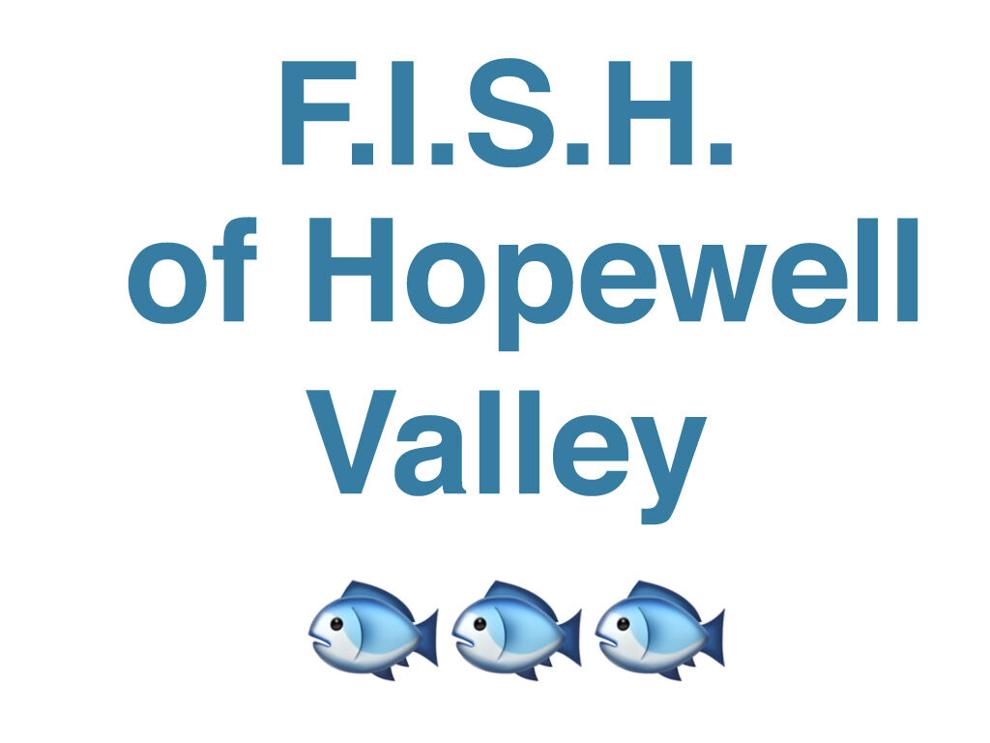 Friends In Service Here — a.k.a. FISH — of Hopewell Valley is a nonprofit organization that delivers prepared meals to homebound seniors and those of any age who are relegated to being home alone due to various circumstances.
FISH is not affiliated with Meals on Wheels, which receives government funding. The amazing organization runs completely on private donations as it serves residents of Hopewell Township and Borough, Pennington and Titusville.
It is an entirely volunteer outfit, starting with co-coordinators Benita Wittenborn and Nella Hamtil and treasurer Terri Riley. The remaining volunteers deliver the meals.
"This is the most neighborhood, grassroots community organization that ever was in Hopewell Township," said Wittenborn, who went from a volunteer in the early 2000's to a coordinator 10 years ago. "We're our own 501(c)3, our own little baby nonprofit. We're kind of old school. We don't even have a website."
Nearly everything goes by word of mouth, and right now the word on the street is that the FISH needs to be fed, as in it needs more volunteers to deliver meals. There are still approximately 30 folks offering their services once or twice a month, but that number has decreased from the pre-Covid 19 days.
"We got messed up with Covid; a lot of our volunteers got scared," Wittenborn said. "They were taking care of people who were compromised and all that. We were doing fine, Covid hit and a lot of people left us. They needed to step down because they were taking care of their elderly parents, or they didn't want to go to the market. And it wasn't just us of course. That was the way of the world with everyone. We understood."
And while 30 may seem like a decent number, more helpers are always needed due to the fluidity of volunteers. Some stick with it for years, others come and go.
The "work" is simple, as it entails picking up the meals at the Pennington Quality Market in the morning, and delivering them to their destinations between 11 a.m. and 1 p.m. Three volunteers are needed each day — one for the Pennington/Titusville route, one for the Hopewell Boro/Township route and one to serve as a dispatcher.
"It's all very low key, we tell all the volunteers you only do what you want to do," Wittenborn said. "A lot of them ask 'Do I have to go to board meetings? Do I have to do this or that?' They don't have to do any of that. You do your volunteer thing once or twice a month and feel good about it. It's all very chill. I don't want anyone to feel like they have to show up at some big charity event. We're a small, neighborhood thing and that's why people like to volunteer. They show up at the Pennington Market, pick up their meals and they're on their way."
The PQM looms large in the operation, as owners Mike and Barbara Rothwell provide both lunch and dinner at a cost to FISH of just around $7. The market provides and prepares the meals. Each lunch includes a sandwich, cup of soup, dinner roll and fruit; while a typical hot meal might feature a chicken breast, rice pilaf and a side vegetable.
"This is truly a nod to the Rothwell family," Wittenborn said. "This is a family owned market, not some big Shop-Rite or Stop 'N Shop. They are literally the nicest and most philanthropic people and are so generous to us. They're amazing. They could charge us maybe three or four times the amount that they do."
That savings is passed on to those who receive the meals. They are charged a nominal fee and, in some cases, if they can prove financial hardship will receive the meal for free.
Due to Covid concerns, when the meals arrive, they are left on the doorstep and the recipients are informed that lunch is served. That is altered from the usual routine, in which the deliverers like to stay for a while and engage in conversation while making their drop.
"Right now we still can't do everything we want to do," Wittenborn said. "The goal is to provide a nutritious meal and also talk to the people who are receiving it. Just like 'Hey how's the weather.' Some don't want to talk, some will talk to you for three hours. Some of these older folks are happy to see you. The person delivering the meal might be their one contact of the day. They want to sit down and talk a while. It's like a human contact thing.
"But with Covid we're doing things with masks on, putting the meal on a table or a chair on their front porch. We talk through windows, through screen doors, we want to say hello, make sure they're OK. It usually goes way beyond the meal. But you have to be conscious with Covid. Now we're doing very little besides serving a meal. That's kind of a bummer for us, because we can't connect with them as much as we want to."
Nevertheless, it still provides volunteers a warm feeling knowing that they are doing something to help those in need. Wittenborn's mom did it in the 1980s, and her son did it while a senior at Hopewell Valley Central High School two years ago.
"For a few hours a month, they can feel good because they know they've done something for the community," said Wittenborn, who noted that most volunteers are in their 60s and 70s but anyone with a driver's license and money to pay for gas for their trips can offer their services.
Aside from people lending help, there are also those who provide monetary aid through generous donations.
"We have a really nice grant from Bristol Meyers Squibb," Wittenborn said. "We have private donors; some extremely generous local people who donate to us. A lot of them come from a family member who have received meals for their parents or in-laws. After they see what we do they give us a donation."
One very generous donor provided a check for $10,000.
"That's a godsend," Wittenborn said. "That can literally help keep us going for two years. They're extremely generous. They believe in us."
In looking at what FISH does, it would be hard not to believe.
Anyone looking to volunteer for Friends In Service Here, or who knows of someone who needs their help, can call the organization's direct number at 609-737-9123. They can also call Randi Knechel of Hopewell Township Senior Services at (609) 537-0236 to recommend a meal recipient.