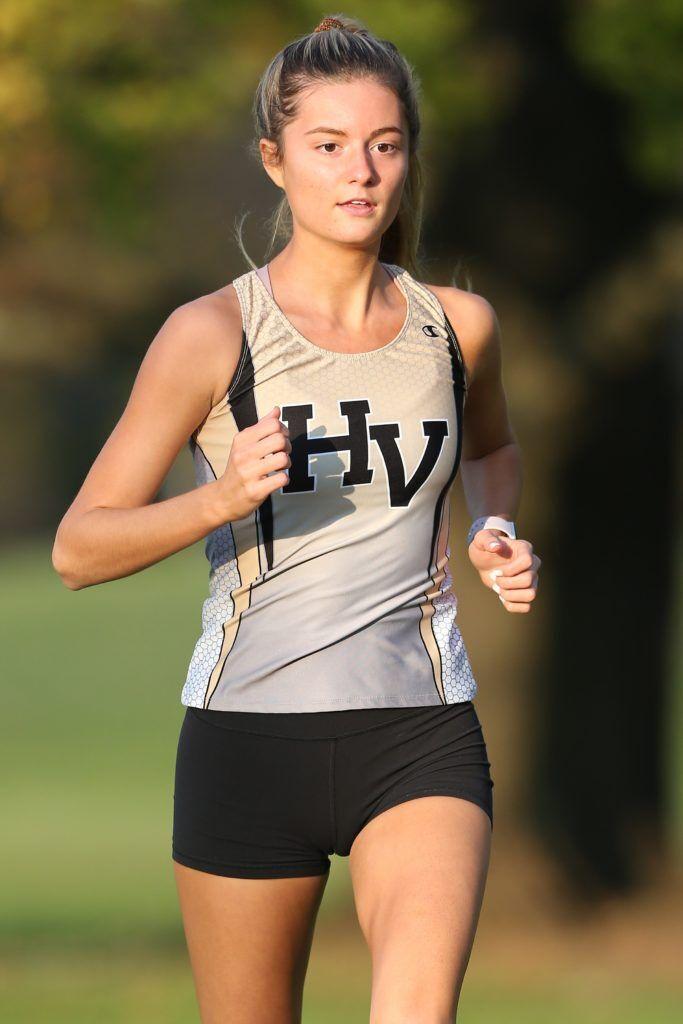 Paige Dumont is only a sophomore, but was able to sum up the 2020 New Jersey cross country landscape in a wise and maturely succinct manner.
"This season was definitely weird," the Hopewell Valley Central High School runner said.
Indeed it was, with COVID-19 leaving its ugly imprint in so many ways.
But Dumont didn't let weird get in her way as she enjoyed an outstanding campaign by going undefeated in the Bulldogs dual meets and finishing second in the NJSIAA Group III Central sectional meet.
That was as far as runners could go this year, as state meets and the Meet of Champions were not run.
"I was disappointed about that, not just for myself, but for my whole team," Dumont said. "Although last year I ran at states (as an individual), as a team we narrowly missed qualifying. This year we could have run together, which would have been such an exciting experience."
The Bulldogs would have advanced as a team this year as they took second in sectionals thanks to Dumont, Dorothy Wong (10th), Mia Vaughn (11th), Katie Rowe (13th), Elizabeth Chandler (20th) and Sophia Venezia (21st).
Asked if Dumont could have advanced to the TOC as an individual, Bulldogs assistant coach Aaron Oldfield said, "That's a good question. We didn't get to race outside the CVC this year. No invitationals, no county meet. With her only being a sophomore and lacking some experience, who knows? Anything is possible. I would think she would have had a shot. I don't think it would be a slam dunk but she'd have a shot."
Dumont finished with a time of 20:01 at sectionals, which was over a minute behind Lilly Shapiro, and 18 seconds ahead of Kavita Shah (both of Colts Neck). Despite the high finish, both Oldfield and Dumont felt Paige's inexperience showed in the race.
"She pretty much goes right from the gun and tries to control the race," said Oldfield, who assists head coach Karen Walker. "She probably went out a little too hard at sectionals. As you run against more elite, experienced girls you gotta save something for the end. "
The coach will get no argument from Dumont.
"I completely agree," she said. "Coach Oldfield and coach Walker often talk to me about the importance of strategy and this is definitely something I need to work on. I have good intentions of following through on a strategy and then I get out there and the only thing I can think about is running my hardest.
"I didn't run the race I had wanted at sectionals and went out a little too hard in the beginning — maybe I need to work on that strategy thing! So, because of that, the second half of the race was a little harder on me."
The season in general was anything but hard as far as enjoyment went. Dumont entered the season wanting to break 20 minutes, and by the fourth meet she hit 19 flat.
That made her anxious to crack 19 and "although that didn't happen this year, I am ready to work hard and hopefully make that happen next year."
"I am very happy with the season I had, given all the uncertainties," she added. "It was also fun and challenging to learn a new home course this year. Our team in general performed very well, and I am excited not only about my own performance but how well my teammates did."
Dumont showed indications of her capabilities as a freshman. She was the top Bulldog finisher in the Mercer County meet, running a 20:49 for 21st place. She took 11th in the CJ III sectionals in 20:32, and finished 73rd out of 144 with a 20:42 at difficult Holmdel Park.
"She came in as a mature runner," Oldfield said. "We knew of her since her brother ran for us, and we knew she'd be an asset right away. She's no-nonsense, mature, responsible. She kind of fits that typical cross country/distance runner mode. They will do everything that's asked of them. "
Dumont is already a veteran harrier, following in the footsteps of older brother Alex. She joined Timberlane's cross country team in sixth grade at the urging of her parents, who felt the sport would keep their daughter active and allow her to meet new people
"I played sports nonstop: basketball, lacrosse, soccer," she said. "I watched my brother's passion for running through middle school and high school, which led me to want to do the same."
In the spring, she plays lacrosse, which was the reason she first started running in high school.
"I used to think of cross country as something that kept me in shape for lacrosse, but now it has developed into a sport I love," Dumont said. "Freshman year I fell in love with my team and coaches and decided to continue running with winter track. Running is the activity I look forward to at the end of a long school day because it allows me to unwind and connect with my teammates."
It is something her whole family enjoys. During the summer they all participate in the Linda Creed Breast Cancer Run in the Poconos.
"I love distance running because it's about stamina — who can endure the pain the longest is also a big part of it," Dumont said with a laugh. "I am super competitive and come from a competitive family, so I love going into a race with an eye on who I am going to try and stay with, or be in front of. In general, I love the outdoors and running and training allows me to spend more time right where I love to be."
And the Bulldogs love having her there.