In recent years, few elections in Pennington or Hopewell Borough have been contested, and that is the case again this year. Pennington mayor James Davy is running unopposed to complete the term of former mayor Joe Lawver, who resigned in June. Davy was appointed by council to take the place of Lawver.
Also running unopposed for Pennington council are Democrats Nadine Stern and incumbent Deborah Gnatt. Liz Semple, currently on council, is not running. In Hopewell Borough, Democratic incumbents Deb Stuhler and Samara McAuliffe are unopposed for re-election to borough council.
However, there are contests in Hopewell Township, where three candidates running for two seats on the Hopewell Valley school board. Democrat Uma Parandare and Republican Ed "Jack" Jackowski are also running for township committee.
See story: Mayor Julie Blake withdraws from 2021 committee election
The Hopewell Express emailed questionnaires to Purandare and Jackowski and asked for their responses to our questions.
However, Ed Jackowski declined to participate, saying that he was too busy to fill out the questionnaire.
Purandare did respond, and her answers follow. They have been lightly edited for clarity and length.
In Hopewell Township, Democrat Uma Purandare, 54, is a research scientist who has lived in Hopewell Township for 22 years. She is married to husband Ashok, and has two children: son Rohit Purandare, a 2012 graduate of Hopewell Valley Central High School who went to the University of Pittsburgh, and daughter Radhika, a 2017 CHS grad and Fulbright Scholar who went to The College of New Jersey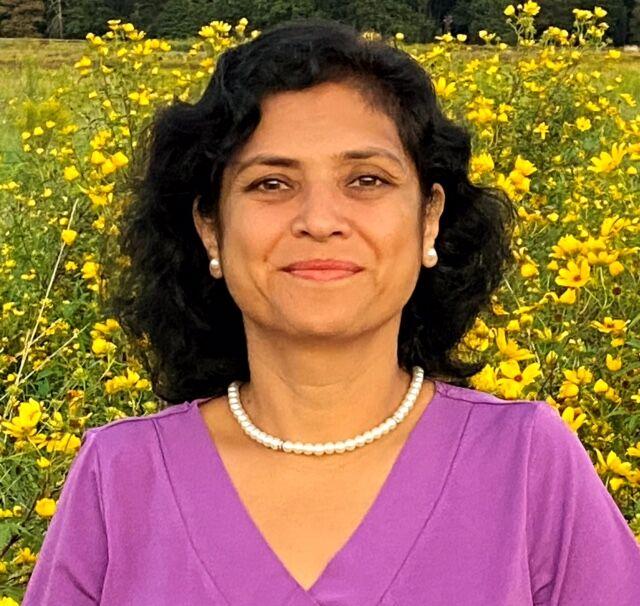 Purandare has been a Girl Scout troop leader and a member of the PTO at Stony Brook school and CHS. She has managed A-Z Mentoring to provide free tutoring to underprivileged children, and started Marathi Language School for families and neighboring communities. She volunteers with the Hopewell Valley Mobile Food Pantry.
Q. Tell us about the moment that you decided to run for township committee.
Purandare: As a township resident for over 20 years, I have seen that the pace of change, within and outside our town, is increasing. My inspiration to run comes from seeing how committed our residents are to our town and preserving beautiful natural environment around us. For me, this is the time to help our Township move forward, listening and observing carefully, making decisions using facts and logic.
Q. Rate the job the committee has done in the past few years as it has dealt with the township's affordable housing obligations.
Purandare: It says something about New Jersey's struggles with affordable housing policies that the state courts decided to take a central role in implementing a decision that's been in place for over 40 years.
Hopewell Township took the responsible path of negotiating a settlement agreement with Superior Court. That protects us from builder's remedy lawsuits while maintaining most of our power to plan and manage our local land use. By doing that we reduced our potential obligation significantly. The "do nothing" head-in-sand approach could have saddled us with almost 18,000 new housing units. In my opinion, through negotiations, we did better.
Given this history, the township's negotiated settlement gives us confidence and a plan as we move forward to meet our obligations.
Q. Whether the topic is affordable housing, warehouses, a community center or a new tenant for the former Bristol Myers-Squibb campus, residents have a variety of opinions about how Hopewell Township should be developed for the future. What is the best way forward for Hopewell in terms of future development?
Purandare: My six years on the Hopewell Township Zoning Board have taught me how interconnected many of these development issues are such as environmental impacts, zoning judgments, impacts on schools and local services, traffic, and attracting tax ratables—to name a few.
We already have a robust master plan and dedicated, talented volunteers and professionals working with our planning and zoning boards who question development projects and hold them to high standards.
Looking forward, I think we should also subject every development proposal to a robust fiscal impact analysis, setting out how the proposal will add to and not detract from the life in Hopewell Township. There is no free lunch—we need to know what the fiscal impacts and real tradeoffs are before we make these decisions.
Q. What are two vital issues facing Hopewell Township today?
Purandare: I am afraid that Covid-19 will be with us for some time to come. We need to monitor that deadly disease and be proactive in reaching out to our vulnerable citizens as circumstances dictate. As research professional, I would be honored to take the baton of leadership on this from Mayor Blake, who has provided such exemplary service for the past few years.
Second, Hopewell Township continues to evolve, I am confident that we can adapt to changes again. For example, Merrill Lynch has reduced its operations in Hopewell Township but is still a major tenant on Scotch Road. Bristol Myers Squibb is gone, but we will welcome next-generation responsible corporate partners like PTC Therapeutics and BeiGene. I would like to take a leadership role in taking a hard look at the new development proposals and ensure the decisions are made with the interests of all residents in mind, not just developers with commercial ambitions.
Q. Rate the committee in terms of openness, transparency, and access. Does the committee do a good job? What could it do better?
Purandare: The Hopewell Township Committee had to adapt in real-time to using new technologies like Zoom to conduct meetings. There were some early challenges, such as a hacker from out of state, but all in all, the virtual meetings are working well. More people can attend virtually to listen, be informed, and speak their minds.
One thing I would like to add is a series of community forums, held at different places around the township, to give residents an in-person opportunity to be heard by the committee.
Q. How would you rate Hopewell as a place to live for all people, regardless of race, background, and income level?
Purandare: From personal experience, I have to say that Hopewell Township has been very welcoming. Over a couple of decades, we've made many friends here and been involved in lots of civic activities.
I have always believed, and found in practice, that communities grow when people have opportunities to work together on common projects. As a member of the Hopewell Township Committee, I will be looking actively to engage as many people as possible in the sorts of activities that have been so important to me.
Q. What personal and professional experiences do you have that make you qualified to serve as a member of the Hopewell Township Committee?
Purandare: As a professional scientist, I am responsible for collecting data, drawing conclusions, reporting it truthfully, and making decisions. As an active community member, I have come to know and appreciate many perspectives on life in Hopewell Township.
The honor of service on the township committee would allow me to bring these aspects of my life together—commitment to community and fact-based decisions to move our township into the future.